Our Ultimate 3-Step Cleansing Routine for Your Freshest Looking Face Ever
September 11, 2017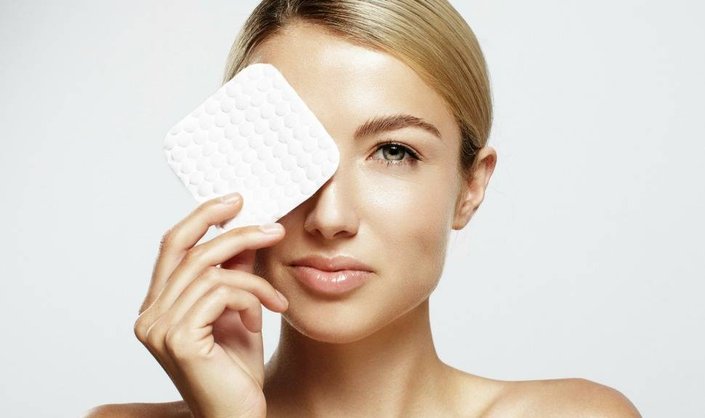 Looking for a new cleansing routine that will help you achieve your freshest-looking face ever? Look no further. We're sharing a simple three-step cleansing routine, and the products you need to make it happen, here!
Here at Skincare.com, we take cleansing very seriously. It's one of the first things we do when we wake up, and the last thing we do before our heads hit the pillow at night—and for good reason. Cleansing daily is the foundation for a clean and radiant-looking complexion.
If you wear makeup, it's especially important to be as thorough as possible when it comes to cleansing. Makeup, excess sebum, dirt, sweat, and other impurities can mix together and clog pores, which in turn could bring about a dull-looking complexion. Ahead, we share the three simple steps that make up our ultimate cleansing routine, and some of our favorite products—from the L'Oreal portfolio of brands—to use while doing completing them!
Step One: Remove Makeup with Makeup Remover Wipes
Who wants raccoon eyes after rinsing away your favorite face wash? Not us. To give your cleanser a helping hand, wipe away your makeup with a makeup remover wipe first.  We get it, makeup remover wipes often get a bad rap—especially from those with sensitive skin types. Some may irritate sensitive skin, but not all wipes are created equally! CeraVe's Makeup Removing Cleanser Cloths, developed with dermatologists, are formulated with ceramides and hyaluronic acid, and help cleanse the skin, remove dirt, oil and makeup, and hydrate for up to eight hours. Plus, they're non-irritating, non-comedogenic, and gentle enough for even sensitive skin. No rinsing required.
CeraVe Makeup Removing Cleanser Cloths, $8.99 MSRP 
Step Two: Cleanse with Face Wash
After ensuring your makeup has been properly removed, it's time to cleanse. Washing your face up to twice per day helps keep bacteria, excess sebum, and impurities from mixing together on skin's surface that can lead to clogged pores and a dull-looking complexion. One of our favorites just so happens to also help fight breakouts. Meet AcneFree Daily Skin Therapy Acne Wash. This salicylic acid cleanser—with pore targeting and patented avocado extract technology—removes impurities and helps prevent new acne from forming.
For the best results, massage a dime-sized portion of AcneFree Daily Skin Therapy Acne Wash into wet skin morning and night, and rinse well. If dryness occurs, reach for this product just once daily.
AcneFree Daily Skin Therapy Acne Wash, $6.87
Step Three: Tone Your Skin
Last but not least, finish off your three-step cleansing routine with a hard-working toner. Toners help ensure that the skin is thoroughly cleansed, but many formulas can offer more than simply that. From hydrating, to exfoliating, to balancing the skin's natural pH, some toning formulas can target specific skin concerns you may have. Best of all, they only take a few seconds to use!
One of our favorite toners that helps mattify the look of skin and minimize the appearance of pores is Kiehl's Rare Earth Pore Refining Toner. Formulated with oil-absorbing Amazonian White Clay, this dual-phase pore-minimizing toner helps refine pores and control shine. It can also help eliminate surface toxins from the skin for an overall smoother and healthier-looking appearance. To use, shake the bottle well and dispense the formula onto a cotton round. After cleansing, smooth the pad over face and neck. If you prefer to skip the cotton round, simply dispense Rare Earth Pore Refining Toner into your palms and lightly pat over your face, avoiding the eye area.
Kiehl's Rare Earth Pore Refining Toner, $21.00 MSRP
Editor's note: Cleansing is important, but so is hydrating the skin. After completing your cleansing routine, be sure to hydrate the skin with your favorite moisturizer, morning and night. Bonus points if you do so while your skin is still slightly damp!
Read more

Back to top