Ask The Expert: Why Does Skin Get Dry in Winter?
January 02, 2019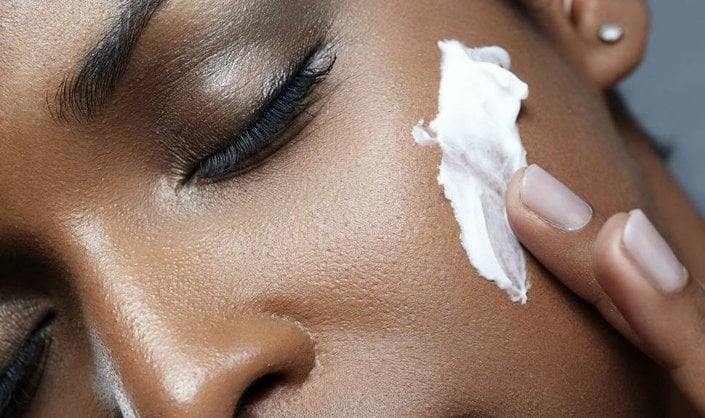 Wondering why skin gets dry during the winter season? We tap a top dermatologist to find out the causes of dry, winter skin—plus, how to combat it—ahead.
For some—especially those with dry or mature skin types—caring for your complexion in the winter can seem like a never-ending battle between applying lotions and moisturizers and experiencing itchy, uncomfortable skin throughout the coldest season. But, that ongoing battle ends here! According to Skincare.com expert, board-certified dermatologist, and cosmetic surgeon, Dr. Michael Kaminer, dry, winter skin can be caused by two culprits: "The lower humidity [levels] that cold air brings and hot air heating in homes." How does one combat these winter woes, you ask? "By keeping your skin hydrated," explains Kaminer. We share four easy, and effective, ways to kick dry skin to the curb and stay hydrated all season long, below.
BEAT THE (ARTIFICIAL) HEAT
When it comes to dry, winter skin, artificial indoor heat can cause the air to feel dry and may even leave the skin feeling like a dried up sponge. Fortunately, when it comes to the temperature (and humidity levels) in your home, you can have your heat and humidity, too. According to the American Academy of Dermatology, if the air in your home feels dry, you should try using a humidifier to help bring a little moisture back into the air.
In addition to installing a humidifier, you may also want to try a skin replenishing facial mist. Perfect for on-the-go moisture, these skin hydrators can soothe and comfort your skin and help prepare it for moisture application, too. We recommend La Roche-Posay's Thermal Spring Water for its mineral-rich formula and ability to refresh your complexion upon application.
MOISTURIZE… THE RIGHT WAY
According to Dr. Kaminer, one of the top ways to combat dry, winter skin is by moisturizing… the right way. Kaminer suggests applying moisture to the skin after getting out of the shower or bath when the skin is wet, since moisturizers can be better at sealing in moisture than creating it. We recommend applying a creamy body lotion, such as Kiehl's Creme de Corps Soy Milk & Honey Whipped Body Butter. Made with dehydrated skin in mind, this lightweight body butter can leave the skin feeling ultra-soft, smooth, and comforted upon application.
As far as your complexion goes, Kaminer recommends products formulated with antioxidants,such as our favorite, SkinCeuticals C E Ferulic—and some of the thicker nighttime moisturizers to help with your hydration efforts. Need help finding a nighttime moisturizer or cream that can hydrate the complexion and help keep dry skin at bay? We share some of our must-haves, here.
STAY HYDRATED
Another way to combat the dry, winter weather? Stay hydrated! According to the Mayo Clinic: "Water is your body's principal chemical component and makes up 60 percent of your body weight." So, drinking water throughout each and every day can help to ensure that your body is getting enough hydration. To ensure that your body is never without hydration, keep a bottle of water with you at all times.
EXFOLIATE
In addition to staying hydrated with moisturizers, humidifiers, and water, you may also want to start incorporating a little facial and body exfoliation into your weekly routine. Exfoliation helps remove dry, dead skin cell buildup from the surface of your skin and may even make it easier for some of those trusty skin hydrators to do their jobs, too—keeping your skin soft and silky-smooth and well prepped to receive hydrating products in your skin care routine. Here's what to use:
For Body: Exfoliate the skin on your body with any one of the Kiehl's Gently Exfoliating Body Scrubs. Coming in your choice of Coriander, Lavendar, or Grapefruit, each one is formulated with aloe vera so those dead skin cells can be sloughed away without drying skin out. 
For Face: Lift away dry, dead skin cell buildup from the surface of your complexion with Clarisonic Skin Renewing Peel Treatment. Formulated with LHA, salicylic and glycolic acids, this peel will have your skin looking brighter and feeling refreshed. For best results, pair with the Clarisonic Sonic Exfoliator, the first-ever Clarisonic exfoliating brush head. 
Still feeling parched? We share even more winter skin care tips (and tricks!) here. 
Read more

Back to top