Editor-Approved Morning and Night Skincare Routines for Oily Skin
August 08, 2022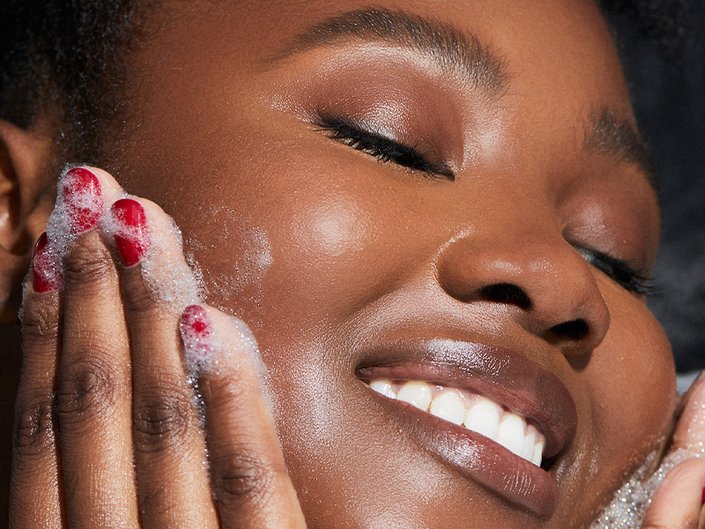 If you have oily skin and find yourself reaching for blotting papers multiple times throughout the day, you might want to reevaluate your skincare routine. Products that are too heavy can make the skin look greasy, while products that are too lightweight may not be hydrating enough. The right skincare routine can make all the difference for oily skin. Ahead, we took out the guesswork by curating a routine designed for oily skin featuring product recommendations to use in the morning and at night.
Morning Skincare Routine for Oily Skin
For oily skin in particular, a morning skincare routine is a great way to remove any oils that may have piled up on the skin's surface while you were sleeping. Just a few extra steps — with a little help from mattifying products — can help combat a shiny complexion.
STEP 1: Cleanse Your Skin
Wash your face every morning to remove any impurities or excess oil that built up over night. The longer dirt and bacteria lingers on your skin, the greater the chance of breakouts. Steer clear of harsh soaps, though, and reach for a gentle face wash that won't strip your skin of too much oil. We like the La Roche-Posay Toleriane Purifying Foaming Facial Wash because it cleanses the skin without removing essential moisture.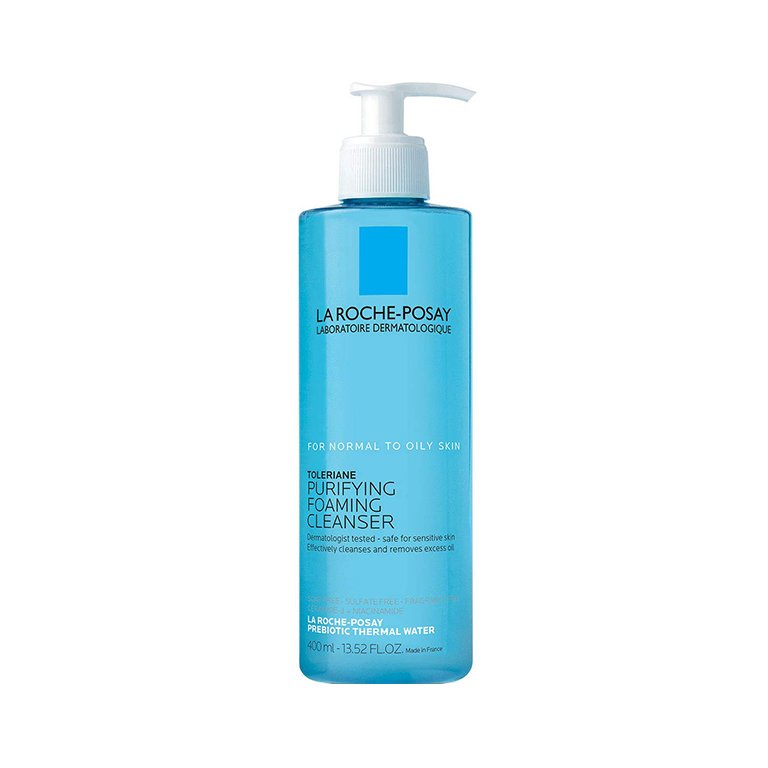 STEP 2: Tone Your Skin
Toning your skin is a great way to help ensure that every last trace of debris is removed as it will pick up anything your cleanser leaves behind. Toners can also help normalize your skin's pH level, as well as smooth skin's texture. Reach for a formula that's non-drying and recommended for oily skin, like the Thayers Unscented Facial Toner.
STEP 3: Apply a Serum
Serums are designed to help target specific skin concerns. A niacinamide and vitamin C serum, such as the IT Cosmetics Bye Bye Dark Spots Niacinamide Serum, helps promote a clearer, more even complexion. If your main concern is minimizing texture and pores, try the IT Cosmetics Bye Bye Pores Glycolic Acid Serum instead; if you're focused on addressing acne, we recommend the IT Cosmetics Bye Bye Breakout Salicylic Acid Acne Serum.
STEP 4: Use an Oil-Free Moisturizer
Oily skin still needs hydration. In fact, depriving your oily skin of moisture can actually lead to even more oil being produced to compensate for the loss. A good pick for your oily complexion is a non-comedogenic, oil-free moisturizer that absorbs quickly, dries matte and feels lightweight on the skin. Give the Lancôme Hydra Zen Gel Cream a try if you're hoping to reduce redness and achieve a glowing complexion.
STEP 5: Apply Eye Cream
The delicate skin around the eyes is much thinner than that on the rest of your face, making it more susceptible to dryness (even if the rest of your skin is oily). To give your eye area a little extra TLC, use a lightweight eye cream like the L'Oréal Paris Revitalift Derm Intensives 2.5% Hyaluronic Acid + Caffeine Eye Serum.


STEP 6: Apply Broad-Spectrum SPF
Apply sunscreen every day as the final step of your routine before putting on makeup or heading outdoors. This will help protect your skin from harmful UV rays that can cause sun damage. Reach for a broad-spectrum sunscreen with an ultra-light, matte finish like the La Roche-Posay Anthelios Clear Skin Oil-Free Sunscreen SPF 60.
Evening Skincare Routine for Oily Skin
So, you've gotten through your day and now you're getting ready to unwind and head to bed. Before you rest, it's essential to follow a nightly skincare routine to ensure you don't wake up with breakouts.
STEP 1: Cleanse Your Skin
You can use the same cleanser as you did in the morning or reach for a new one. The CeraVe Hydrating Cream-to-Foam Cleanser is great for nighttime use because it helps remove makeup and SPF, in addition to dirt and excess oil.
STEP 2: Tone Your Skin
Toning your skin after you cleanse is essential at night, too. Reach for the one you used in the morning to absorb excess oil and prevent acne.


STEP 3: Use a Clay-Based Mask
Incorporating a clay mask into your routine one or two times a week can help deep clean your pores. Look for formulas with kaolin or bentonite clays as they can help to absorb excess oil and mattify the appearance of the skin. The SkinCeuticals Clarifying Clay Mask helps keep shine at bay while also treating blemishes that have yet to pop up.


STEP 4: Apply Retinol
Retinol is a great ingredient to incorporate into your evening skincare routine as it can help fight signs of skin aging and treat acne. Because retinol is extremely powerful, it's important to start off slow and use a low percentage of the ingredient, like what's found in the Kiehl's Retinol Skin-Renewing Daily Micro-Dose Serum, until you build up your tolerance.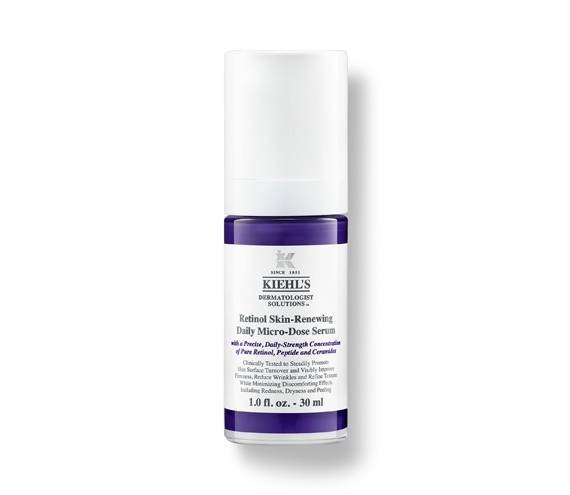 STEP 5: Hydrate Your Skin
Instead of moisturizing your skin with the same day cream from your morning routine, reach for a night cream that's formulated to be more nourishing and has additional anti-aging or brightening benefits. The Herbivore Botanicals Pink Cloud Soft Moisture Cream hydrates, plumps and helps support the natural skin barrier thanks to the soft, fast-absorbing formula that's made with tremella mushroom.


STEP 6: Apply Eye Cream
As the final step to your nighttime routine, hydrate your delicate eye area with a nourishing eye cream. We like the Kiehl's Avocado Eye Cream because it also helps to reduce the look of dark circles on top of its intense hydrating benefits.
Photo: Chaunte Vaughn
Read more

Back to top