Tatcha Founder Vicky Tsai Is Creating Effective Skin Care — And Funding Girls Education
April 04, 2019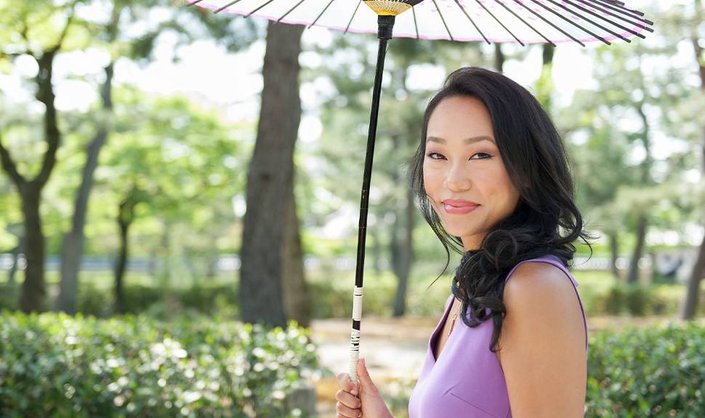 If you've ever perused the aisles of your local Sephora or let a skin-care enthusiast talk your ear off, then Tatcha has probably come across your radar once or twice. Beloved for its effective, elegant products (we're endlessly singing the praises of the cult-favorite Dewy Skin Mist), Tatcha has continued to capture the hearts and routines of beauty lovers everywhere. Even better, it's a brand with a mission: Every Tatcha skin-care purchase contributes to nonprofit organization Room to Read, which focuses on girls' education and children's literacy in Asia and Africa. The powerhouse behind the brand is Vicky Tsai, who founded Tatcha as a way to marry traditional Japanese skin care with modernized technology. We recently caught up with the founder for a peek into her skin-care routine, what a day in her life is really like, and what beauty means to her.
Tell us about your current beauty routine.
SKIN CARE
My skin-care routine changes often because I am usually traveling or trying new formulas. At minimum, I follow the four steps of the classical Japanese ritual: I purify with the Tatcha Pure One Step Camellia Cleansing Oil, polish with Tatcha The Rice Polish, plump skin with Tatcha The Essence, apply the Tatcha Violet-C Brightening Serum to soften, smooth and brighten my skin, and seal it all in with a moisturizer. Recently, I have been finishing with Tatcha The Dewy Skin Cream, which is a rich formula that nourishes skin without weighing it down.
MAKEUP
Like many other moms, I like to get out the door quickly in the morning while still looking pulled together. I use The Tatcha Silk Canvas to help blur away pores and redness, smooth on Tatcha The Pearl under my eyes and finish with the Tatcha Kyoto Red Silk Lipstick.
HAIR
I love the Tress Press from Drybar — it's easy enough that I can use it in a hurry, but makes my hair look fresh from a salon. Combined with Drybar Triple Sec 3-in-1 and Drybar Detox Dry Shampoo, it's everything I need for nighttime events, meetings or a day running errands.
Biggest pinch-me moment in your career thus far?
We have a partnership with an incredible organization called Room to Read, and every purchase from Tatcha helps fund girls' education around the world. I was visiting one of the schools they work with recently and learned that, thanks to our wonderful clients and friends like you, we had funded over 2.5 million days of school. That was an incredible moment.
If you had to do a full face using only drugstore products, what would you use?
I always use Ardell Lashes in #110 — if you pop a lash on, you can look done up while skipping everything else!
What's in your makeup bag for work?
The Pearl, to touch up under my eyes as needed, our Kyoto Red Silk Lipstick in case I have to go to a meeting or an event and Tatcha Petal Fresh Original Aburatorigami Beauty Papers, which lift away excess shine without disturbing makeup.
How did you get started in your career?
When I was young my mother had a high-end skin-care boutique. I loved helping out in the store, but I never thought that would become my career. After college, I worked on Wall Street before finding myself back in the beauty industry. At the first big beauty company I worked for, I tried too many formulas on my face and gave myself acute dermatitis — blistering, bleeding, cracking and peeling all over my face, lips and eyelids. It took three years of oral and topical steroids for my skin to come back under control, and even then doctors said it would never be the same. I was disheartened and began traveling in search of a different approach to beauty — eventually I found myself in Kyoto, where Tatcha was born.
What's the campaign you're most proud of?
Our Beautiful Faces, Beautiful Futures partnership with Room to Read. Knowing that every purchase helps fund education for girls around the world adds even more meaning to the work we do here every day.
Your best advice for women who want to found their own beauty companies?
Consider your values, then hire a team and build the company around your value system. It makes decisions a lot easier when you can prioritize them based on what lines up with your values.
What's the beauty trend you're most excited about in 2019?
We've begun to explore the world between skin care and makeup — there's a liminal space that exists between the two. We're excited to see what comes of it.
What's a day in your life like?
No two days are the same. If I'm not on an airplane or visiting our skin-care scientists at the Tatcha Institute in Japan, I'll be up at 5 a.m. to work out, then make breakfast with my husband, Eric, and daughter, Alea. We all commute together, a great time to catch up on what's going on in one another's lives. I'll spend most of my day meeting with our teams — working on packaging or design with our creative team, getting updates from our customer care team, or video conferencing with our R&D team in Japan to see their newest work. We pick up Alea on our way home, my husband cooks dinner, and I'm fast asleep by 8:30 p.m.
What inspires you?
People are endlessly inspiring; their capacity for generosity and kindness and their talents amaze me every day.
Makeup is _____________?
Self-expression.
Read More
5 Lightweight Moisturizers We Can't Stop Mentioning
How to Address Skin Discoloration in 3 Steps
6 Skin-Care Brands For Women of Color We Can't Stop Talking About
Read more

Back to top