I Tried a Foot Mask and I'm So Much More Into It Than I Thought I'd Be
May 01, 2019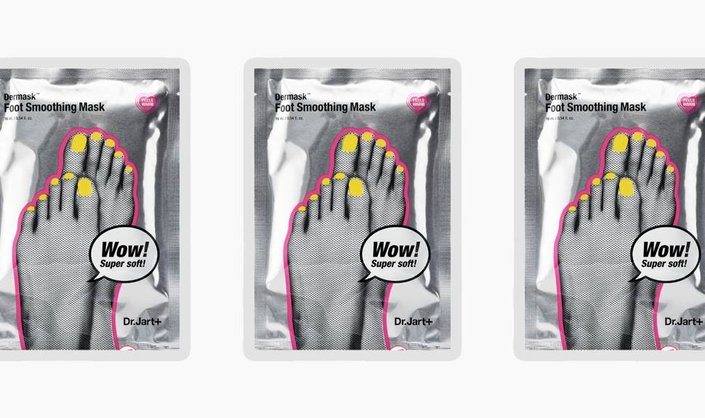 As the experimenter of the beauty team here at skincare.com, I've tried just about every mask out there: the social media-famous mask that freezes your face, the dry sheet mask for a mess free pick-me-up and the rubber mask that makes you look like a supervillain (with really good skin). Recently, an interesting new discovery made its way onto my desk: a foot mask. The idea, in theory, made me weirdly uncomfortable. Nevertheless, the Dr. Jart+ Dermask Foot Soothing Mask came home with me, and one lonely night, I took it out from under my bed to give it a try.
I opened the packet and to my surprise I found two little foil bootie masks. To be honest, I'm not entirely sure what I was expecting, but miniature serum-filled slippers weren't it. I got into bed and tucked my feet into the booties, secured them in place with the accompanying sticker and waited for something to happen (while simultaneously Netflix binge-ing, of course). Just a few minutes in, my feet started to tingle and get super warm. By ten minutes, they were next-level hot, but in the best way. The experience resembled that of a salon pedicure in the sense that I felt as though I was being relaxed and pampered without having to leave the comfort of my own bed.
The heating sensation is powered by a warming therapy technology to soften, exfoliate and smooth your skin. Whether your feet are just tired after a lot of exercise, dry as can be or just in need of some extra TLC, these trusty foil masks will surely make an impact. My biggest piece of advice is to go into it knowing that your feet will tingle — otherwise, you're in for quite a surprise.
When I took off the booties, my feet felt softer than ever before. This is no exaggeration — they were soft as could be and I nearly wanted to sprint out of the door to show off my feet in sandals (instead, I opted for an Instagram story, praising the power of Dr. Jart's Dermask). Whether you think I'm weird or you're already on your way to Sephora to pick up your own soothing mask, just let me say that this is a must for all of you who are looking to say goodbye to dry, rough feet.
I received this foot mask courtesy of Dr. Jart to try and review.
Read More:
5 Lightweight Moisturizers We Can't Stop Mentioning
Why You Shouldn't Use Your Overnight Mask as a Moisturizer
Skin Sleuth: What Is a Dry Face Mask?
Read more

Back to top