Enzymes vs. AHAs: What's the Difference?
December 15, 2020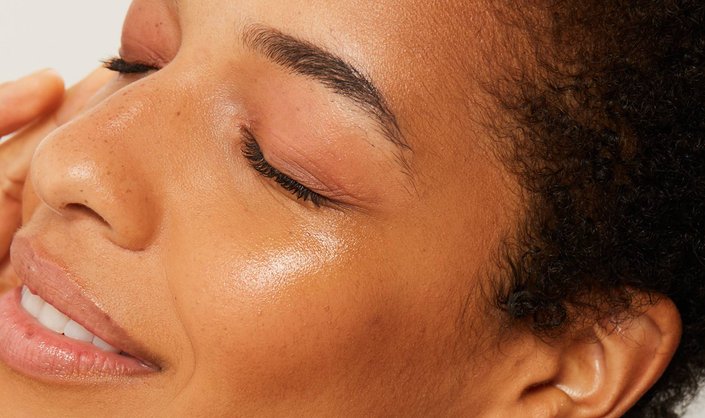 Sometimes, navigating the world of skin care can seem like chemistry class. This rings true when you're learning about the different forms of chemical exfoliation. Should you use products that contain alpha-hydroxy-acids (AHAs), beta-hydroxy-acids (BHAs) or enzymes? Today, we're focusing on the latter.
You might know that enzymes are used in some exfoliating products, but what you might not know is how they work and how they compare to AHAs or BHAs. Here, we're breaking it down with the help of Dr. Hadley King, a board-certified dermatologist and Skincare.com expert. 
What are enzymes and how can they benefit the skin?
"Most enzymes used in skin care come from fruits and vegetables such as pineapple, papaya and pumpkin," says Dr. King. She explains that they help break down proteins on the outer layer of skin. "This helps slough off dead surface skin cells, leaving the skin smoother and softer, and helps decrease discoloration."
How do enzymes compare to chemical exfoliants like AHAs and BHAs?
If you're looking for a more intense exfoliation, you may want to choose hydroxy-acids instead. "Alpha- and beta-hydroxy-acids are generally more potent, so they can offer more dramatic results," says Dr. King,  "however,  these can result in potential irritation." 
According to Dr. King, enzymes are a great alternative for those with sensitive skin because they provide gentle exfoliation. 
Editors' Favorite Skin-Care Products That Contain Enzymes
Add some gentle exfoliation to your cleanse with this balm. It gently resurfaces the skin as it dissolves makeup, dirt and excess oil.
This 10-minute mask contains pineapple, pumpkin and pomegranate enzymes, plus a gentle blend of hydroxy-acids to effectively exfoliate skin. 
Dr. King recommends this face mask, which she says is a "great mask for exfoliating, smoothing and brightening," because it contains papaya enzymes and plant stem cell extracts.
Photo: Chaunte Vaughn 
Read More:
Should You Exfoliate Your Neck?
Quiz: What Serum Should You Use for Your Skin Concerns?
The Ultimate Guide to Face Masks
Read more

Back to top