Bespoke Skin Care: Kiehl's Apothecary Preparations Get Personal
November 22, 2016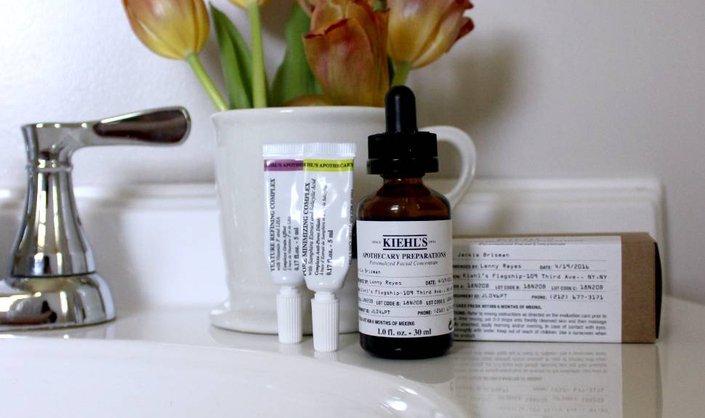 Kiehl's Apothecary Preparations Review
The new in-store service is a throwback to the original Kiehl's—the 1851-era Kiehl's—where customers would come to receive custom-blended, hand-crafted formulas from the beloved New York City apothecary. Fast-forward to 2016, and this personalized level of service is still going strong with the new addition of Apothecary Preparations. A nod to the personalized past plus an infusion of the latest and greatest in modern-day skin care, this in-store service is not to be missed. Even better? The consultation is completely complimentary! Recently I visited Kiehl's Flagship store on Third Avenue to review the new service and take the bespoke serum for a test spin—and well, I'm hooked.
The service begins with an expert consultation where your customer service representative—Hey Lenny!—will lead you through a series of questions, utilizing the dermatologist-inspired skin atlas, to assess and rank your skin concerns. Once you've determined your top two concerns—mine were texture and pore size—your consultant will select the appropriate Targeted Complexes to accompany the Skin Strengthening Concentrate which you can purchase and mix at home.
There are five highly potent targeted complexes—note: you cannot apply these directly to your skin—that can be mixed to create a targeted serum just for you:
Wrinkle Reducing Complex

– infused with retinol concentrate and pro-retinol. When you opt for this complex in your serum you can only apply your serum at nighttime (any other combination can be applied morning and/or night) and you'll need to wear SPF each morning—something you should be doing every day anyway.

Texture Refining Complex

– infused with vitamin F and LHA. This complex targets the appearance of the skin using vitamin F—an unsaturated fatty acid blend—and LHA—an acid derivative of salicylic acid that's known for its ability to gently exfoliate the skin's surface.

Visible Redness Neutralizing Complex

– infused with sunflower seed extract and vitamin E. This option helps to soothe and calm the skin.

Pore Minimizing Complex

– infused with Samphira extract and salicylic acid. This blend works to reduce excess oil on the skin's surface and

reduce the appearance of large pores

.

Brightening Complex

– infused with vitamin C and Scotch Pine extract. With this complex you'll help restore radiance.
Once you have your combination, you'll mix both Targeted Complexes together in the Skin Strengthening Concentrate which is a hydrating blend of squalene—Kiehl's signature ingredient—and skin lipid complex which is a blend of botanical oils and rich in fatty acids. My serum—which has my name printed ever-so-neatly on the label and the box—included the Texture Refining Complex and the Pore Minimizing Complex. Needless to say, it's going to be hard to go back to using products that aren't so personalized. 
Interested in trying Kiehl's Apothecary Preparations? The service is available at select Kiehl's locations nationwide. To find a location near you and to book your own complimentary consultation today, click here! 
Read more

Back to top