The Skin Care Range Your Boyfriend Will Fall in Love With
October 05, 2017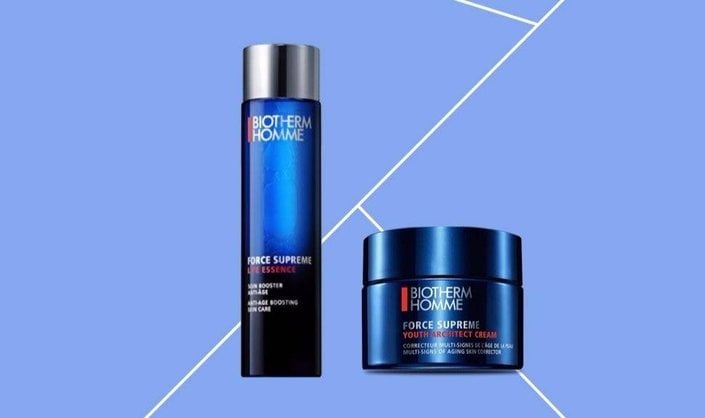 Tired of your boyfriend mooching on your skin care products? There's an easy solution! Just gift him a set of specially-formulated men's products that target his specific skin concerns. That'll be sure to keep him out of your beauty stash…for good. Allow us to introduce you (and your man) to the Biotherm Homme Force Supreme collection.
If you're anything like us— a.k.a., you live and breathe skin care— you probably know exactly what to do when certain complexion woes arise. Whether it be reaching for your go-to spot treatment, hydrating with a facial oil, or rotating in an exfoliating cleanser, you've definitely learned a thing or two about your skin over the years, and in turn, what it really needs when troubles arise. But just because you're a pro at caring for your complexion, doesn't mean you know exactly what will work for your boyfriend's skin.
Since your medicine cabinet is probably packed with cleansers, serums, and toners, it's likely your S.O. comes to you for skin care advice when things go astray. Sure, you can set him up with a few product recommendations based on your experience, but what he really needs is a skin care routine of his own. If signs of aging are a concern, look no further than Biotherm Homme's Force Supreme collection, endorsed by none other than David Beckham who stars in the line's new #LEAVEAMARK campaign. The idea behind the campaign is to leave your mark, but not on your skin with Force Supreme.
Ready to learn more? We're sharing all the details of two (newly-launched!) must-have Biotherm Homme Force Supreme products that your boyfriend will fall in love with.
Biotherm Homme Force Supreme Life Essence
After cleansing, it's important to add moisture back into the skin with hydrating products. That's where Biotherm Homme's Force Supreme Life Essence comes in. This anti-aging skin booster for all skin types—with the regenerative power of Life Plankton—visibly boosts skin's youthful look, reducing major signs of aging. What's more, the formula can also help visibly resize enlarged pores and smooth age-altered skin texture.
To use, apply morning and evening with your daily Force Supreme cream to boost global efficacy for visibly younger-looking skin. Avoid eye area.
Biotherm Homme Force Supreme Life Essence, $70.00 MSRP
Biotherm Homme Force Supreme Youth Architect Cream
Ladies, you're not the only ones who worry about visibly signs of aging on your skin. If your boyfriend is struggling with the appearance of fine lines and wrinkles, introduce him to Biotherm Homme Force Supreme Youth Architect Cream. It's the first global multi-tasking Force Supreme care designed to improve five signs of aging simultaneously: wrinkles, lack of firmness, dullness, tone irregularity, and loss of hydration. With continued use, youthful-looking skin is restored.
Biotherm Homme Force Supreme Youth Architect Cream, $67.00 MSRP
Read more

Back to top