I Masked From Head to Toe for the Ultimate DIY Spa Treatment
March 19, 2021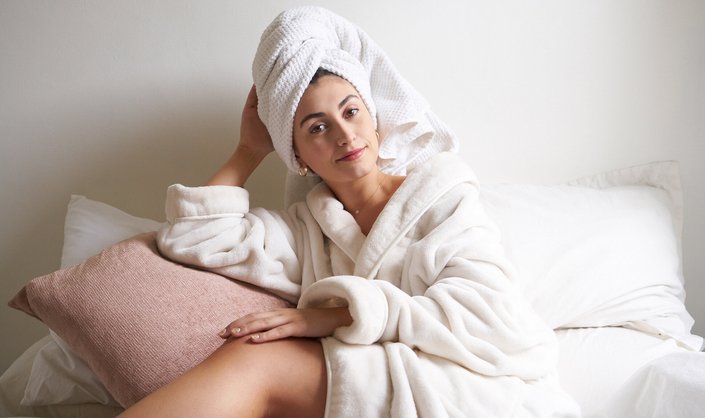 I have a Sunday night skincare ritual that I follow religiously, and I look forward to the pampering session all week as a way to reset. But, as much as I love my clay-mask-followed-by-sheet-mask routine, sometimes I crave even more indulgence. It was during one of those times that I got the idea to do a full DIY at-home spa day, right in my apartment. Now, I'm not just talking about running a hot bath with candles (mainly because I don't have a bath tub). I decided I was going to mask from head to toe and set out to gather supplies for a full-body masking experience. 
Here's what my DIY spa treatment included: a hair mask, face mask, under-eye mask, lip mask, neck and décolletage mask (yes, they exist), hand mask and last but not least, a foot mask. Armed with my masking products, some zen music streaming in the background and dressed in my fluffiest robe, I got down to the business of serious self care. Would I possibly look like the most extra person on the planet? Yes. Was I OK with it? Most definitely.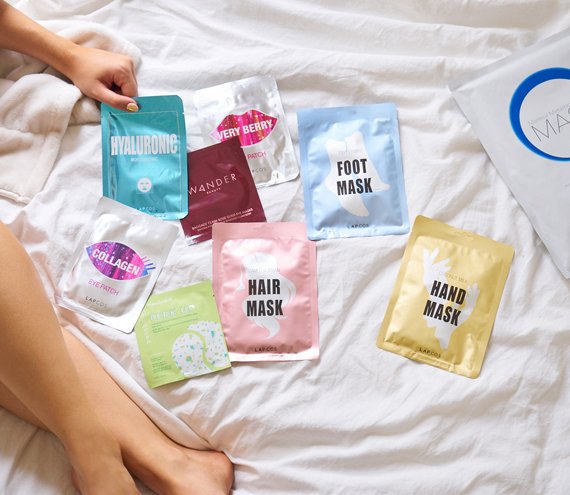 Starting with the hair mask, I used Kérastase Masque Fondamental Riche Hair Mask, designed to nourish and soften dry hair. Post-shower, I wet my hair to allow for better absorption and coated the ends of my strands with a generous amount of product before clipping it up to keep it out of the way. Moving on, I tackled the foot mask. There are two main types of foot masks out there: exfoliating (the kind that makes your feet peel) and hydrating (for smooth, soft skin). I like the IROHA Exfoliating Lavender Foot Mask Socks to exfoliate and Sephora Clean Foot Mask to soften. Opting for the foot mask by Sephora this time, I strapped the two plastic socks onto my feet. If you've never done a foot mask before, here's a pro tip: Put on a pair of regular socks over top of the mask socks to allow yourself to walk around freely. 
 
Next, came the face mask. You have two options here: use a full-face sheet mask or seperate masks designed to target specific areas. For the full face sheet mask, I recommend Garnier SkinActive Moisture Bomb Super Hydrating Sheet Mask to provide deep moisture and leave skin looking radiant. This time, however, I went the targeted area route. I used Wander Beauty Baggage Claim Gold Eye Masks to hydrate and brighten any dark circles, paired with STARSKIN Dream Kiss, a bio-cellulose lip mask to plump and hydrate. 
 
Because all of the above are supposed to be left on for 15 minutes, I combined them with MMSkincare Revive Neck & Chest Mask from dermatologist Ellen Marmur, MD. MM Revive is a powerful treatment that soothes, plumps and restores skin. It comes in a large neck and chest piece that feels cool when you put it on. Last but not least came the hand mask (it came last for good reason: It's hard to apply anything else while your hands are in paper gloves). I slipped my hands into LAPCOS USA Coconut Milk Hand Mask, formulated with ceramides, coconut milk and vitamin C to soften, nourish and hydrate skin. 
 
At this point, I looked pretty ridiculous, but it was time to sit back and relax for an additional 15 to 20 minutes. When my timer was up I began the process of peeling off all of the masks, rinsing my hair and returning to my natural un-masked state. Once the process was complete — which took a total of 40 minutes or so — I must say, I felt pretty relaxed. On the whole, my efforts to supercharge my Sunday night self-care routine certainly left me feeling pampered to the max. While I probably won't be performing this whole routine every week, I can definitely see myself doing it once a month. This self-care extravaganza left my skin hydrated, plump and smooth beyond words. 
Photo: Chaunte Vaughn
Read More: 
I Used a Different Face Mask Every Night for a Week — Here's What Happened
Derm DMs: Is It Possible to Over-Mask Your Skin?
5 Leave-On Face Masks for an All-Day Glow
Read more

Back to top