The Best Cream for a Younger-Looking Décolleté
April 07, 2016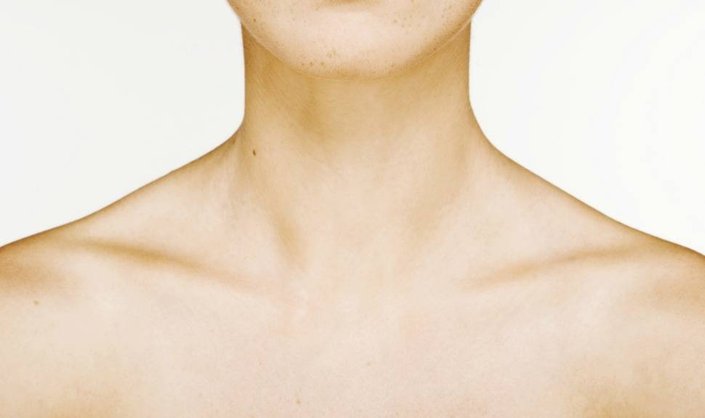 Below the neck but above the bust is the very delicate décolleté, a commonly neglected area of skin that, just like the face, shows visible signs of aging. If your chest is showing the signs of age, it may be time to give your décolleté the attention it deserves.
What Causes Chest Wrinkles?
The skin on your chest is naturally thinner than the skin on the rest of your body, making it more susceptible to the signs of aging . These signs—most often in the form of fine lines, wrinkles, and age spots—are caused by a number of factors including prolonged and unprotected sun exposure, a natural decline in collagen production as we age, and repeated movements— think: sleeping on your side every night. While we often address these signs of aging on the face with a thorough skin care routine, we often overlook the décolleté.  
SkinCeuticals Neck, Chest & Hand Repair
Understanding that even those with strict facial regimens can forget to extend that dedication to other areas of the body, SkinCeuticals developed a product to address the side effects of below-the-neck-neglect. The brand's Neck, Chest & Hand Repair was created for skin quality and concerns in frequently forgotten areas that are exposed to sunlight, like the décolleté.
Neck, Chest & Hand Repair features a dedicated formula that addresses these signs of age and UV damage thanks to a powerful combination of three brightening agents—hydroxyphenoxy propionic acid, sodium tetrahydro-jasmonate, and vigna aconitifolia seed extract. The cream helps to improve the appearance of the skin's texture, reducing the crepe-like look of chest wrinkles. As the name suggests, this special fragrance- and paraben-free formula also addresses these skin concerns on the hands and neck. How's that for multitasking?
To start giving your décolleté some much-needed attention, massage Neck, Chest & Hand Repair onto your skin twice a day. Make sure to follow up the application each morning with a broad spectrum SPF to prevent any further UV damage to your delicate décolleté.
Read more

Back to top