Fall Foot Care: How To Care For Your Feet After Summer
September 13, 2016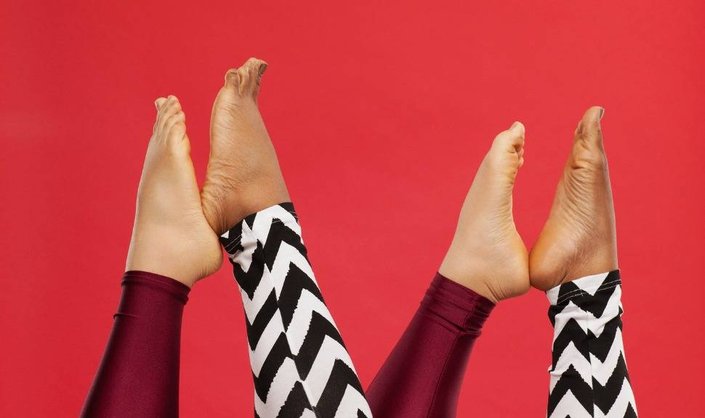 When summer ends and it's time to wear closed-toed shoes again, remembering to care for your feet can prove to be a bit of a challenge. But, just because you're no longer rocking your favorite pair of gladiator sandals, doesn't mean you should ignore those toes all together— especially as the dryer, winter months approach. We're sharing how to care for your feet this fall— and maintain your sandal-worthy feet all year long— below.
EXFOLIATE
As you may know by now, exfoliation if the first step towards smooth, hydrated skin. This is because exfoliating sloughs off dead skin cells that live on the surface of the skin, revealing skin that is ready to absorb moisture. And, just like exfoliation can promote smooth-looking skin on our complexions and body, it can work the same magic to our feet. Applying a physical exfoliator that is specifically formulated to target rough skin on your feet, like The Body Shop's Peppermint Cooling Pumice Foot Scrub between one to two times a week can slough off dry skin and reveal healthier, softer, and more hydrated skin underneath. We love The Peppermint Cooling Pumice Foot Scrub because it doesn't just buff away our dry skin, it provides tired, aching feet with a cooling sensation.
The Body Shop Peppermint Cooling Pumice Foot Scrub, $14
DON'T FORGET TO MOISTURIZE
Remembering to moisturize your feet can make all the difference and really comes down to habit. Every time you moisturize your body, moisturize your feet too. You can use the same lotion that you use on your body, but if you have been neglecting them for far too long, we recommend trying a moisturizer or balm that targets dry or callused areas, like Kiehl's Intensive Treatment and Moisturizer for Dry or Callused Areas. Formulated to soothe dry, cracking skin, this Intensive Treatment can target the rough skin on your feet and give it the extra care and attention it needs. Use it in the evening before crawling into bed or in the mornings before pulling on your favorite fall boots.
Kiehl's Intensive Treatment and Moisturizer for Dry or Callused Areas, $26
INVEST IN A PUMICE STONE
Exfoliating can be a great way to slough off dead skin cells on the tops of our feet and ankles, but when it comes to the bottom of our feet—the callused areas—we may need something a little more intense. The Body Shop's No More Rough Stuff Pumice stone can help you buff out the rough areas of your feet, like the heels, caused by months of sandal wearing and neglect. Use it in the bath or shower once a week with your favorite foot scrub— or body wash— to slough off the hard-to-remove dead skin cell buildup.
The Body Shop No More Rough Stuff Pumice, $6
DON'T FORGET ABOUT YOUR NAILS
We spend all this time focusing on the nails on our hands, that— aside from deciding between what color to paint them— it can be easy to forget about the nails on our feet. Make it a habit to massage cuticle oil into your toenails every night before bed. This can not only hydrate the cuticle and skin surrounding your toenails, but it can also prolong the life of your pedicure. We love Essie's Apricot Cuticle Oil, as it can hydrate, nourish, and revitalize cuticles— and has a sweet apricot scent! 
Essie Apricot Cuticle Oil, $8.50
DEEP CONDITION THEM WITH COCONUT OIL
Coconut oil is a hydration powerhouse and as the climate starts to get dryer and dryer, your feet need all the hydration they can get. Our favorite way to treat our feet to this raved-about ingredient is by using it as an overnight deep conditioner. To do so, simply apply coconut oil to your feet and ankles and wrap them with plastic wrap. Throw on a pair of your favorite fuzzy socks and leave the oil to work its magic while you sleep. 
GIVE YOURSELF A DIY PEDICURE 
Just because sandal season is over, doesn't mean that it is time to give up your pedicures. Instead of trekking it to the nail salon, why not give yourself an at-home DIY pedicure? We share how, here.
Read more

Back to top