How To Remove Dead Skin From Your Heels
September 09, 2016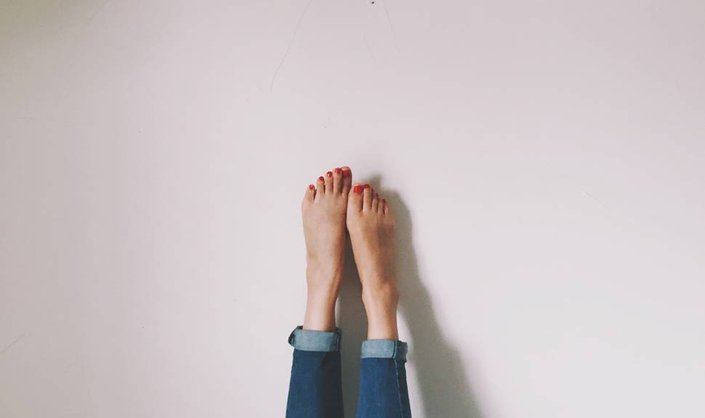 After running around in flat sandals all summer long, the skin on your heels probably feels anything but baby soft. Feet tend to build up calluses— rough, thick patches of skin— on the soles in order to protect the skin on your heels from the excessive friction you may experience while walking or running. And, while some callused skin is good for your heels, neglecting to take care of your feet can lead to cracking and peeling— not to mention, gross-looking— skin. To find out how to get rid of some of that dead skin buildup and achieve softer feet, check out our step-by-step guide to removing dead skin from heels, below. 
STEP ONE: PRE-WASH 
Just like you'd pre-wash your dirty laundry, give your feet a quick scrub down prior to soaking them— that way they aren't sitting in any dirt, debris, and… gunk. You can do so by rinsing them under the faucet in your bathtub with a cleansing body wash like, Biotherm's Aquathermale.
STEP TWO: SOAK
Once your feet are cleansed, fill a foot bath or large basin with warm water and your favorite foot and allow your feet to soak for about fifteen to twenty minutes— or, until the skin on your heels feels soft. We recommend The Body Shop's Peppermint Reviving Foot Soak. It's formulated with the brand's Community Trade peppermint oil, cocoa butter, and effervescent salts, and helps to soothe, hydrate, and draw out impurities from the feet.  
The Body Shop Peppermint Reviving Foot Soak, $16
STEP THREE: SLOUGH
After your feet have soaked, take a pumice stone— like this one from The Body Shop— to your heels and begin to scrub in circular motions. Using a pumice stone can help gently remove dry skin from the heels, resulting in softer, smoother, and fresher heels. For even more exfoliating action, whip up a DIY body scrub—we share our favorite recipe here—and use it to gently scrub the bottoms of your feet.  
STEP FOUR: MOISTURIZE WITH A FOOT LOTION
Once you're satisfied with the texture of your heels, follow up with a hydrating foot lotion that can lock in moisture and nourish the skin on your feet. We recommend Carol's Daughter Peppermint Soothing Foot Lotion. This hydrating foot lotion—which feels minty cool on contact—helps to soften the dry skin on the heels and the feet. Apply the energizing lotion to your feet daily for well-nourished soles. 
Carol's Daughter Peppermint Soothing Foot Lotion, $10
STEP FIVE: DEEP CONDITION, IF NEEDED 
The fifth and final step in removing dead skin from your heels isn't required, but it can be beneficial. Before you go to bed, apply a hydrating oil like coconut oil to your feet and heels, wrap them in plastic wrap, and throw on a pair of your favorite fuzzy socks. This helps to deeply moisturize the dry skin on your feet while you snooze!
Read more

Back to top