QQ: Do At-Home Laser Hair Removal Devices Really Work?
June 09, 2020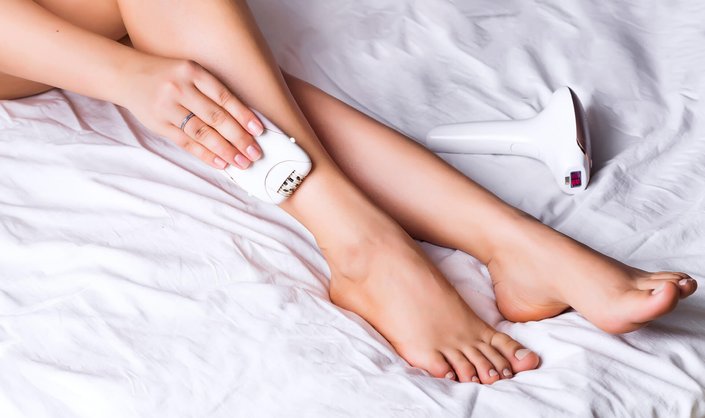 Ask anyone who's gotten laser hair removal done and we'd bet they'd tell you it's a game-changer. Say goodbye to the most frustrating effects of hair removal, including stubble, ingrown hairs, razor burn and post-wax pain. The only issue? You might not be able to actually get laser hair removal right now because a lot of salons and spas are still closed in response to COVID-19. Luckily, there are plenty of at-home devices to choose from, but are they as effective? We asked two dermatologists to find out the difference between at-home lasers and professional ones, so you can decide whether a DIY hair-removal device is right for you.  
What's the Difference Between Getting Professional Laser Hair Removal and Using an At-Home Device?
According to Dr. Chris G. Adigun, a North Carolina-based board-certified dermatologist, medical laser hair removal technology, permanently destroys the hair follicle so that it can no longer continue to grow. 
Conversely, at-home hair removal devices are not technically lasers at all. "Lasers, by definition, are one wavelength of light," he says. "The most effective wavelengths for permanent hair removal are 755 nm, 810 nm, and 1064 nm (one common device used in permanent laser hair removal is the Splendor X). What these at-home devices do is heat the hair shaft to the point that it singes the follicle, but not so much that the follicle is permanently destroyed." Instead, devices often employ IPL, or intense pulsed light, to temporarily disable hair follicles. "This allows for a longer period of time before the hair can grow again." 
Dr. Sharleen St. Surin-Lord, a board-certified dermatologist and medical director of Visage Dermatology and Aesthetics Center in Washington DC, says that most home-use devices are meant to be used every two weeks and results can typically be seen by the third treatment. "In one study, patients used an at-home  device bi-weekly for four to six treatments. Mean hair reduction was 36% four weeks after the final treatment and 10% 12 weeks after the final treatment," she says. This shows that if you don't keep up the treatments, hair can grow back. 
The Pros and Cons of Using an At-Home Laser Hair Removal Device
Pro: They can be effective.
When used correctly, these devices can effectively slow hair regrowth. While you may still have to shave or get a wax occasionally in order to be hair-free, it will be much less frequently than it would otherwise. "They definitely come in handy during times like these, when many states have prohibited elective procedures during the COVID-19 pandemic," says Dr. St. Surin-Lord.
They are designed to be used as directed on dry, shaved skin. Just remember to be consistent.
Con: They won't work for everyone and can even cause pigmentation problems.
The at-home devices can be completely ineffective for those with blonde, red or light brown hair, says Dr. Adigun. The ideal candidate is someone with light skin and dark hair. To be fair, this is true of laser hair removal in general. 
"Even those devices that have FDA approval for safety cannot (always) be used safely on skin with more pigment," Dr. Adigun adds. "If used incorrectly, these devices can cause permanent pigmentation problems." 
Says Dr. St. Surin-Lord: "You want to use these devices as directed to prevent burns of pigment changes, and never aim any laser or light-based device at your eyes."
To be safe, always start at the lowest setting on the device and work your way up. Talk to your dermatologist to ensure that you're a good candidate before use.
Pro: They're convenient and less expensive than a professional treatment.
Most of the devices we've tried are easy and quick to use, and the fact that you can perform the treatment on your own time and in the comfort of your own home is always a plus. While these devices can typically cost between $100 and $500 (MSRP), professional treatments can run the same price for just one session and multiple sessions are usually required. 
One of our favorite devices is the HoMedics Duo Lite IPL Hair Reduction ($199 MSRP). It uses fluorescence technology (AFT) and intense pulse light (IPL) to slow hair growth and fits nicely with the contours of the body for an efficient treatment.
Read more

Back to top