The Best Products To Enhance Your Favorite Features
October 19, 2016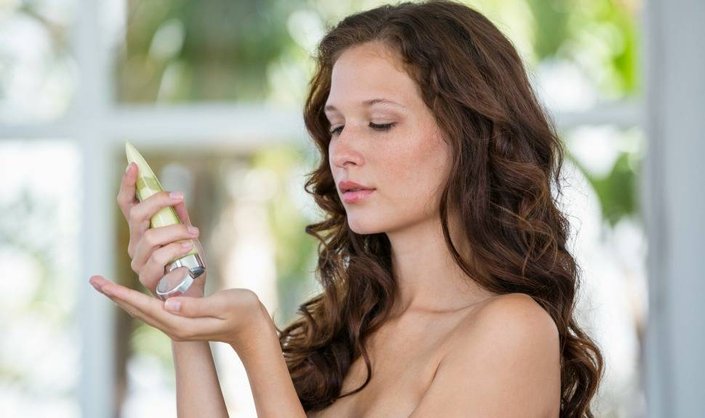 It's easy to get caught up in our large pores, acne-prone complexions, crow's feet, and so on. But, what about our long legs, bright eyes, toned arms, and all the other things we love about our bodies? Taking care of your skin isn't just about warding off the negatives— it's about celebrating (and holding onto) the positives, too. Which is why we have decided to switch things up a bit and share seven skin care and beauty products that can enhance your favorite features. What are you waiting for? See what products we recommend below.
LEGS
Whether you achieved your sexy-looking legs by working out or you were born with naturally stellar stems, if you wish to accentuate your legs you'll want to reach for dry oil. Enhancing your legs with a dry oil can not only bring attention to your toned legs, it can hydrate your skin, too! We recommend spritzing your limbs with Carol's Daughter's Almond Cookie Dry Oil Body Spray. This nature-inspired body oil can not only enhance the look of your legs, it can provide hydration for silky smooth skin, too. 
Carol's Daughter Almond Cookie Dry Oil Body Spray, $12
ARMS
Applying a self-tanner to your skin can not only give you a faux glow, it can enhance the look of toned muscles, too. This is the reason women who participate in bikini competitions get their glow on before the big event! If you're looking to draw attention to your arms, we recommend applying Decléor's Aroma Sun Expert Self Tanning Milk Natural Glow. This award-winning self tanning lotion can give your skin a a gorgeous natural-looking bronze. Bonus? Formulated with Tahiti vanilla and jasmine and rose essential oil, this self-bronzer won't leave you smelling like you just stepped out of a spray tan booth.
Decléor Aroma Sun Expert Self Tanning Milk Natural Glow, $38
LIPS
Nothing draws negative attention to other-wise great lips quite like dryness and cracking. If you love your lips, reach for an ultra-hydrating lip balm to keep them looking plump and pouty. We like Biotherm's Beurre De Lévres Hydrating and Smoothing Lip Balm. Formulated with five vegetable oils and acai honey, this lip balm can help to nourish and hydrate your luscious lips! 
Biotherm Beurre De Lévres Hydrating and Smoothing Lip Balm, $18
CHEEKBONES
Most of us spend time contouring our face with cosmetics each day in hopes of giving the illusion of high, strong cheekbones. If you have them naturally, you'll definitely want to show those babies off! Instead of contouring, try applying a highlighter or glow enhancing CC cream, like The Body Shop's Instaglow CC Cream to the tops of your cheeks. Formulated to illuminate, moisturize, color correct, and more, The Body Shop's Instaglow CC Cream comes in three different shades— Bright Glow, Peachy Glow, and Warm Glow— to enhance your best facial features. 
The Body Shop Instaglow CC Cream, $22
BROWS
Big, bushy brows are in and look great with all of the latest trends in makeup from non-touring to no-makeup makeup! If you were born with big brows, embrace the boldness of your natural look with an eyebrow gel, like Lancôme's Sourcils Styler Brow Gel. Formulated to densify, set, and hold brows in place, this brow gel can tint and tame your eyebrows for a natural-looking finish.
Lancôme Sourcils Styler Brow Gel, $26.50 
EYES
Whether they are big and brown, bright and blue, or gorgeous and green, if your eyes are your favorite feature you're going to want to bring them front and center with a few sweeps of mascara.  An oldie, but goodie, Maybelline's Great Lash Washable Mascara helps to condition and thicken the appearance of eyelashes for a dramatic and bold appeal. 
Maybelline Great Lash Washable Mascara, $6.40 
DÉCOLLETAGE
If your décolletage is your favorite feature, show it some love with an anti-aging skin oil, like L'Oréal Paris' Age Perfect Glow Renewal Facial Oil. Formulated to restore the skin's natural, youthful-looking glow, this award-winning facial oil can be used to hydrate, nourish, and enhance the skin below your chin with its unique blend of 8 essential oils.
L'Oréal Paris Age Perfect Glow Renewal Facial Oil, $24.99
Read more

Back to top