How to Soothe Your Skin After Facial Hair Waxing or Threading
August 27, 2019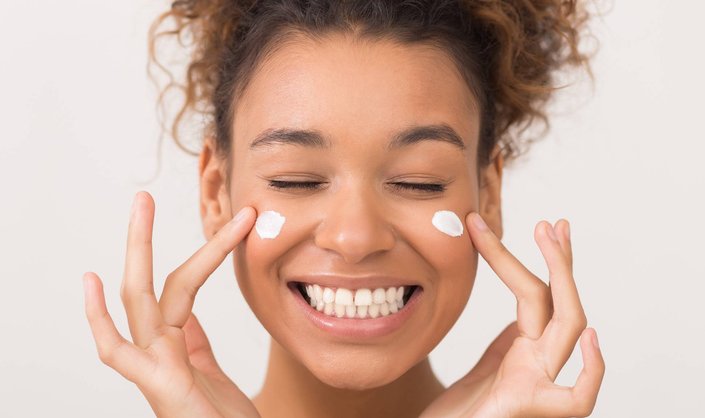 If you're a woman, removing hair on your face — if you so choose — can be a literal pain . Think: redness, irritation or just plain dryness after eyebrow or lip hair removal due to waxing or threading. If you do remove hair on your face using one of these methods,  there are some steps you may want to take to help minimize these negative side effects, according to board-certified dermatologist Rachel Nazarian, M.D., of Schweiger Dermatology in NYC. Ahead, we consulted with Dr. Nazarian about what you can do to help soothe skin after removing facial hair and hopefully make the experience more pleasant.
Use Soothing Products
One way to help  soothe irritated skin after removing facial hair is by applying small amounts of hydrocortisone 1% or aloe vera, says Dr. Nazarian. "You can leave the creams in the refrigerator, so that they feel cool during application," she adds.
Put a Pause on Exfoliation
While applying products designed to soothe skin is beneficial, Dr. Nazarian notes that you want to avoid using exfoliating acids of any kind at all costs. "Skin can be a little sensitive after hair removal, so you want to avoid products with ingredients such as alcohol, which can irritate it further." This means shelving those glycolic, lactic or other alpha- and beta-hydroxy acids until the skin is healed.
For Laser-Hair Burns...
"If you're undergoing laser-hair removal, you also want to avoid tanning and other skin-care procedures such as lasers and chemical peels," says Dr. Nazarian. Instead, be sure you're using a gentle face wash like the CeraVe Hydrating Facial Cleanser, and follow up with a soothing moisturizer like the Bliss Rose Gold Rescue Gentle Face Moisturizer. You can begin tanning, lasers or chemical peel regimens again one to two weeks following laser treatments. Otherwise, check with your dermatologist if you're experiencing post-hair removal irritation for an extended period of time.
Read More:
Ice Facials Are a Thing! Here's What You Need to Know
What Do Clay Masks Do for Your Skin?
4 Shaving Gels You Have to Try ASAP
Read more

Back to top