Our Editors Share Their Scariest Skin Care Stories
October 16, 2018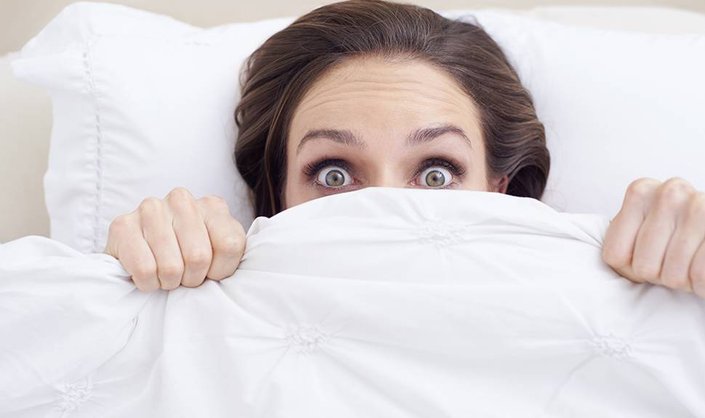 As beauty editors— who will try anything in the name of gorgeous, glowing skin— we've had our fair share of run-ins with beauty mistakes. From personal disasters to the shocking stories that our friends have shared with us, we could fill an encyclopedia full of "what not to do" stories (where else do you think we get inspiration for topics, like how to remove a bad faux tan?). With Halloween right around the corner, we can't think of a better time to share some of these origin stories with you. Ahead, we dig up our top scary skin stories that are sure to give you nightmares—or, at least keep you from making the same mistakes we have. 
A SPRAY TAN NIGHTMARE 
"Maybe more embarrassing than scary, but when I was interning in college I got to be the team's guinea pig. At times it was great—testing out makeup and playing with accessories—and other times not so much, like when I was asked to go try out a new spray tan service. This was back in the day when spray tans made you look like a burnt orange—not a bronzed goddess—but, I was oblivious to this and just assumed I would look amazing. So, I happily rushed to this fancy hotel in New York City where they set up the trial in one of the suites. When I arrived I saw a bunch of beauty editors—who I both recognized and admired—sitting in the living room/waiting area and somehow I was volunteered to go first. Confession: I'm the most modest person ever when it comes to showing skin so when I was instructed to strip all the way down to a pair of disposable undies I all but wanted to shrivel up and melt into the floor.
I swallowed my pride, followed the instructions, and stood there in front of this stranger who sprayed me down in 10 or so minutes and then I went back into the bathroom to get dressed. I expected to see the version of me I saw at the end of the summer—I admittedly was not the best at wearing sunscreen back then—but, instead I looked like I had rolled around in orange paint. I peeled my clothes back on and walked back out into that room of fabulous beauty editors who saw me and subsequently made excuses for why they couldn't try it out themselves. I had to get all the way back to Queens, riding the subway with my bag of at-home spray tan samples (which just made it more embarrassing!) as I streaked up the horrible tan with my stress sweat and tears the entire ride back. Thankfully I was able to wash off most of the mistake but to this day I won't go for a spray tan because I still have nightmares." — Jackie, Chief Content Officer
A HAIRY SITUATION 
"A few years ago, a friend of mine vacationed to Cabo San Lucas, where—unbeknownst to her—she picked up a slight tan. She wore sunscreen religiously, and the faint glow was barely visible to the naked eye. Doesn't sound too bad, right? Well, a week after her return, she scheduled a routine laser hair removal appointment to target the baby hairs on her face. Before the procedure, the esthetician asked her if her skin is tanned at all, to which she replied "no." Big mistake. Since she failed to inform the esthetician of her recent sun exposure, the settings on the laser machine were not adjusted. As a result, her upper lip suffered from discoloration, which now resembles a moustache. Moral of the story: Don't get laser hair removal done when your skin is tan or if you've been exposed to the sun without protection. There could be a chance that your skin picked up some color without you realizing it! And always, always, always be upfront and honest with your esthetician. They're not there to judge you on whether or not you wear sunscreen, but rather to make sure your laser session is safe and without any negative side effects." — Jessica, Senior Editor 
A SUNGLASS (AND SUNSCREEN) MISHAP
"When I was about 12 years-old, my school had a field trip to a local park. Since 12 is generally the age where people experiment with style, I decided to wear these big sunglasses that made me look—in my mind, at least—really cool. Unfortunately, what I forgot to wear was sunscreen, so my face got incredibly sunburned by the end of the trip. What's worse is that in my effort to look "cool" I had kept my shades on the whole time, so there was a perfect outline of my sunglasses on my face. I looked like a raccoon, and to this day never wear sunglasses on sunny days for too long…or forget to wear sunscreen." — Claudia, Junior Editor
SPRITZ, SPRITZ…
"Right before beginning this job, I began to clean my room out of nervous energy the night before. I was moving around my bedroom so frantically that as I was intending to spritz my blankets and sheets with lavender-scented fabric spray, I turned the nozzle the wrong way and sprayed the bottom of my face instead. Mind you that my face is extremely sensitive and allergy-prone, especially when it comes to floral-scented products. Within minutes my left cheek broke out in cystic acne and a rash. So, I had to start my first day as a beauty editor with an itchy face, uneven tone, and unflattering rash. Fun." — Cortne, Junior Editor
FACIAL GONE WRONG
"At 18 years-old—living in New York City for just a few months—I had more than idealistic views about the city. I thought you could go into any restaurant and the food would be outstanding, or you could walk into any store and the clothes would be pristine, or you could walk into any spa and get the best treatment of your life. However, I soon learned that was not the case whatsoever. I was walking down an unfamiliar street one Saturday and saw a huge sign that boasted 'the best facial in New York City.' I thought then was as good of a time as any to get a facial for the first time. I hadn't looked up any of the things I should have beforehand like how to prepare for your first facial, how to care for your skin after a facial, or anything about the place I was walking into.
After going through the hour-long process—which included a lot of pain—I was so thrilled to finally be done. However, little did I know the worst pain was soon to come. After I left the spa, my skin continued to bleed in multiple places. I initially believed this was normal, however, I learned that I should not have been bleeding after I left. The next day, my skin was bright red almost everywhere. I knew breakouts could sometimes happen after a facial, but the blemishes on my skin looked a lot more like welts. I was in pain for about a week and a half until finally my skin started to feel normal again. To the surprise of no one, the spa I visited had received terrible reviews and ratings. Now I know to always do my research before getting an in-office skin treatment or procedure done!" – Brooke, Editorial Intern
Read more

Back to top