Mirror, Mirror on The Wall: Smart Mirrors Are the Future of Beauty
June 07, 2018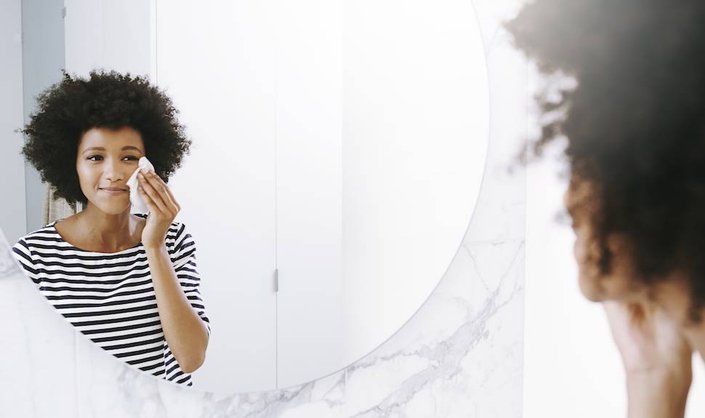 Technology is always evolving, and in many ways those modern advancements impact the beauty world. From sun protection patches to 3-D printed makeup, there's no shortage of beauty innovations out there—and they're only improving as the years go by.
These days, it's all about the smart mirror. You know that handy mirror you look in while you're doing your makeup or applying the contents of your skin care regimen? There's plenty of high-tech versions slated to roll out in the near future. Suffice to say, smart mirrors have piqued our interest, and not only because they can allow us to live out our anthropomorphized-mirror fantasies. Read on to learn more about smart mirrors and why they're poised to disrupt the beauty industry.
What Is a Smart Mirror? 
We have smart cars, smart phones, smart watches—and now smart mirrors. Multiple smart mirrors have been developed with a wide variety of benefits that could take your beauty routine to the next level. These mirrors are typically capable of connecting to Wi-Fi, can be voice-enabled, and come embedded with cameras, providing an interactive experience. Ask your mirror to adjust the lighting or use the camera for facial recognition and skin analysis features, allowing you to track the appearance of your skin and gauge whether the serum you've been using has actually made a difference in the appearance of your fine lines. 
Certain smart mirrors can be used to access news stories and online videos, which is perfect whether you need a bit of entertainment while you're getting ready or simply want to watch a makeup tutorial without turning back and forth to look at your computer screen.
Neat, right? With so many benefits—especially compared to standard mirrors that deliver a single purpose—we wouldn't be surprised if many people jump onto the smart mirror bandwagon as they begin to roll out. Here are a few to keep your eye on:
HiMirror
The founders of HiMirror firmly believe that your mirror should reflect more than just the present reality. It could be your own 24/7 beauty consultant, offering you beauty tips, product recommendations, skin analyses and more. Choose from three different devices: HiMirror, HiMirror Plus, or HiMIrror Plus+ which is Alexa-enabled. Learn more at himirror.com. 
KOHLER Verdera Voice Lighted Mirror
Listen to the weather or traffic info while you're applying your makeup or smoothing on your day cream with KOHLER's lighted mirror embedded with Amazon Alexa. Along with shopping, playing music, and more, this smart mirror has built-in voice-controlled dimmable LED lighting that can be adjusted to suit your liking. Learn more at us.kohler.com.
CareOS
What if your bathroom mirror could connect all of your devices together to make them smarter? CareOS features facial recognition, which means all you have to do is step in front of the mirror for the system to recognize you and log into your devices. Other benefits include touchless interaction, 4-D visualization, skin analysis, augmented reality, voice command, smart lighting, and more. Learn more at care-os.com.
Read more

Back to top