7 Tips to Help Prevent Razor Burn — Even on Dry Skin
January 14, 2022
We love the feeling of freshly shaved, moisturized legs and smooth bikini lines. But if you have dry or sensitive skin, you may have experienced razor burn or ingrown hairs shortly after using a razor. Thankfully, there are a few tips that can help you prevent razor bumps and soothe irritation post-shave. Here, Dr. Dhaval Bhanusali, a board-certified dermatologist and Skincare.com consultant, explains how to achieve stubble-free skin sans inflammation.. 
TIP 1: Exfoliate Before Shaving 
If you want to avoid razor burn on dry skin, you have to prep your skin for shaving. To get an even and razor bump-free shave, exfoliate your skin before you start. This can help remove any buildup of dead skin cells so your razor glides smoothly across the skin. Our favorite body scrubs are the Carol's Daughter Monoi Body Polish and the Grown Alchemist Intensive Body Exfoliant because they are gentle and perfect for all skin types. 
TIP 2: Shave in the Shower
If you're in a rush, it can be tempting to take a razor to dry skin and head out the door. But according to Dr. Bhanusali, you should always shave on wet skin, in the shower or bath. We also recommend using warm water to soften your hair.
TIP 3: Use a New Razor
Never use an old razor with a blunt blade, as this can be very abrasive to skin and lead to an uneven shave and bumps.
TIP 4: Use a Shaving Lotion
If you have dry skin, it's important to reach for a creamy shaving lotion to minimize nicks and razor burn. We love the Kiehl's Ultimate Brushless Shave Cream Blue Eagle that is formulated for sensitive skin and is enriched with soothing aloe.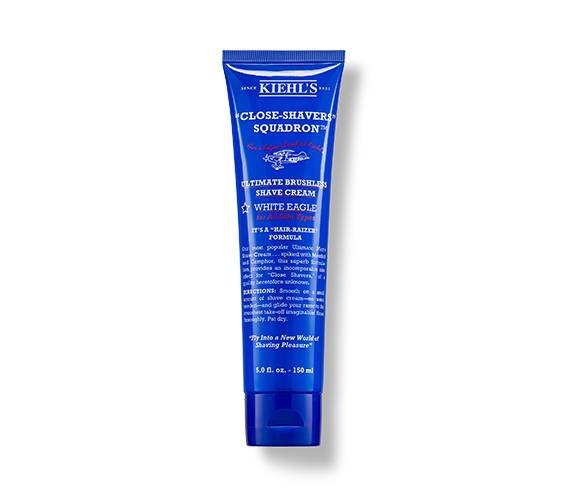 TIP 5: Don't Forget to Moisturize
Always moisturize your skin once you're done shaving to replenish hydration. For dry skin, reach for emollient body butters or balms, like the La Roche-Posay Lipikar AP+ Moisturizer for Dry Skin, which is formulated with hydrating ingredients like shea butter and glycerin. 
TIP 6: Cool Down the Area 
If you experience razor burn, Dr. Bhanusali suggests running the affected area under cold water. "A quick thing you can do is apply cold water to constrict the blood flow in the areas and [temporarily] tighten up the pores," he says. You can also ice the area for a few minutes to alleviate the discomfort.
TIP 7: Try a Post-Shave Product 
If you frequently experience razor burn, you may want to invest in a post-shave oil or razor bump cream that is formulated to help improve the skin's appearance after hair removal. We suggest the Fur Ingrown Concentrate. 



 
Photo: Chaunte Vaughn
Read More:
3 Benefits of Body Exfoliation
Your Step-by-Step Guide to Shaving the Right Way
How to Get Rid of Ingrown Hairs, According to a Dermatologist
Read more

Back to top