4 Steps For Your Sexiest Legs Ever
August 17, 2017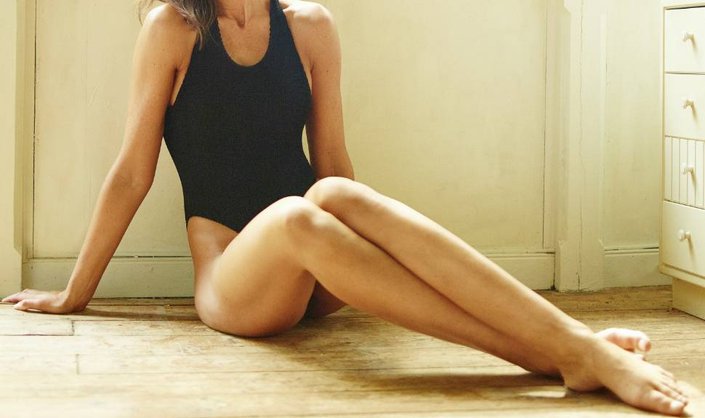 Step 1: Exfoliate
Between built-up dead skin cells, dry patches, and the uneven, patchy remnants of your last spray tan, your legs are likely begging for an exfoliation. Exfoliating helps to remove buildup and makes way for the more moisturizing steps in your body care routine. You can exfoliate in a number of ways. The first being before your hop in the shower with a spa technique known as dry brushing. Dry brushing involves gently brushing your skin's surface with a natural-bristle brush or loofah while it's still dry, then hopping in the shower to rinse away all the dead skin. Another great exfoliation option is using a body scrub in the bath or shower. While you can opt to make your own homemade body scrub with salt or sugar as the base, we're big, big fans of Kiehl's Gently Exfoliating Body Scrub. Formulated with Aloe Vera and Chamomile, this rich and indulgent body scrub gently yet effectively exfoliates to remove dead skin cells on the surface of the skin without over-drying. (Not to mention, this scrub smells amazing and is a favorite in the office!)
Step 2: Lotion
Skin is most susceptible to hydration when it's slightly damp. So, after exfoliating—and rinsing away all that dead skin buildup—pat dry and reach for a hydrating lotion. Sexy legs' best attribute is soft, supple skin and skipping a moisturizer application after showering or bathing is a quick way to dry out your skin. We love Carol's Daughter Ocean Flowers Renewing Body Cream, a lightweight option that has that utterly tropical island scent of blue marine and water lily. 
Step 3: Tan
Next up, get bronze the best way possible…out of a bottle. You can get your self tan on in a variety of ways—from gradual self-tanning lotions to temporary wash-off formulas to tanning wipes and lotions—but we're currently obsessing over L'Oreal Paris Sublime Bronze Self Tanning Gelee. This transparent gel helps to create an instant tanned look with a matte finish.
Step 4: Oil
Looking to add a little shimmer to your sexy, bronzed stems? Time for oil. With body oils a little bit goes a long way. Pick a scent that suits you—we're fans of  Kiehl's Superbly Restorative Argan Dry Oil—and look for a dry-touch finish.
Now it's time to hit the beach!
Read more

Back to top