How Your Dry Shampoo Obsession Can Mess With Your Scalp
August 05, 2016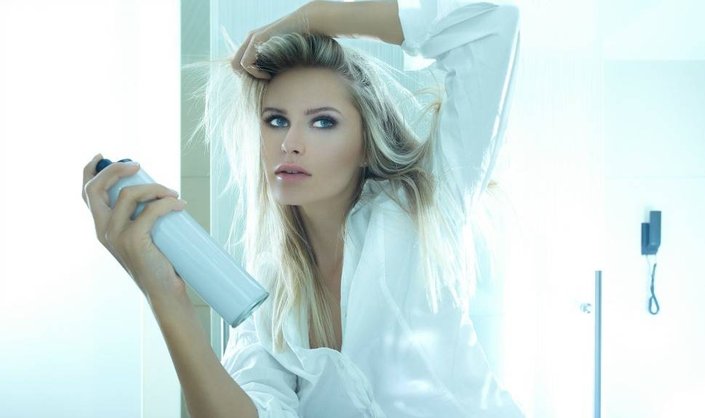 We've heard people say "the truth hurts," but it hasn't resonated as much as it did the day we found out that over-using our beloved dry shampoo may not be doing us any favors. And by hurts, we mean shook up our world. For context, here's a product that gives our locks a much-needed oomph in a pinch, prolongs the life of our overpriced blowouts, and gives us an excuse to skip washing our hair for a few days by zapping the oil pooling at our roots. We're guilty of spritzing dry shampoo even when our hair is completely clean and grease-free—just for the added volume benefits—with a "sorry, not sorry" attitude. And now, it looks like we should actually be sorry—for our scalps' sake, anyway. 
As it turns out, we thought our dry shampoo obsession was curing all of our bad hair woes when, in reality, it could've been causing some damage. How? Picture this: On a daily basis, your scalp and hair gather and hold onto oil, dirt, and pollution naturally. To remove the buildup, you wash your hair and exfoliate your scalp to keep the strands and follicles clear. If you skip a good rinse and just spray dry shampoo, it only adds more grime and oil to your scalp that can throw off the balance of your hair's natural oils. When used in excess over time, this buildup can sink in, plug up and weaken the follicle, and lead to potential breakage or shedding. 
THE SILVER LINING: WHY DRY SHAMPOO IS NOT ALL BAD
But it's not all bad news. You can still use dry shampoo, so long as you take the proper preventative measures to avoid long-term problems. First things first, are you applying it correctly? Most people spray it onto their roots and forget to do anything else after that. Use dry shampoo—like L'Oréal Professionnel Fresh Dust—in small quantities and always follow the expert protocol. Stylist and L'Oréal Professionnel Ambassador Eric Gomez recommends lifting your hair at the root and spraying a small amount of the product and then hitting it quick with a blow dryer to ensure that the dry shampoo doesn't just sit on your scalp. Spray too much? Turn up the speed on your blow dryer, but always keep it on cool mode.
In addition to using sparingly—Gomez suggests no more than twice per week—consider using scalp exfoliating scrubs or clarifying shampoos once a week or every other week to remove any build up of dry shampoo and other hair styling products. Bottom line: Assuming you're showering/exfoliating your scalp regularly, using dry shampoo a few times a week shouldn't hurt. As with most things, moderation is key.
Need more convincing? Our friends at Hair.com quizzed an expert on all things dry shampoo. Find out what he had to say about the safety of dry shampoo, here! 
Read more

Back to top