Get Unready With Us: 5 Beauty Editors Share Their Nighttime Skin-Care Routines
August 26, 2019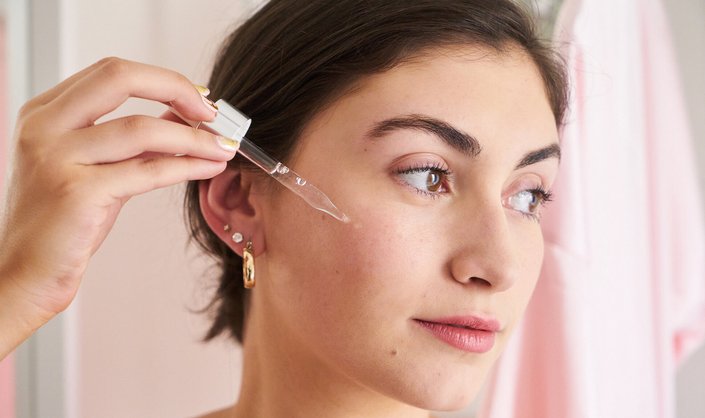 For beauty editors, nightly skin-care routines are a sacred time. Some of them spend a mere five minutes on it, while others spend upwards of 45 minutes to an hour getting unready for bed. For those editors who are product maximalists (like almost all of them), nothing short of a five-step system will do. 
If you ever wondered just what exactly is in a beauty expert's cabinet, get an inside look as five Skincare.com editors disclose their evening rituals and the products they use to ensure their skin is properly cleansed, treated and moisturized for their beauty sleep, ahead. 
Lindsey, Content Director
If I'm being honest, my skin routine changes way more often than it should. I'm constantly telling people that consistency is the key to great skin, but when it comes to my own skin-care habits, I change them up practically every night. What can I say? It's an occupational hazard. The basic steps, however, usually remain the same. I always, always double cleanse. Lately I've been using the Erno Laszlo Hydra-Therapy Cleansing Oil. I apply it to dry skin, and it melts away my makeup without any harsh rubbing and doesn't irritate my eyes like almost all cleansing oils tend to do. Before I rinse it off, I rub a generous amount of the Alpyn Beauty PlantGenius Creamy Bubbling Cleanser on top and then wet my hands and massage both the oil and cleanser into my skin. I rinse and use a white washcloth to ensure every last bit of my makeup is removed. Once a week, I'll exfoliate using the Savor Beauty Yuzu Lemonade Peel. It's packed with salicylic acid — which is a beta-hydroxy-acid (BHA) — to help unclog pores and prevent breakouts. Next, I apply a serum. I switch up my serums depending on what products I need to test and what my skin needs, but I keep coming back to the L'Oreal Paris RevitaLift 1.5% Pure Hyaluronic Acid Serum. It makes my perpetually dry skin feel instantly hydrated and the little lines around my eyes look less noticeable. It does, however, need a few minutes to absorb completely, so I use this time to put on my PJs. At this point, I'll either moisturize with the Kiehl's Calendula Serum-Infused Water Cream or the Lancôme Sleeping Mask, depending on how much extra hydration my skin needs and what else I've done in my routine. (If I do a peel or use a serum that has active ingredients besides hyaluronic acid, I usually forgo the sleeping mask.) I finish my nighttime routine by exfoliating my lips (every other night) with the Sara Happ Confetti Cake Lip Scrub in a Tube and moisturizing them with a generous layer of Uncle Bud's CBD Hemp Extract Lip Balm. Oh, and if I have any active breakouts, I always use a CosRx Acne Patch.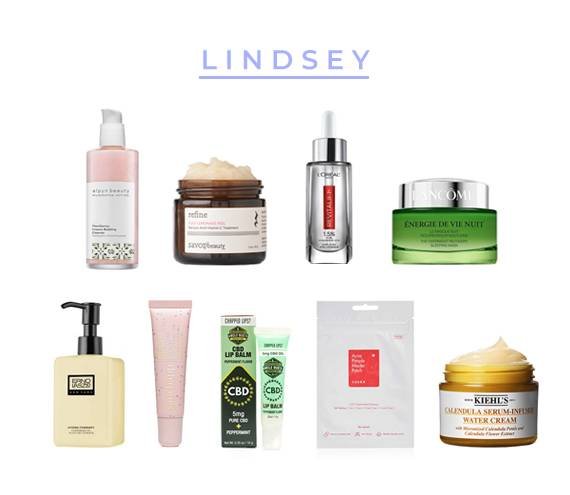 Alanna, Associate Editor
My night-time routine is pretty simple, and I mainly focus on hydration because my skin usually feels dried out after a long day. After I take off my makeup, I wash my face with the CeraVe Foaming Facial Cleanser. This super gentle, hydrating formula calms any irritation and makes me feel super clean thanks to its sudsy bubbles. Next, I usually pop on a sheet mask (while I break out Netflix and a glass of wine, of course), and lately, the Garnier Moisture Bomb Sheet Mask has been my go-to. It contains pomegranate extracts and hyaluronic acid, which pretty much saves me the step of having to apply an extra hydrating serum. After I've taken off my mask du jour, I usually use an eye treatment to help reduce my eye puffiness by the next morning, like the Kiehl's Avocado Eye Treatment Mask. This stuff is my favorite eye cream of all time because it's super gentle around the eye area, non-irritating and it absorbs into the skin in a flash. To really go out with a moisturizing bang, I finish off my night-time routine with a nice coat of the Youth To The People Superberry Hydrate + Glow Dream Mask and the Laneige Lip Sleeping Mask. Both of these products give me the dewiest, most radiant and plump face when I wake up in the morning, so I literally can't go to sleep without them.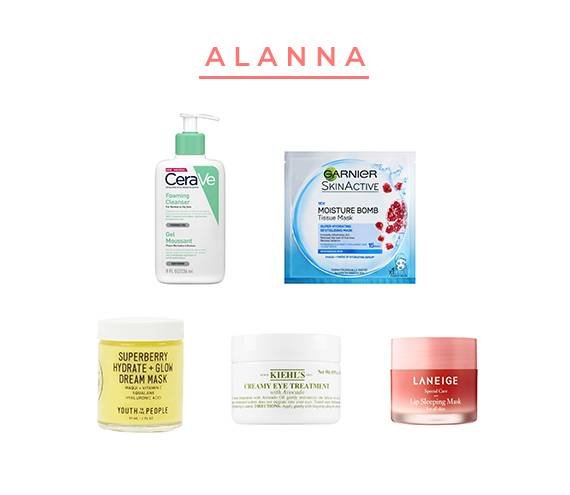 Jessica, Assistant Editor
I follow an eight-step skin-care routine every night and never stray from it (except for maybe on a few occasional late weekend nights). I double cleanse to remove my makeup with the Kiehl's Midnight Recovery Botanical Cleansing Oil, then I wash my face with Tula Purifying Cleanser. Once or twice a week, depending on how dull or lackluster my skin is looking, I'll exfoliate with my Clarisonic Exfoliator Brush Head. I tone using Thayers Witch Hazel Rose Petal Facial Toner in a spray bottle to evenly coat my entire face. For an eye cream, I love Kiehl's Creamy Eye Treatment With Avocado because of how hydrating and smooth it is. Then, I apply my retinol which is dermatologist prescribed. For an added boost of hydration I'll press the L'Oréal Paris RevitaLift Derm Intensives Pure Hyaluronic Acid Serum into my skin and let it sit before moving onto my night cream, Vichy Idéalia Night Cream. For my last and final step, I use the Lancôme Bienfait Multi-Vital Daily Replenishing Oil.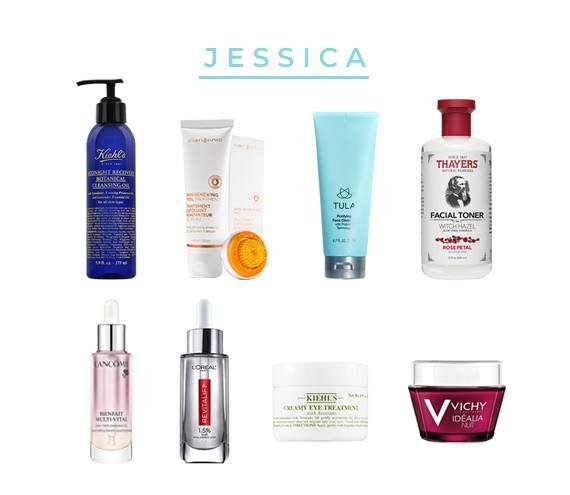 Jillian, Social Media Editor
My night time routine is easily my most extensive. Because I'm pretty much always in a rush in the morning, I use the nighttime for serious TLC. After removing my makeup, I cleanse with the CeraVe Hydrating Cleanser to start off with instant hydration, and a couple times a week I'll use my Clarisonic Mia Smart) and exfoliate with the Garnier SkinActive Deep Pore Exfoliating Face Scrub with Green Tea. To calm my skin and balance my pH, I prep with the SkinCeuticals Equalizing Toner and follow up with the Lancôme HydraZen Beauty Facial Essence, which helps my easily-irritated complexion and gives me instant hydration. For brightening, I'm a CeraVe Vitamin C Serum devotee — seriously, it's a game-changer. Before applying my moisturizers, I use First Aid Beauty's Ultra Repair Cannabis & Oat Dry Oil. It absorbs quickly and soothes my skin like nothing else. Next, I double up on moisturizer and use Vichy LiftActiv Eyes for my eye cream and L'Oréal Hydra Genius Liquid Moisturizer, which has the perfect lightweight texture for summer. Lastly, I always finish with an overnight lip mask, because for some reason my lips are dry year-round. My fave is the Kiehl's Buttermask for Lips because the texture isn't too heavy, and the barely-there flavor is a big sell for me.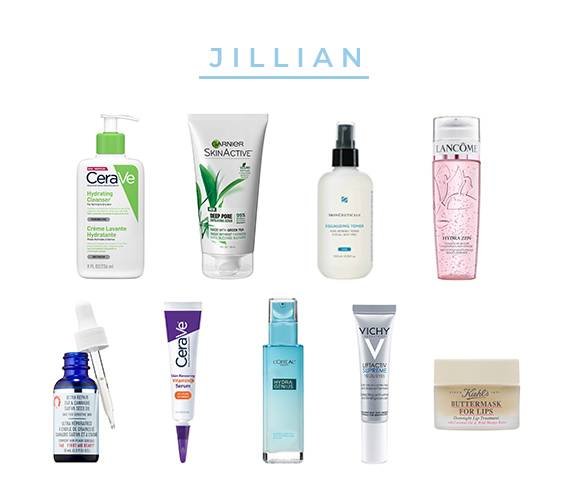 Genesis, Assistant Editor
I have a pretty minimal nighttime skin-care routine. While it's nice to indulge in that ten-step ritual sometimes, on most nights I like to stick to the basics because, if I'm being honest, a girl is tired. First, I start by removing my makeup using the Garnier SkinActive Micellar Makeup Removing Towelettes. Then, I wash my face using my all time favorite, IT Cosmetics Confidence in a Cleanser. To follow up, I use a cotton pad to apply the L'Oréal Hydrafresh Toner for its ability to freshen and soften my skin while revealing an overall brighter complexion. Lastly, I moisturize using the Skyn Iceland Oxygen Infusion Night Cream. Designed to work with the skin's natural renewal process, this moisturizer seriously transforms skin by restoring the tone, texture and making it glow. On the nights that I have time or am feeling a little bit bougie, I'll add in a face mask after I cleanse. My favorite is the Dr. Jart Pore Minimalist Black Charcoal Sheet Mask because it helps to reduce the appearance of my enlarged pores.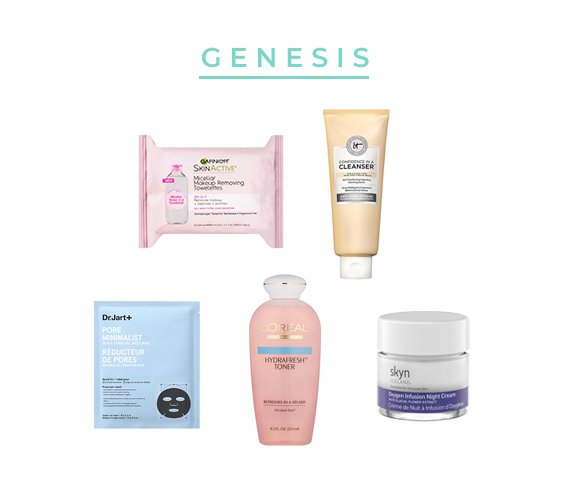 Read More:
A Beginner's Guide to Starting a Skin-Care Routine in Three Easy Steps
I Tried It: The Kiehl's Avocado Nourishing Hydration Mask
The Best Skin-Care Routine for Sensitive Skin
Read more

Back to top