7 Beauty Trends You'll Be Seeing On YouTube (If You Haven't Already)
September 25, 2018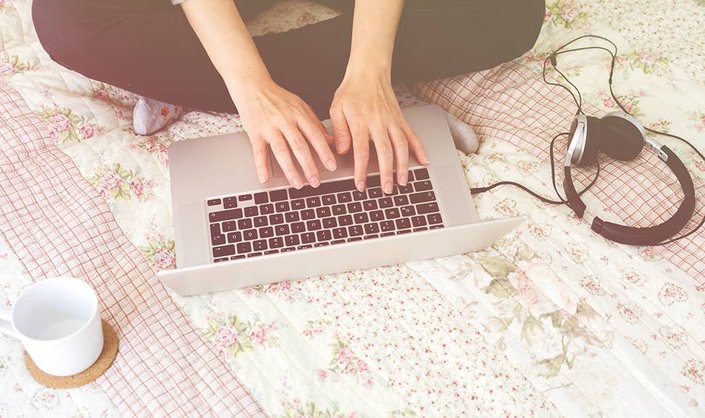 From makeup tutorials to product reviews, YouTube is home to no shortage of beauty-related videos. Vloggers, influencers, and beauty gurus keep their channels updated with the latest and greatest trends, and make sure to never miss a beat when it comes to keeping their subscribers in the know. Here, we've compiled a list of seven beauty trends that you'll be seeing all over YouTube (if you haven't already).
YouTube Beauty Trend #1: Clear Skin Routine
You'd be hard-pressed to find someone who isn't after a clear, flawless-looking complexion, so it's no surprise that skin care routines to achieve such a goal are trending. Want to get in on this beauty trend? We're sharing the 10 commandments of clear skin here, so grab a pen and prepare to take notes!
Editor's note: All good things take time, so don't get discouraged if your skin doesn't look clear after a few days or even weeks. By following the right skin care routine for your skin type and concerns, and ditching poor lifestyle habits, you'll be well on your way to achieving your skin care goals.
YouTube Beauty Trend #2: Sheet Masks
Face masks are the perfect way to pamper your skin after a long day. There are plenty of face masks to choose from, including but not limited to clay masks, peel-off masks, gel masks, and more. Sheet masks are one of the most popular types of face masks since they adhere to your skin comfortably and are virtually mess-free. What's more, many sheet masks don't require close proximity to a sink for use, making them an incredibly convenient option for gals on the go. All you have to do is apply the mask, leave it on your skin for a few minutes, remove and massage any remaining product into your skin.
Below, check out a few of our favorite sheet masks from the L'Oreal portfolio of brands:
Garnier SkinActive Super Purifying Charcoal Facial Mask
This non-greasy facial sheet mask with charcoal and algae extract is free of parabens and mineral oils. The mask draws out impurities that can clog pores for a deeply cleaned feel. Your complexion will look fresher and have a healthy, radiant glow. 
Garnier SkinActive Super Purifying Charcoal Facial Mask, $2.99 MSRP 
Lancôme Advanced Génifique Hydrogel Melting Sheet Mask
This hydrating sheet mask can deliver results including radiance, a plumped up look and smoothness in just 10 minutes. It boasts a "cocooning" element that allows the mask to grip onto the skin without slipping off, meaning you can apply the mask and check off other tasks on your to-do list. 
Lancôme Advanced Génifique Hydrogel Melting Sheet Mask, $15 MSRP
Kiehl's Instant Renewal Concentrate Mask
This oil-infused sheet mask is formulated with cold-pressed Amazonian Oils and can help smooth and soften skin. This advanced, 2-piece biocellulose-embedded hydrogel mask provides rejuvenating hydration for radiant, glowing skin.
Kiehl's Instant Renewal Concentrate Mask, $32 MSRP
YouTube Beauty Trend #3: Adult Acne Skin Care Routine
Unfortunately, acne doesn't go away after high school. Even if you've never dealt with breakouts as a teen, you could start to experience them as an adult with little-to-no warning. With millions of Americans dealing with adult acne every year, including some of your favorite YouTube vloggers, you'll surely be seeing helpful tips and advice on how to combat adult acne all over the beauty sphere. We at Skincare.com even have a few expert tricks to share, so be sure to check out our article, Adult Acne 101: How to Deal with Breakouts as an Adult, for everything you need to know.
YouTube Beauty Trend #4: Fragrance-Free Moisturizers
Many consumers are paying more attention to skin care labels and ingredients that may irritate their skin. Fragrance is a potential skin irritant, especially for those with sensitive skin. That's why you'll likely see more and more YouTube vloggers swap their scented moisturizers and lotions for formulations that are free of fragrances. If you're worried about fragrances in your skin care products, check out our roundup of the best fragrance-free products that won't irritate your sensitive skin!
YouTube Beauty Trend #5: Bath Bombs 
Lest you've been living under a rock, you're likely well aware that bath bombs are beloved by many. Able to elevate your bath time, these round balls create mesmerizing swirls of color in your bath and deliver a fresh, inviting scent. In short, bath bombs are trending and—from the looks of it—are here to stay. So sit back, relax, and get in on this beauty trend with these 7 Bath Bombs That Will Take Bath Time to the Next Level.
YouTube Beauty Trend #7: Chemical Peels
Exfoliating your skin is always en vogue, but perhaps the trendiest way to do it right now is with a chemical peel. These in-office peels help remove buildup on the skin's surface, including pollution, dirt, debris, makeup, and more. In addition to skin that feels smooth, chemical peels can deliver a brightening benefit. To learn more about chemical peels—side effects, recovery period, and more—straight from an esthetician's mouth, check out our guide to chemical peels here!
Want more YouTube beauty news? Subscribe to our YouTube channel and stay in the know!
Read more

Back to top