Career Diaries: Dr. Aimee Paik on How Her Passion for Making a Difference in Patients' Lives Led Her to Online Dermatology
March 18, 2020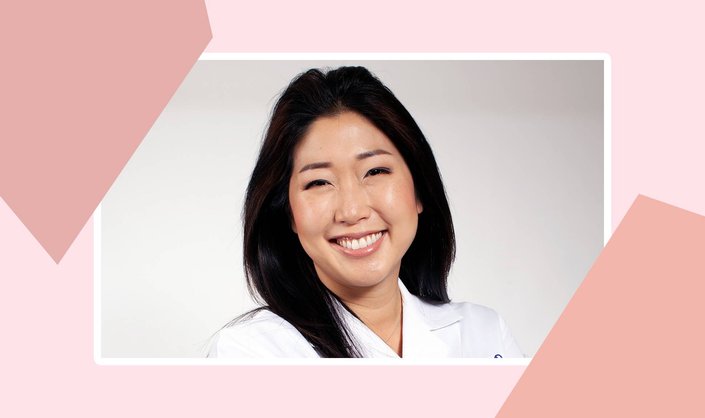 Accessing a dermatologist is easier than ever thanks to online-consultation platforms like Apostrophe — a one stop shop for scheduling, consulting and receiving skin-care prescriptions from dermatologists around the country. Ahead, we chatted with the brand's medical director Aimee Paik, M.D about her career as a dermatologist, why taking care of your skin is important and how to find the right online consultation platform for you. 
How did you get into the field of dermatology?
My father was a dermatologist, and so when I started medical school, I decided that I was going to do something else. I explored all the different specialties within medicine, but when I finally did a dermatology rotation, I fell in love with it. The types of conditions that we treat are so broad. And while many skin conditions such as acne are not life-threatening, they can produce a huge impact on one's self esteem. I find treating skin conditions incredibly rewarding.
What drew you to working with an online derm consultation service?
While dermatology services are important, access to a dermatologist can be very difficult, especially if you don't live in a big city. Online consultations can fill a huge gap. Apostrophe quickly connects patients from around the country with a board-certified dermatologist.Apostrophe increases access by also making skin-care more convenient. Finally, I really liked how Apostrophe focuses only on skin conditions that are well suited to telemedicine, such as acne and rosacea. This allows us to increase access without sacrificing quality. I think there is a real need for services like ours.
Take us through the Apostrophe process and how it works.
From start to finish, the Apostrophe process has just three steps. Users submit photos of the affected areas and answer questions about their medical history. Then, a board-certified dermatologist evaluates each patient and creates an individualized treatment plan within 24 hours. Finally, users can purchase their prescription treatments for direct delivery to their home 
How can a patient know if a service like Apostrophe is right for them? 
The wait time to see a dermatologist in most parts of the country is several months. It can be difficult to take time off of work or school, or it may be tough to physically go to a doctor's office with small kids. For patients who want treatment now, Apostrophe is a fantastic solution. Apostrophe does a great job asking the right questions regarding patients' skin and their medical history. 
As dermatologists, we have all the information we need to properly evaluate patients, and we have the medicines we need to create effective treatment plans tailored to each individual. I truly feel that the care we provide at Apostrophe is equivalent and potentially even better than in-office dermatology care. Patients can reference their treatment plans and recommendations whenever they want. They can message doctors directly to address specific questions or concerns. The photos are great to really chart a patient's improvement, which can be quite dramatic. 
What are the best tips you'd give patients who are seeking advice online? 
There is a lot of misinformation out there, unfortunately. You should remember that each and every patient is different. Something that worked for one person may not be the right treatment for you. A board-certified dermatologist is the best person to provide medical skin care treatment. A dermatologist is a medical doctor who has completed three years of dedicated skin training known as a residency (after four years of medical school) and who has passed a medical exam to ensure they have the proper knowledge base. 
What's the most challenging part about doing online consultations?
There are certain skin conditions that are well suited for telemedicine, such as acne and rosacea. We can easily evaluate and diagnose these conditions using pictures. Other skin conditions are more complex. They may be located in various areas of the body, require additional testing to get the diagnosis, or require medications that need close monitoring. The challenge is when patients come in wanting treatment for conditions we don't treat. I would like to be able to help all patients, but I believe some conditions like eczema or psoriasis require evaluation by a dermatologist in-person to get the best care. Skin cancer screenings are also important to do in person. 
How has working on Apostrophe impacted your life, and what moment in your career (so far!) are you most proud of?
I have had several patients on Apostrophe profusely thank me for changing their lives. They are so grateful that this service exists, and that makes everything worth it to me. There is no better reward. 
If you weren't in dermatology, what would you be doing?
I feel blessed every day to be in the field of dermatology. There are so many exciting advances in our field right now and the ability to help our patients only grows. I don't like to think of an alternative. There is nothing else I would rather be doing. It truly is a passion!
What does the future of Apostrophe and other online dermatology destinations look like to you? 
Apostrophe's growth revolves around listening to our customers' feedback to learn about how we can further perfect the process. Additionally, Apostrophe is continually launching new formulas to best treat our patients' needs. We just launched a new Azelaic Acid Formula, which contains niacinamide, glycerin and five percent more azelaic acid (Rx only) in comparison to over-the-counter formulas that only contain 10% azelaic acid. This formula is an important treatment for rosacea, acne, melasma, and post-inflammatory hyperpigmentation. 
What's your advice for an aspiring dermatologist?
Dermatology is one of the most competitive specialties within medicine to get into. This can turn off many people who think they don't stand a chance and don't want to go through the process. But my advice is, if you love the field of dermatology, it is worth it. There is so much more to dermatology than cosmetics. We treat important and distressing skin conditions such as eczema, psoriasis, vitiligo and hair loss, not to mention skin cancer. It takes a lot of hard work and dedication, but it is one of the most satisfying careers I can think of. 
Lastly, what does taking care of your skin mean to you? 
Taking care of my skin means so many things. Taking care of my skin means taking care of myself — making sure I am eating well, sleeping well, exercising, and taking care of my emotional needs. It also means protecting my skin from the sun. The sun causes 80% of skin aging, and so I am absolutely religious about sun protection. I use a sunscreen with zinc oxide every single day and wide-brimmed hats whenever I am outdoors. It also means using a tretinoin formula every night to repair sun damage and help stave off fine lines. It means treating my skin gently and kindly by avoiding unnecessary or harsh products.  
Read More:
Serums, Ampoules, Emulsions and Essences: Is There Really a Difference?
Why Dead Skin Cells Build Up and How to Get Rid of Them
These Are the Best Moisturizers to Wear Under Makeup
Read more

Back to top