Why the Founder of SEEN Put Shampoo on Her Face for Two Years
February 19, 2020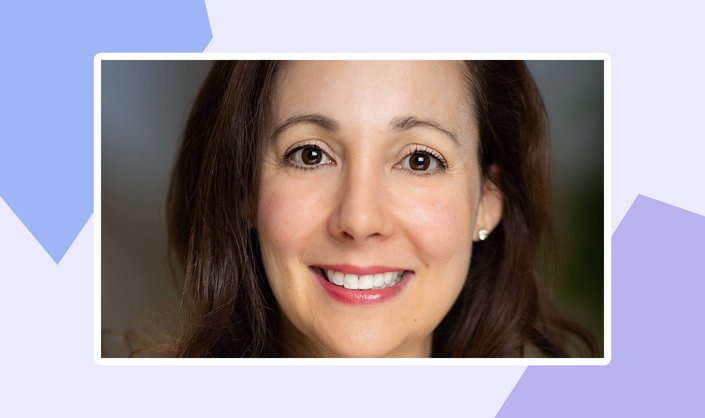 Blowouts shouldn't cause breakouts. But, after realizing her salon visits and sub-par skin days were directly related, Dr. Iris Rubin, a Harvard-trained dermatologist, took hair care into her own hands. She set out to create SEEN, a luxe, non-comedogenic hair-care line specifically designed with sensitive skin in mind. We spoke with Dr. Rubin to get the scoop on her problem-solution brand. Ahead, find out everything from the inspiration behind the brand's name and why she put shampoo on her skin for two years to why all-natural hair care isn't always the way to go and what's next for SEEN.
Can you give a little background on your career?
I'm a Harvard-trained dermatologist. I went to Harvard medical school, did a dermatology residency and then I did a laser and cosmetic fellowship. I actually spent much of my career doing pediatric laser surgery at a children's hospital. I would treat kids and babies with disfiguring birthmarks and scars.
What inspired you to stop your dermatology practice and start your own hair-care line?
What inspired me was the realization that hair-care products can really compromise skin's health. I think it's a beauty biz secret that people don't realize is happening. For me personally, I was getting acne every time I'd go get my hair done. My hair would look great, but my skin would break out. I realized I was compromising my skin for great hair. I was like, I can't be the only one that's getting this. That was really the inspiration. I was trying to help create products so that people wouldn't have to compromise their skin's health in the name of good hair.
Now, years later, we have actually proved [the research is about to be published in a dermatology journal] that anything you put on your hair can get all over your skin and stays on your skin. Even rinse-off products like shampoo and conditioner can stay on your scalp, your face and your back. But that research wasn't done until years later. So at the time, I basically just did some Googling and found some cosmetic chemists who I've worked with for years now. It actually took us over four years to launch our first three products. Reason being, we had to hit two different metrics: amazing hair care and amazing skin care. We didn't want to compromise. It had to be luxury, outstanding hair care as well as skin care.
What did the development process look like?
I actually put hair-care products on my face for about two years! That was the ultimate stress-test for what they're going to do for the skin. I guess I'm lucky I'm still breakout-prone in my 40s. Well, lucky in a way! I like to say I break out so you don't have to. You know, acne isn't just a teenage issue anymore. It's more rare to find women without acne these days. People are often bathing in pore-clogging ingredients, which can lead to breakouts via their hair care, everyday, without realizing it. With SEEN, we're creating something better and letting people know what's happening. All our products are non-comedogenic, and we put our hair-care products through testing that skin-care products go through. We put SEEN through comedogenicity testing to make sure they won't clog pores because that can lead to breakouts. Then, we also put them through something called RIPT testing to make sure they're non-irritating.
This is not a marketing story. It's a problem-solution brand designed to help people. I went into medicine because I wanted to create solutions that would help people. SEEN is really focused on being amazing hair care and amazing skin care at the same time. But for a luxury hair-care brand, it did have to smell incredible.
How did you decide on the brand's name?
If my hair or skin doesn't look good, I'm not that comfortable being seen. I actually have crazy hair naturally, so for my hair to look good, I have to work at it. I think for a lot of people just want to hide if they are having a bad hair day or a bad skin day. I've heard people say, How many pimples does it take to ruin your day? Well, it just takes one. If you're talking to someone or you're in a business meeting, sometimes it can feel like that's all anyone is looking at. Our line is really about inspiring people to be seen for their best self, to shine their brightest light and free up the mental space from focusing on their hair and skin looking good. We want people to have the confidence to be seen for who they are.
How is SEEN different from hair-care lines that are all natural or organic?
We're clean, free of sulfates, parabens, silicones, dyes, phthalates, formaldehydes; there's a long list of things we're formulated without. But we're not natural and organic by design because natural and organic are not always skin-friendly. For example, coconut oil is actually, really highly comedogenic. There's also a rise in skin allergies to some botanicals. Some botanicals are great, but some aren't. I would say that just because something's clean, organic or natural does not mean it's going to be skin friendly and not clog your pores or irritate your skin.
What has been the biggest pinch-me moment for you since launching your line?
The best and biggest moments are receiving emails from customers who tell us that SEEN has changed their lives. We just got one from a woman in the UK actually. There's really nothing like SEEN out there, so we get requests from all around the world. We shipped our product to her and she just wrote back such a note of gratitude. She struggled with skin issues for years and after using SEEN, finally has good skin. I think it's the notes of people who've been struggling, sometimes for years, and have had our products help them.
If you could tell your 20-year-old self anything, what would it be?
Tell the story that you want to be your life story. Have a big vision because that's the start to making the life that you want. In your 20s, sometimes it's hard to be confident and be authentically yourself. So I would tell myself to embrace who I was and focus more on making myself happy.
What's next for the brand?
We're launching a fragrance-free version of our products. The rate of skin-sensitivity to fragrances is upwards of 4.5% in adults. There's really no other luxury hair line that is also fragrance-free. Aside from our fragrance-free options, we have curly products coming out that took years to get right. I'm actually naturally curly, so I'm super excited about that.
My three desert island products are SEEN hair-care, of course, SkinCeuticals Physical Fusion UV Defense SPF 50 Fusion and a great moisturizer.
A beauty trend I regret trying is definitely straightening my hair. In the early days, my hair would be stick-straight and didn't smell good for weeks — like fire. It was a total disaster.
My first memory of beauty is actually being able to tame my curly, frizzy hair. It really made me feel beautiful. I mean my natural hair has a life of its own. Once I figured out how to manage it was when I really felt like hair was important to feeling beautiful.
The best part about being my own boss is that as a mom with three kids, it allows me to have the flexibility to do the things I want. For example, I picked up my son from preschool today. I missed so many violin concerts when I was in the operating room because my schedule was booked out for months. I no longer have to miss violin concerts.
To me, beauty means being yourself and expressing yourself fully. I think the most beautiful people I know are not so much perfectly looking but radiant. It's external, but it's also internal.
Photo: Iris Rubin; Design: Hannah Packer
Read more

Back to top