#Skincrush: Matt Woodcox of @dirtyboysgetclean Shares the Micellar Water He Can't Live Without
June 25, 2019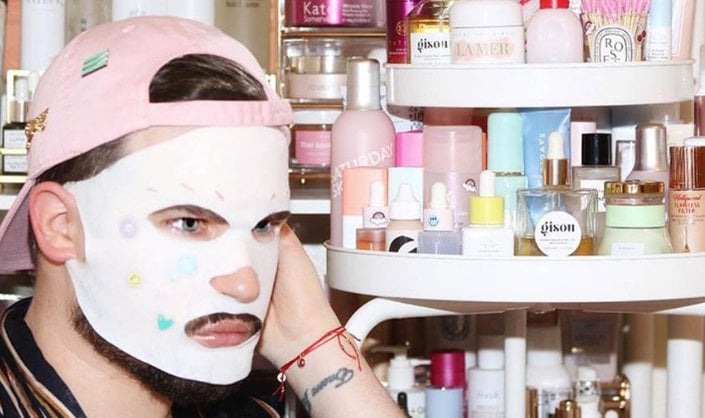 #SkinCrush digs into the routines of people who love skin almost as much as we do.
Unsurprisingly, we've been crushing on Matt Coodwox, known on the 'gram as @dirtyboysgetclean, for a long time. His feed is a mesmerizing combination of pretty pink hues and lots and lots of product. It's anything but minimalist and makes scrolling feel like you're taking a heady stroll through the aisles of an aesthetically pleasing skin-care heaven. We recently caught up with the skin-care aficionado to find out which product he can't live without, what's in his current skin-care routine and whether he actually uses all that product. 
Name: Matt Woodcox
What you do: Content Creator, Blogger

Skin Type: Dry
As someone who has so much product, how do you incorporate them into your routine? Do you try them all?
I always take a look at my skin before each routine to see what it needs. Part of my job is to try products, so I have tested a fair amount! 
Tell us about your current skin-care routine.
I am using a lot of Josie Maran and Tarte right now, which is funny because these are the two brands that got me into beauty and skin care back in 2010. It's a full-circle moment.
What's one thing you wished you learned sooner, in regards to skin care? 
Use SPF every single day!
What's your skin-care guilty pleasure? 
I love physical exfoliation even though I know it's controversial. 
Your favorite accounts to follow on the 'gram? 
I love @ms_hannah_e so much. Her account is brilliant. Not only visually stunning, but full of information. We started #TodaysSpf on IG to help encourage everyone to wear SPF daily.
What's the last skin-care product you finished? 
I just finished a bottle of Bioderma Sensibio H20. I love using this in the morning. It is so gentle. 
The skin-care ingredient you can't get enough of?
Argan oil for sure. Josie Maran is the queen! 
What's the most asked question in your DMs?
"Do you use all of these products?" I don't even explain it anymore. I just say, "I never let anything go to waste!" I donate any unused products to a local women's abuse shelter. 
Your favorite thing about skin care?
I love that even if it's 10-15 minutes a day, it's a time to take care of yourself.
Read More: 
#SkinCrush: OMGBart's Skin-Care Shelfies Are Everything (and So Is His Skin-Care Routine)
We Have a Major #SkinCrush on Influencer Austen Tosone — Here's Why 
#SkinCrush: Meet Amy Serrano — And the Skin-Care Gadgets She Loves
Read more

Back to top