A Dermatologist Shares How Often You Should Use a Scalp Treatment
October 24, 2022
We love a good scalp treatment — whether it's in the form of a detoxing scrub, mask or spray. While cleansing your scalp and hair roots is extremely important, it's key to ensure that you're not overdoing it. So, we chatted with board-certified dermatologist Dr. Elizabeth Houshmand about how often you should use a scalp treatment and she shares her best tips, ahead.
Every Two Weeks Is Key
According to Dr. Houshmand, for those with a healthy scalp, using a scalp treatment every two weeks is appropriate. "Scrubs may be more helpful to maintain a normal scalp. You want to maintain a healthy balanced pH of your scalp, so over-exfoliation is not a good idea." We love the Kiehl's Amino Acid Scalp Scrub Detox Treatment with amino acids, salicylic acid and sea salt, to help rebalance out an oily scalp.
How to Tell If You're Over-Exfoliating Your Scalp
If your scalp is red, irritated or itchy, it might be a sign that you are over-exfoliating. "I recommend maintaining a healthy scalp by carefully avoiding scratching, damaging or over-exfoliating the scalp." If you have any signs of irritation, it's best to stop the scalp treatment you're using and consult your board-certified dermatologist.
How to Use a Scalp Treatment Properly
There are certain ways to help care for your scalp properly, according to Dr. Houshmand. Always be extra gentle when using your fingers or rubbing in a scalp product. "You also want to avoid placing the product on the actual hair shaft, try to just keep it on the scalp directly."
Use lukewarm water and avoid using hot water when rinsing your scalp/hair as well. If using a scalp scrub or exfoliating mask is a part of your routine, Dr. Houshmand adds that it's important to keep it hydrated, too.
After using a scalp treatment, apply a hydrating leave-in like the L'Oréal Paris EverPure Sulfate-Free Multi Benefit Leave In Treatment with almond milk and rose extract, or the Amika Dream Routine Overnight Hydration Treatment with hyaluronic acid and coconut water.
"Having a healthy scalp will produce healthy hair. Scalp exfoliation, when done properly and gently, can remove scalp buildup, allowing our natural oils to keep the hair and scalp nourished and healthy," Dr. Houshmand says.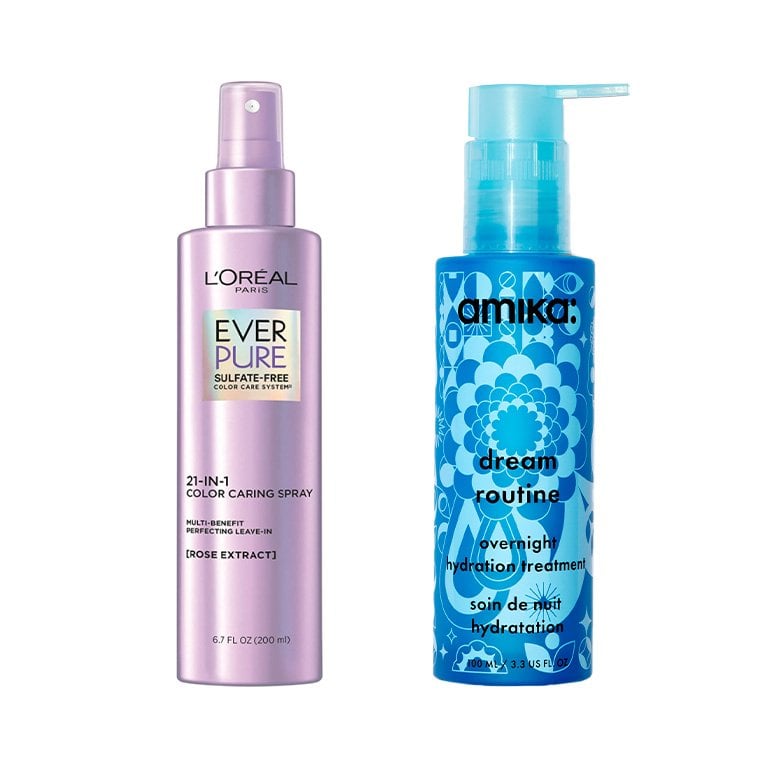 Design: Juliana Campisi
Read more

Back to top