3 Ways to Use the Kiehl's Ultra Facial Overnight Hydrating Face Mask
October 20, 2022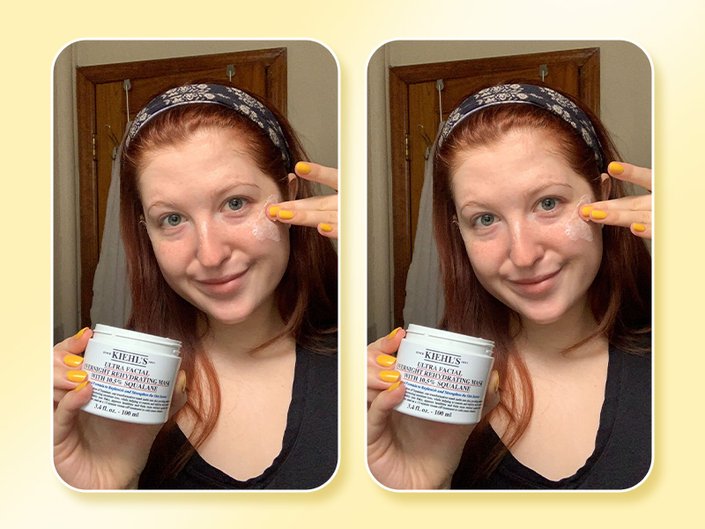 Lack of hydration isn't just a winter skin issue — it can span year round for a variety of reasons including weather, travel and stress. One of the best ways to combat dry skin is to incorporate ultra-hydrating products into your routine, and our current favorite is the Kiehl's Ultra Facial Overnight Hydrating Face Mask. The divine multi-purpose formula features 10.5% squalane and can be used as an overnight mask, a 15-minute mask and a cleansing balm.
According to Dr. Nancy Ilaya, Kiehl's Global Scientific Director, the inspiration behind the mask was to offer intense hydration and help support natural skin barrier repair processes overnight. "As we went through the formulation process and fine-tuned the texture, the versatility of t he formula came to light: The unique balm-to-oil transformation allowed us to evolve its uses beyond just a mask to a multi-purpose product."
When developing the mask, maintaining and restoring hydration was top of mind for Dr. Ilaya and her team, so including squalane in the formula was a no brainer. "Squalane is a natural component of the skin's lipid layers," she explains. "The mask helps to maintain skin hydration overnight."
After years of development, the resulting multi-use formula is a game changer for those with dry skin. Ultimately, regardless of how you use it, the mask provides relief from dryness and increases hydration, Dr. Ilaya says.
Below, Dr. Ilaya explains how to get the most out of the Kiehl's Ultra Facial Overnight Hydrating Face Mask with tips on how to use it.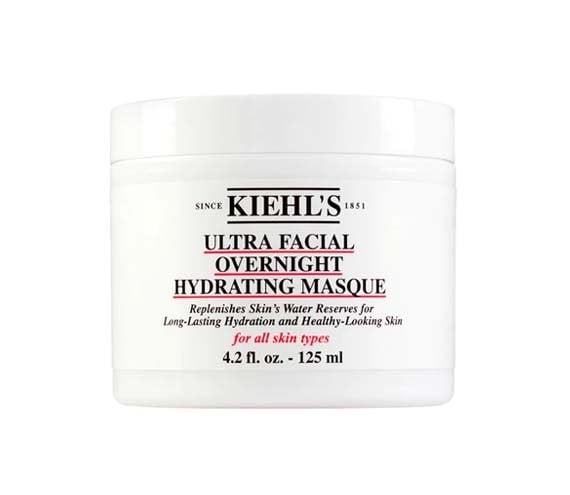 How to Use the Kiehl's Ultra Facial Overnight Mask…
…as an Overnight Mask
"As an overnight mask this product compliments nighttime routines for smoother-looking, radiant and more hydrated skin by morning," says Dr. Ilaya. She recommends applying this as the last step of your evening skincare routine two to three times a week. "It can even be used for slugging to help seal in moisture and other skin care benefits overnight," she says.
"It's especially great in the winter when overnight humidity and temperatures are low and known to contribute to skin dryness," says Dr. Ilaya. "However, if you live in a climate with moderate humidity, you can use the mask in place of your nighttime moisturizer three times a week."
…as a 15-Minute Mask
When you're short on time or don't want to wear the mask overnight, it can be used as a quick 15-minute hydration replenisher. "Using it in this manner is a fast way to restore hydration to prep skin for makeup or as part of a self-care Sunday routine," says Dr. Ilaya.
Instead of applying it directly after cleansing, Dr. Ilaya recommends layering it over your serum to lock in the nutrients. After 15 minutes wipe it off with a clean cloth and allow the excess to absorb into the skin. Try using it this way after traveling for the ultimate skin pick-me-up.
…as a Cleansing Balm
If you struggle with a tight, dry feeling after washing your face, using this mask as a stand- alone cleansing balm or as part of a two- step cleansing routine can help alleviate those issues. "It removes makeup and dirt without stripping or leaving a greasy residue," explains Dr. Ilaya.
When following up with another cleanser, Dr. Ilaya says the mask compliments foaming or micellar cleansers very well, too.
Photo: Mary Honkus, Design: Juliana Campisi
Read more

Back to top