Hyper Skin Founder Desiree Verdejo on Building a Beauty Brand Focused on Skin of Color
October 20, 2021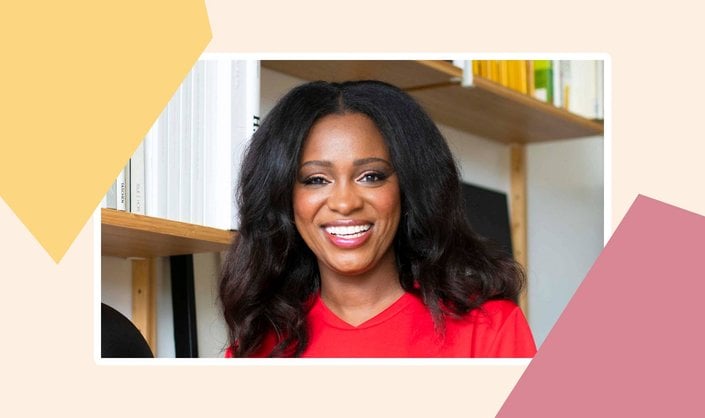 Desiree Verdejo, founder of Hyper Skin, never saw herself represented in the beauty industry, which is why her mission has been laser-focused on changing the industry from within. A former lawyer, Verdejo built a business specifically for skin concerns of people of color, from hyperpigmentation to acne scars and more. Ahead, she talks multicultural beauty, shares her favorite Black-owned beauty brands and advice for aspiring entrepreneurs.
Tell us a little bit about your background and how you got started in the beauty industry?
I'm a native New Yorker, a former attorney, and a lifelong beauty lover. As a Black woman, I've always looked at beauty through the lens of a consumer and I've always wanted to fill the voids that I've seen and felt in the industry, as a consumer. This impulse made me switch careers and years ago, launch an indie beauty boutique in NYC.
What was the concept behind
Hyper Skin
? Tell us what inspired you to begin the brand. 
Ever since I was a teenager, I've dealt with acne that was always followed by large dark spots. I was always drawn to beauty and skincare in particular, but I never felt like I saw myself reflected in the industry. I rarely saw Black and brown faces, and never saw anyone with texture, acne or hyperpigmentation.
When I opened an indie beauty boutique and was shopping for effective skincare brands for my very multicultural customer base, I realized that that lack of diversity trickled all the way down the pipeline in the industry — brown skin wasn't considered in the formulations or even in the skincare concerns that seemed worthy of addressing.  So many dermatologists and chemists receive little to no training on how to treat melanin-rich skin. 
I launched Hyper Skin to hyper focus on the most pressing skincare concerns for skin of color, starting with hyperpigmentation. Hyper Skin is an easy, results-oriented skincare brand rooted in multiculturalism.
What does a typical day look like for you? 
I always aim to wake up at 6:30 to have some time to myself before my toddlers naturally wake up at 7:30 AM. Before they wake up,  I like to have a latte in peace, jump on my Peloton for a quick ride and to shower without an audience. Then there's a mad dash to get them out the door and over to their preschool.
I like the separation between home and work, and the motivation to put on real clothes, so I head over to my co-working space on most days. A lot of my days are spent on Zoom with different members of my team, chatting with retailers, attending virtual events and sending emails. I love to fit in an outdoor coffee or lunch with my team or fellow founders when I can. 
What does your personal skincare routine look like?
My skincare routine is by far my favorite part of the morning. I have combination and acne-prone skin, so I'm always trying to use products that help manage breakouts. I'll start by cleansing with a gentle AHA cleanser. After cleansing, I follow up with the Hyper Even Brightening Dark Spot Vitamin C Serum because I am prone to dark spots! Next, I use a lightweight moisturizer and most importantly, sunscreen. Finding a brown skin-friendly SPF is a challenge, but right now I'm loving one from Everyday Humans called Resting Beach Face SPF 30 Sunscreen.
What's your favorite way to use
Hyper Even
?
I use Hyper Even every morning. You only need to use it once a day, and mornings are best because it's packed with antioxidants. I use two pumps for the entire face. Because it's a serum rather than a spot treatment, I use it on areas where I don't even have hyperpigmentation so I can prevent future dark spots. I always follow with SPF!
How has working on Hyper Skin impacted your life, and what moment in your career are you most proud of so far?
Creating something that our community tells us really works for them has definitely been the most impactful part of starting Hyper Skin. It never gets old. As someone who has always had problematic skin and has constantly been on the lookout for solutions, reading reviews and getting emails from customers will always be something that I look forward to. It's so motivating, and it really pushes me to always create at the highest level. 
In addition, I adore working with my team. We are all remote, so getting to interact with them on Zoom is one of my favorite parts of the day. I love to chat with them and share ideas and hear their updates. Most people are complaining about Zooms these days, but they're my favorite!
If you weren't in beauty, what would you be doing?
Even though my career started in law, I think I would have found my way to being an entrepreneur, perhaps in another sector. As a woman, a mom and  a Black person, I am very aware of voids in various industries, things that would make life easier, and concepts that would positively affect my community. This way of thinking would have surely lead me down the path of entrepreneurship.
What does the future of Hyper Skin look like to you? 
Right now, the future of Hyper Skin looks like growing our community and expanding our product offerings. Hyperpigmentation is a key concern to the community we're speaking to, but I'm excited to offer other products that can speak to other pressing concerns. We just launched with Sephora, so I'm excited to continue to grow in a way where our community can find us more easily in their markets.
What's your advice for an aspiring beauty or skincare entrepreneur?
My advice for an aspiring beauty or skincare entrepreneur is to really understand your customer. Consumers are savvy and they know what they want, so make sure you are offering something that speaks directly to their needs and ideals. Be really direct about what you're offering and make sure it truly fills a void. I'd say being able to connect with your community is vital to success.
Finally, what are some of your favorite Black-owned beauty brands?
In terms of makeup, lately, I've been loving Ami Colé and Range Beauty. Range Beauty has an amazing mid-coverage, hydrating foundation that gives your skin an amazing dewy finish. I also love Ami Colé's nude lip color — it's quickly become a staple for me! I am not incredibly loyal in the hair department but I always reach for the Baomint deep conditioning treatment from Adwoa Beauty — it's so hydrating and my scalp absolutely loves and needs it.
Photo Courtesy of Hyper Skin 
Read More:
Can Facial Rollers Cause Acne?
How to Tell if Your Skincare Products Are Expired
Read more

Back to top