OUI The People Founder Karen Young Wants to Change Your Relationship With Shaving
July 31, 2020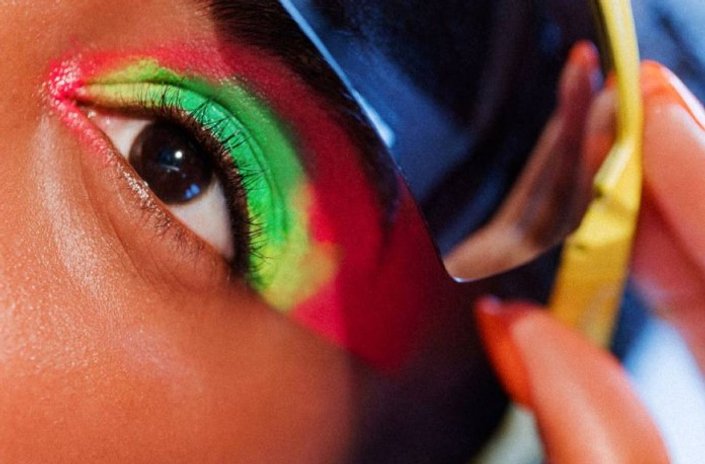 Everyone has a different relationship with shaving and beauty, and OUI The People founder Karen Young wants to help you improve upon both — one blade at a time. After years of working in the beauty industry, Young felt that there were major gaps in inclusivity and sustainability that were reflected in various brands' consumer-facing marketing. So, she decided to do something about it and create OUI The People, a Black-owned brand focused on being upfront, truthful and positive with its words, a "reconstitution of beauty" as she calls it. The brand focuses on revolutionizing the way we shave with state-of-the-art hand-crafted razor blades made in Germany. 
We chatted with Young about diversity in the beauty and skin-care industry, how she began her shaving brand and why beauty is about embracing the present. 
Tell us a little bit about your background and how you got started in the beauty industry. 
I graduated with a bachelor of science in psychology from Fordham University, and after spending several years working with top luxury fashion brands, I fell in love with sales and the ability to drive a brand's success at retail. I then started my own business focused on home goods with beautiful pieces that reflected what I knew from the fashion industry. After I closed that business, I received an opportunity to join Estée Lauder. The women in my family have simple approaches to skin care, so when I joined Lauder, it exposed me to a different psyche in terms of a customer profile of women who shop for beautiful and efficacious products, similar to a beautifully designed dress. 
What inspired you to create OUI The People? 
I founded OUI The People because I suffered from terrible razor burn and ingrown hairs. I also knew that men had more choices than women. As an adult, when I wanted to gift a man in my life with something beautiful and useful, I often went for a safety razor. The whole set would be beautifully presented with the right shaving cream, oils and a razor. It struck me that I was not only having a terrible experience shaving, but that the very act of shaving was far from luxurious. I wanted to create something that felt tailor-made to women. We started with a razor and oil and began expanding into body care this year. 
Each OUI The People Razor is a modern version of a timeless tool, hand-crafted in Germany with a weighted handle and a special non-aggressive angle. The blade glides over the top of the skin, hugging a woman's curves and edges to deliver a close, irritation-free shave. OUI's razor is also more eco-friendly than the plastic razors piling up in our oceans and landfills. Made from 100% stainless steel, it's designed to last. Customers replace dull blades and recycle the old ones. 
How do you feel about diversity in the beauty industry right now? 
I've only ever wanted to be a founder, but I've never shied away from being a Black woman, and I revel in the fact that our creativity and business acumen is finally being seen. The outpouring of support from editors and tags on social media lately has been incredible. The beauty industry is already so large and fragmented that it can be hard to be heard, but it seems like we're finally being heard and seen. Real change looks like including Black-owned brands in articles about inspiring founders, interviewing us in podcasts and listing us, and our products, outside of Black History Month posts. Simply put, including Black-owned businesses in stories regularly has a ricochet effect. If Black-owned brands aren't included in the daily conversation, it makes it harder for us to get distribution and harder for us to grow. It also narrows the choices for Black consumers, who spend $1.1 billion on beauty annually, and it funnels them toward the same brands who, frankly, are rarely celebrating and acknowledging them. 
What are some of your other favorite Black beauty brands?
I love and purchase from Blk & Grn, Briogeo, Blackgirl Sunscreen, Dehiya, Hyper Skin and Lauren Napier Beauty.
What does a typical day look like for you? 
I'm an early bird. Five in the morning is sleeping in for me, especially in the summer. I do a 20-minute transcendental meditation and either go for what I call my sanity walk (masked, of course) or take a Zoom yoga class with my favorite instructor. I'm at my laptop by 8 or 9 A.M., and from there it's a crazy mix of supply chain, product development, team meetings, interviews and financial projections.  
What do your makeup and skin-care routines consist of?
I don't own any makeup except for blush and one bottle of very old foundation. I wear makeup about three times a year, and my favorite part of wearing makeup is washing it off. 
I am obsessed with skin care, but I do have to take it easy, as my skin is sensitive. One of the best purchases I've made is a skin scrubber/spatula. My pores are tight, but it means they hold onto everything as a result. Using the scraper twice a week really cleans out the gunk that no topical products seem to work on. My other favorite tool is a glass facial cup. It brings blood flow right to the surface of the skin and makes my skin look so juicy! I use argan oil during this, followed by a quick massage. After washing with IS Clinical Cleansing Complex, I follow up with HyperSkin Vitamin C Serum and Hada Labo Hyaluronic Milky Lotion. I fend off breakouts with CosRx Pimple Patches, and I just discovered the Clear Pads, which offer a nice, gentle exfoliation. Mask-wearing has left my skin a bit of a wreck with lots of breakouts and hyperpigmentation along my jaw, so I use the Ren Skincare Ready Steady Glow a few times a week. 
 I am so obsessed with Featherweight. I use it right after a shower while my skin is still damp, and I'm set for the day. It just sinks into skin and leaves the most lovely, silky feeling behind.
How has working on OUI The People impacted your life?
I love what I do — it's fun, exciting, and I get an education every single day. To create the products that end up in people's homes, on their bodies and that they tell their friends about is absolutely incredible. I'm proud of our integrity always, our desire to do the best by our customers, and I'm proud to be the first Black woman who set out to redesign the shaving experience. 
If you weren't in beauty, what would you be doing?
I love creative work and can imagine myself as anything from a furniture designer to a florist to a brand designer. My favorite tool is a blank piece of paper. 
What's your advice for an aspiring beauty entrepreneur?
Whether you go it alone or team up with someone else, never be ashamed to ask for help. Shame stagnates growth. Find groups of entrepreneurs to join, whether it be at coworking spaces or in Facebook groups. Find your tribe and you'll find that you're not alone and that no one knows everything. Follow your heroes on Twitter and ask them what books they'd recommend for a budding entrepreneur, then read every one of them. 
And finally, what does beauty mean to you?
Beauty is the elusive space where I'm not ruminating on the past or building the future. Where I just am, and it's more than good enough. 
Photo Credit: Courtesy of Karen Young

Read More:
How to Treat Acne, Depending on Your Age
Read more

Back to top