Kiehl's Calendula & Aloe Soothing Hydration Masque Review
March 06, 2019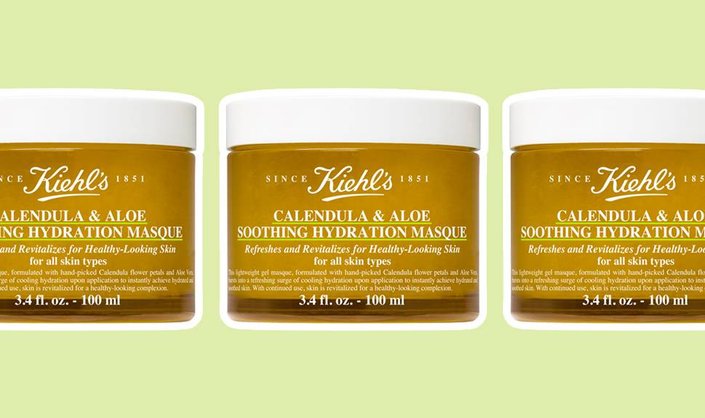 As someone who's forever chasing that "glass-skin" glow, whenever I choose a mask, I tend to go for something with "moisture" in the title in the hopes that I'll be transformed into a dewy dumpling. Recently, I've also been experiencing a little tightness and sensitivity due to the dry, winter weather, so I wanted a mask that would help with that, too. Cue the Kiehl's Calendula & Aloe Soothing Hydration Masque, a jelly-textured mask designed to help revitalize and moisturize skin. Calendula — native to the Mediterranean — is known for its skin-soothing properties and is a popular ingredient in Ayurvedic and traditional Chinese medicine. This power ingredient is paired with aloe, which is known for hydrating and calming skin.
I started by applying the mask to freshly washed skin and smoothed a visible layer all over my face. The mask is incredibly lightweight but a little goes a long way, so I didn't feel like I was scooping out lots of product to cover my skin. Once I applied it all over my face and a little on my neck, I waited the recommended five minutes before washing it away and gently patting my skin dry. The mask itself felt cooling on my skin, and I noticed a slight tingling sensation while it worked its magic. The sensation went away immediately after I washed it off and left my skin feeling hydrated and prepped for my moisturizer.
Although this mask didn't offer me lots of glow after a single application, it did make my skin feel moisturized and would be the perfect follow up to a pore-cleansing or clay mask used the day before. I would also recommend taking this mask along the next time you travel and slathering it on your skin in-flight to combat the dryness of recycled air. Its soothing formula is designed to work for all skin types, so sensitive skin types can get in on the masking fun, too.
A full-sized jar of Kiehl's Calendula & Aloe Soothing Hydration Masque (3.4 ounces and travel friendly!) will cost you $45, but you can also snag the mini .95 oz-version for $18 — a budget-friendly way to test out the mask for yourself.
Read More
How to Use Color Correcting Concealers Like a Pro
I Tried The Hanacure Face Mask And It Was An Experience To Say The Least
How to Determine Your Skin Type, A Dermatologist's Guide
Read more

Back to top