Brains + Beauty: How L'Oréal's Rocio Rivera Found Her "Prince Charming" Career
August 27, 2019
Even though L'Oréal Scientific Communications Director Rocio Rivera excelled in her science studies in school, eventually earning her PhD in neuroscience, she always felt like something was missing. It took discovering her passion for skin-care and makeup formulation to help her find her true career calling. We recently sat down with Rivera to talk about her background in neurology, how she moved into cosmetics at L'Oréal and the holy-grail skin-care ingredients she can't live without. Rivera's story teaches us that marrying your passion and career is possible — and that all it takes is a little perseverance and empowerment. Read on, and prepare to be inspired.
Tell us a little bit about your background in cosmetic chemistry and how you got started in the field.
I studied biology at university and got my PhD in Madrid in neuroscience. Then, I moved to the US and attended NYU School of Medicine and Columbia University to take my PhD to the next step. When I joined Columbia, L'Oréal had a collaboration with the Department of Neurology and Dermatology for one of the products the Company was launching, so I started working on the project, and when we finished, L'Oréal hired me!
I wanted to work at L'Oréal because I come from a family of pharmacists in Spain, so I grew up around formulas being created and that duality of the world of science and beauty. When we were doing the collaboration at Columbia University, I realized that people like me, with a higher education and a PhD in science do have a spot in the cosmetics industry, and that for me, was like finding Prince Charming, so to speak.
Were you able to just jump right in?
Actually, when I first joined L'Oréal with my background, I didn't know how to formulate. My first boss told me, "I want you to look at a formula, and you're going to learn to tell whether it's going to be a cream or a serum, if it's going to work on dark spots, etc." I thought the woman was crazy, that she had not looked at my resume. I had no idea how to do what she was asking. But L'Oréal saw that potential in me and saw that I had that passion, so I spent the next three years learning how difficult it is to put a product in market on the formulation side.
I would see my peers working so seriously toward creating the best cream, the best mascara, the best shampoo, and it taught me that people take it as seriously as the way I did when I was studying neurology. To see that the same seriousness and strictness in data collection and experiments applied at L'Oréal blew my mind. After those three years and understanding how difficult it is to formulate, I was offered the position I am in today in marketing.
What does a typical day look like for you?
My job today is basically to market science. I work on a product from conception all the way to what the consumers see on shelves, ensuring that the ingredients we put in, at the percentages you see, are what is needed. From the moment we come up with the product, through the formula development and when it gets tested, I train beauty advisors, go on TV, and do whatever it takes to help ensure that people are really going to feel that those products are working for them.
How has working in cosmetics impacted your life?
Cosmetics is a place that I can be myself because I've always been extremely interested in beauty, but I'm also a hardcore scientist. I always felt that "serious" part of me was always contradictory to beauty because, to some people, it looks superficial from the outside. It never felt that way to me, but I always thought I had to hide that version of myself. Once I started working at L'Oréal, it made sense.
What advice would you give to your younger self, in terms of your career in cosmetics?
My advice is to listen to your gut and keep pushing because you never know where things are going to go. I remember the moment in the lab when I told my peers I was going to leave to pursue a career with L'Oréal and I was asked why I would want to do that when I was so good at what I was doing. It really came down to the fact that I could work hard at anything — I just didn't have the same passion behind it.
What is your favorite skin-care ingredient at the moment?
The number-one ingredient is SPF! You must have SPF in your repertoire because you can definitely prematurely age if you don't use the right SPF at the right time. I would also say glycolic acid because it works very well with your skin to exfoliate and tame the appearance of fine lines and wrinkles. And of course, hyaluronic acid is another favorite at the moment because it's a natural molecule that our bodies create and lose over time.
Tell us about your skin-care and makeup regimens?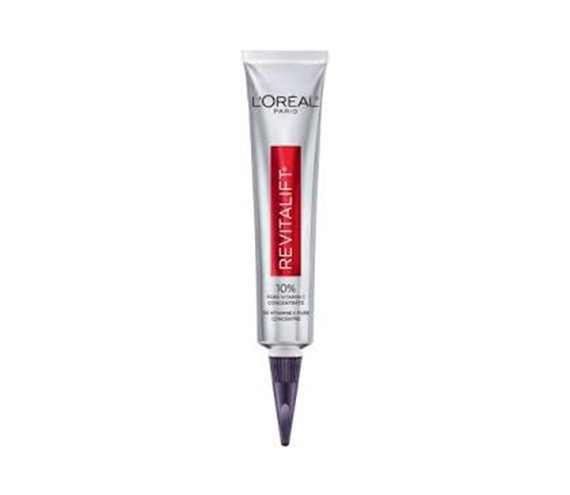 What does working in cosmetics mean to you?
I remember a key moment in my life when I went to a career workshop and the person running it said to us, "I want you to think about what you did last night. What was the last thing you read before you went to bed? Now write it down, and that should tell you what your passion is." And I remember I was in a room of PhDs at NYU School of Medicine, one of the best schools in the world, and what I wrote down, I felt I couldn't share with my peers — what I was reading was the beauty section in Vogue. And now it's ironic because I feel empowered at L'Oréal doing what I do and am grateful to them for allowing me to marry my passion with my training. There's always a place where you can get paid to do what you love, you just have to find it.
Read More:
How to Cleanse Your Skin, According to Your Skin Type
How to Remove Different Types of Face Masks
The Exfoliating Cleansing Mitt You Need ASAP
Read more

Back to top