Career Diaries: Meet Margaret de Heinrich, Founder of Omorovicza
August 21, 2019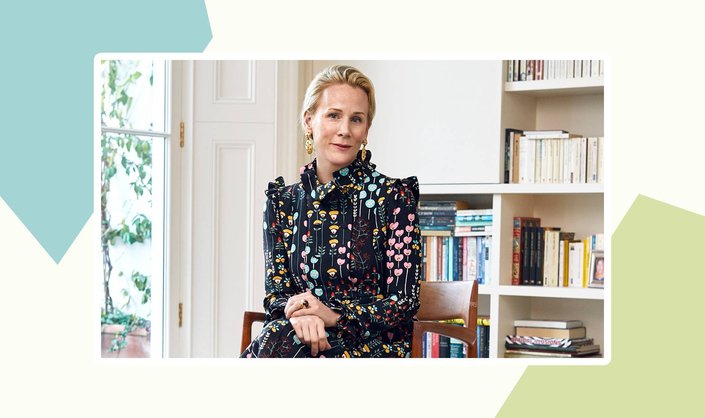 As the old saying goes, first comes love then comes marriage. But when it comes to Margaret de Heinrich, the saying should say, first comes love then comes the beginning of a new skin-care brand called Omorovicza. The story began when Margaret and her now-husband, Stephen, met in Budapest. The two decided to begin their own skin-care business after discovering the transformative healing powers of the Hungarian thermal baths. Since its inception, Omorovicza has become a globally recognized beauty brand for its extensive line of cleansing balms, moisturizers, face masks and so much more. 

Now, as a mother of four, wife, full-time entrepreneur and co-founder of the luxury skin-care brand, Margaret de Heinrich clearly does it all. Ahead, we sat down with this go-getter about to learn more about her story and Omorovicza. 
How did you get started in your career in skin care?
We started our adventure, Omorovicza, as we fell in love with the transformative healing properties we experienced first-hand in Budapest. We wanted to share that experience and those results.
What are the skin-care benefits of the Hungarian thermal waters?
There are so many. It really depends on the individual sources as different mineral combinations can achieve different results, but mainly, these minerals make the skin appear more elastic, firmer.
When did your passion for skin care begin?
I cannot remember a time my heart did not sing when I would try a new product. My first skin-care regime was the 3 Step from Clinique back when I was about 12 years old. I remember every moment from that shopping experience including where it was, why I bought it — everything.  
What does a typical day look like for you? 
I am sure like many entrepreneurs or mothers, there is no typical day. But, I can share my favorite type of day which would start with an early wake-up call at around 5:30 am. Followed by hot water with lemon, a little meditation or tai chi with Stephen, exercise, getting the children up (all four of them), breakfast, school drop-off, and then head to the office. Once I'm there, I'll have meetings with the team to discuss our projects. Lunch is at my desk, which is when I get to look at all the global political and economic and industry news (I'm obsessed) and then meetings with clients in the afternoon. Once I get home, I spend the afternoon helping with homework and finally, have dinner with the family.
How do you balance time between work, travel and being a mom?
It is a real struggle, but I love every minute of it. The secret is lots of planning. Also, I try to take time for myself to get my thoughts together (to dream) everyday. I also love reflexology and try to have weekly appointments. 
What is your daily skin-care routine?
It changes depending on what new products we are trialing, what time of year it is and the condition of my skin. But usually I always double cleanse, use an essence and typically mix our Miracle Facial Oil with whatever moisturizer I am using. 
If you had to recommend just one of your skin-care products, which one would you pick?
An impossible question. Either the Rejuvenating Night Cream or Miracle Facial Oil.
Do you have any advice for aspiring female entrepreneurs? 
Find a mentor. There are so many mistakes we've made, it would have been great to have some sort of a Sherpa along the way.
What does beauty mean to you?
Beauty is a catalyst. It's something that can inspire us to exceed our own expectations and reach our potential — intellectually, aesthetically, emotionally. 
What's next for you and the brand? 
It is such an exciting, busy time. Developing our own stores is really at the top of the list.
Read More: 
Career Diaries: Meet Tina Hedges, Founder of Loli Beauty, a Zero-Waste Skin-Care Brand
Is Obsidian the Next Face Roller You Need to Try?
A Simple Skin-Care Routine for Acne-Prone Skin Types
Read more

Back to top