How to Prep Your Skin for an Outdoor Sweat Session
April 26, 2019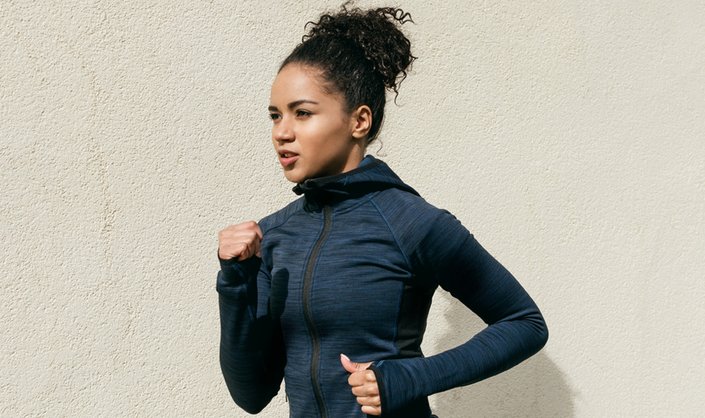 As much as we love indoor workout classes like SoulCycle or Rumble, there's nothing like a relaxing jog or walk through the park — especially during the warmer months. There are, of course, those of you who commit to an outdoor run any day of the year and for that we commend you, but that's not always our reality. Before you commit to that outdoor exercise, it's important to prep your skin before exposing it to sun, sweat and harsh temps. Start by taking off your makeup, or, if you're already bare-faced, read on for your next instructions from Skincare.com consulting board-certified dermatologist Whitney Bowe, MD.
Sunscreen Is a Must, No Matter What
"Sunscreen is a must, no matter what time of year it is or how cloudy the sky may appear," says Dr. Bowe. "UVA rays penetrate through clouds year-round, and I've personally worn a UV skin-tracking device (My Skin Track UV by La Roche-Posay) and saw some seriously eye opening data about my sun exposure even during cold, cloudy winter days in NYC! I tell my patients to apply a moisturizing sunscreen and wear a hat if they plan on being outdoors for longer than 15 minutes at a time."
So, What Formula Should I Purchase?
"The weight of the product you choose can change based on the season and your skin type," continues Dr. Bowe. "If you're heading outdoors in the winter months, aim for a richer, more moisturizing cream-based product. If you're heading out during a humid day over the summer, a lightweight gel or lotion will be more suitable."
If You Sweat a Lot
"If you sweat a lot, I find that formulas that are water resistant are especially useful for preventing that awful stinging sensation we all dread when your sunscreen runs into your eyes," she says. "The word 'sport' is not regulated by the FDA, so it doesn't have an accepted definition. 'Water resistant' is more of a reliable term to look for on the label."
If You Have Flushed Skin
Most of us turn a little red when we exercise vigorously, but Dr. Bowe offers the following recommendation for her patients with rosacea, eczema or very sensitive skin. "People with these skin types tend to flush/blush more readily during exercise. I find those patients do better with mineral-based sunscreens that are lightweight and non-occlusive."
Adopt an Antioxidant Serum
Dr. Bowe also advises applying an antioxidant serum (we like a vitamin C powerhouse like Skinceuticals C E Ferulic) in addition to sunscreen. "Sunscreens don't protect against all the free-radical damage from pollution, UV rays, infrared rays and visible light," says Dr. Bowe. "Certain retinoids can make the skin more sensitive to the sun, so I recommend applying your retinoid at night. AHAs and BHAs can also make skin more sensitive to sunlight."
Don't Forget About Your Post-Workout Routine
"I always recommend cleansing with a gentle cleanser after exercise, and then using a product that helps restore the moisture barrier," Dr. Bowe explains. "Some ingredients I love for this purpose are pre- or probiotics, and niacinamide." We recommend using the CeraVe Foaming Facial Cleanser followed by La Roche-Posay Double Repair Face Moisturizer after an outdoor workout.
Read More:
Your Ultimate (Daily, Weekly, Monthly & Yearly) Guide to Great Skin
Why You Shouldn't Use Your Overnight Mask as a Moisturizer
8 Vanity-Worthy Facial Rollers to Add to Cart
Read more

Back to top