In My Skin: Skinfluencer and Sacheu Beauty Founder Sarah Cheung on the Biggest Beauty Lessons She's Learned
November 30, 2021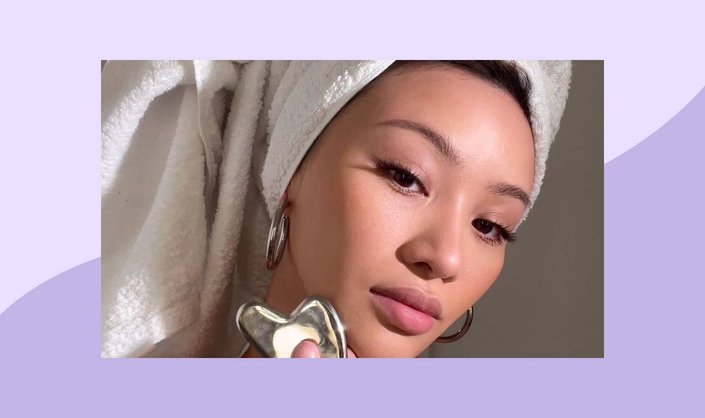 The life of a skinfluencer can seem like all fun, games and dewy-skin selfies, but Sarah Cheung a.k.a. @sacheu is obsessed with researching ingredients and the efficacy of the products she uses. What started out as sharing this knowledge with her followers led to a social media community of 302K+ followers who wanted more. So much so that in 2020, she launched her own brand, SACHEU Beauty, of stainless steel beauty tools like a face roller and gua sha that blew up on Instagram. Now, even while running her own beauty empire, she still manages to post product reviews and skin tips to her channels. Here, Cheung tells us more about what inspired her brand, her skincare routine and the beauty trends she's loving now. 
What is SACHEU Beauty's skincare philosophy?
I grew up using products with natural ingredients. Like, 'if you won't eat it, you shouldn't put it on your skin'. That philosophy led to a lot of making your own skincare in the kitchen. As I learned more about skincare, I realized that that natural does not always mean that it's good for you. Doing those things actually caused more scarring and triggered more acne. Natural remedies aren't always the solution. 
SACHEU Beauty is trying to push back on that. The whole wave of natural and clean beauty isn't always beneficial for everybody. Minimizing irritation is a really big part of the puzzle, too. Products don't have to sting or feel tingly in order for you to know that it's actually working. At SACHEU, we want to prevent irritation as much as possible because that's what can damage your skin over time. 
What do you think about skincare trends on social media as a skinfluencer?
These aren't new trends but they're definitely things that are here to stay: sunscreen and sheet masks. I've always used sheet masks because I grew up in Hong Kong, so it has always been a staple in my regimen. I thought they were just going to be a fad for a year or two though, but there are still so many people who are using them in their skincare routines. Then there's SPF, which has only grown since people are realizing it's the most important piece of the puzzle when it comes to protecting your skin. SPF as a trend is going to spill over to SPF lip balms, SPF hand creams, SPF neck creams and body creams.
Pore vacuums are probably one trend I won't be trying. I have really sensitive skin so I just know those things are gonna cause so much redness and so many broken capillaries. They don't solve the issue completely either. It's so much more about using the right activities.
What are your skin concerns?
The biggest thing that kind of pushed me into the world of skincare and also my biggest skin concern was acne during my teenage years. There's just so much misinformation — I've tried toothpaste and lemon and all the things you can find in your kitchen like baking soda. Now that I'm a little older, that's not as big of a concern anymore because of hormone changes and stuff, but now the biggest thing I want to treat is thinning of the skin and blackheads.
Sarah Cheung's Skincare Routine
My skincare routine always follows a certain formula, but I always adjust it to how my skin is feeling that day so I treat whatever issues I'm having.
Morning
STEP 1: Apply cleanser, rinse and leave my skin wet.
STEP 2: Apply a serum, like a vitamin C serum or SACHEU Beauty Thick Skin.
STEP 3: Use the SACHEU Beauty Stainless Steel Face Roller all over.
STEP 4: Apply SPF! Depending on how thick the SPF is, I might apply moisturizer first, then follow with SPF.
Nighttime
STEP 1: Pre-cleanse using micellar water or something to break down all the sunscreen and makeup from the day.
STEP 2: Use a traditional cleanser.
STEP 3: Serum (sometimes with a gua sha).
STEP 4: Apply retinol to maintain healthy skin cell function (or sometimes an AHA or BHA depending on what's going on with my skin).
STEP 5: Finish with a moisturizer.
Photo: Sara Cheung
Read More:
InMySkin: Skincare Influencer and Esthetician Tiara Willis on How She Takes Care of Her Skin
Career Diaries: How the EADEM Founders Are Reframing the Industry's Approach to Melanin-Rich Skin
5 Quick Ways to Practice Self-Care That Also Benefit Your Skin
Read more

Back to top