Fun Fact: There's a Good Reason Some Skin-Care Serums Come In Dark Bottles
February 04, 2019
Sometimes it feels like there are just as many skin-care serums as there are books in the Library of Alexandria — and make no mistake, like each book in that vast collection, every type of serum is unique in its own way. Some serums come in pristine glass bottles with pastel or matte finishes, while others come in dark brown or black glass. As skin-care connoisseurs, we've often looked at our serum collections and wondered if there's a reason behind the packaging differences. Admittedly, we may have too much time on our hands (and probably too many serums), but we digress. As it turns out, there's actually a really good reason to put certain serums in dark bottles.
"Skin-care serums that are in dark bottles typically contain potent antioxidants like Vitamins C, E and Ferulic Acid," says Dr. Jennifer David of Schweiger Dermatology Group in Northfield, New Jersey. "They can be amazing for helping to prevent or reverse the signs of aging but are very vulnerable to degradation by light and oxygen." The dark packaging helps protect the serums from breaking down when they're exposed to light. While dark packaging is the first line of defense for preserving your serum, how you store it at home is equally as important. "Storing skin-care products appropriately will greatly improve their shelf-life," adds Dr. David, "and keeping antioxidant serums in a cool, dark area is essential." In other words, keep your antioxidant-rich serums away from that sunny window and humidity-prone bathroom!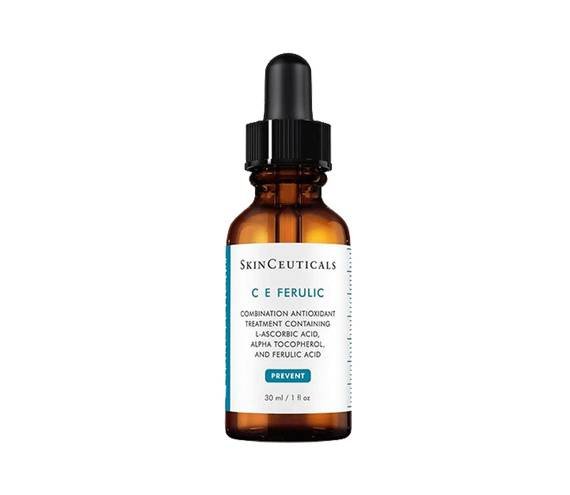 Not sure if your serum is still good? Dr. David offers the following advice: "Pay close attention to the color and smell of your serum. The color should be clear, light yellow or champagne. If you open a new product and it's dark brown or if it changes to a dark brown color over time, it already oxidized and will be minimally effective. If you open a container and it smells sour or rancid, discard it immediately." If you're in the market for a new serum with antioxidants, we recommend SkinCeuticals C E Ferulic, Youth To The People Superberry Hydrate and Glow Oil or the Mad Hippie Vitamin C Serum. 
Read More
5 Moisturizer-and-Foundation Combinations That Will Save Your Skin
Beauty Products Infused With Gold
Read more

Back to top