How a Beauty Editor Would Spend $100 on Amazon
February 28, 2020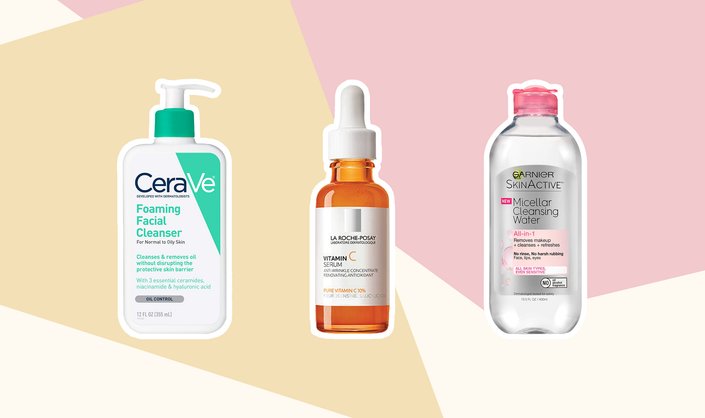 While there's no denying Amazon is a convenient place to shop, it can also be one of the most daunting. I mean, have you ever scrolled through the beauty section? There are pages and pages of products from companies ranging from the most well-known and popular to smaller indie beauty brands. If you're looking to re-up on some new skin care, it can be hard to choose what's worthy of trying. If you need some recs, look no further than our team of beauty editors (a.k.a fellow skin-care lovers) who were given a hypothetical budget of $100 to spend on Amazon. Read on to see what skin-care products they would add to their Amazon shopping cart. 
Genesis, Assistant Editor 
I like to be strategic about my spending. I always have that one splurge-worthy product on my list and then like to add in a couple of drugstore options so that I feel like I'm walking away with more bang for my buck. My splurge-worthy product of the moment is the Vichy LiftActiv Peptide-C Anti-Aging Moisturizer ($39) which is worth every penny for its ability to brighten, firm and hydrate my skin thanks to the super soft, silky and pillow-y formula. Then, I would add my skin saviors, which are the Mario Badescu Drying Lotion ($17) and skyn ICELAND Blemish Dots Facial Salicylic Acid ($20).These two are my ride-or-dies for zapping away unexpected blemishes, so I feel like I can never have too many in my stash. As far as cleanser goes, I like to stock up on the Garnier SkinActive Micellar Cleansing Water ($6.77), which I love to use before my cleanser to quickly get rid of makeup and any surface level dirt or impurities. For a deeper clean, I love to follow up with the CeraVe Foaming Facial Cleanser ($14.71) because it's affordable and effective.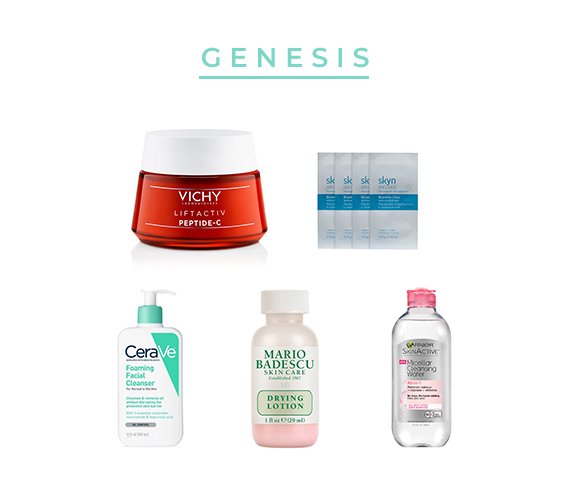 Samantha, Assistant Editor
Two of my favorite things of all-time are Amazon two-day delivery and skin care, so this imaginary challenge is right up my alley. Here's what I would buy with $100: First up? The CeraVe Hydrating Facial Cleanser ($13.79). It helps calm skin during the winter and leaves my face feeling fresh and clean. Next, I'd restock my go-to toner and antioxidant serums, the Mario Bedescu Witch Hazel Toner ($14) and the La Roche-Posay Vitamin C Serum ($39.99). The toner gives me that clean-as-can-be feeling and the vitamin C serum helps brighten my complexion and address hyperpigmentation. With my remaining money, I would purchase Weleda Skin Food ($12.49) and Dr. Paw Paw Multi Purpose Balm ($8.50). They're my holy-grail products, and I simply can't get enough of them. Weleda is great as a full-face, ultra-rich moisturizer in the winter or as a makeshift highlighter. Dr. Paw Paw Multi Purpose Balm not only helps hydrate my lips, but I also love using the peach pink shade on my cheeks for a subtle flush of blush.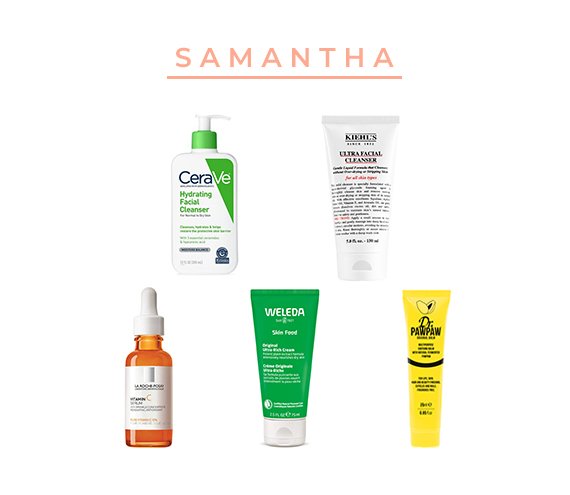 Jessica, Associate Editor
I have a hard time resisting free, two-day shipping on Amazon, so it's my go-to for stocking up on many of my beauty essentials. I never let myself run out of the TULA Purifying Face Cleanser ($24) — I use it every day, twice a day. To remove any makeup residue (like waterproof eye products) leftover after my cleanse, I use the Garnier SkinActive Micellar Cleansing Water With Rose Water ($6.96). Next up is the L'Oréal Paris Revitalift Derm Intensives 1.5% Pure Hyaluronic Acid Serum ($17.99). It's ultra-hydrating and I just love how luxe the bottle looks. In addition to a hyaluronic acid serum, I like to use a vitamin C serum in my routine to keep my complexion bright and glowy. One of my recent favorites is the InstaNatural Skin Brightening Serum ($17.97). To round out my spending, the Vichy Aqualia Thermal Rich Face Cream Moisturizer ($31) and worth every penny — a little goes a long way.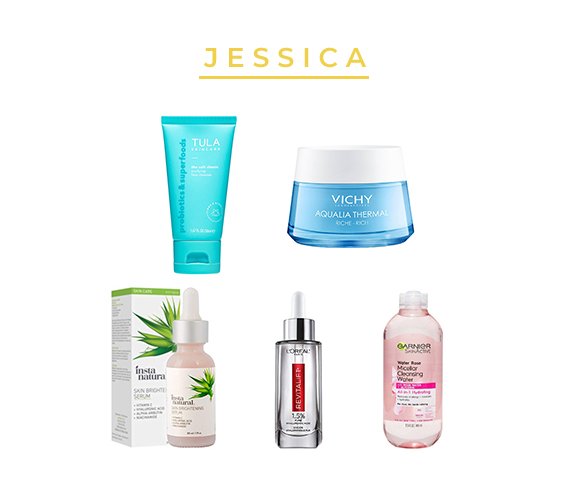 Alanna, Associate Editor
Replenishing my skin-care collection on Amazon is a piece of cake for me because, well, I literally order everything else I use on Amazon. The first thing I'd add to cart is the L'Oréal Paris 10% Glycolic Acid Serum ($23.94) because it's one of my go-to exfoliating formulas. It's really lightweight, absorbs into the skin quickly and makes my skin appear brighter after just a few uses. I'd also add in one of my new favorites: the Tula Probiotic Glow & Get It Cooling Eye Balm ($28). This glowy stick has become a staple in my routine before I apply my makeup because it wakes me up instantly. For cleanser, I'd restock on the CeraVe Foaming Facial Cleanser ($13.79), which I simply can't live without, and I'd also pick up the Megababe Rosy Pits Deodorant ($23.94) because I like to carry it around with me everywhere (it's a lifesaver, I swear!).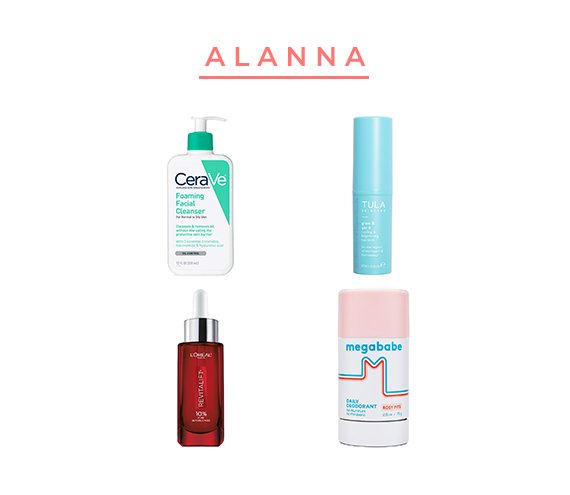 Jillian, Social Media Editor
I'm one of those shoppers who tries to cram absolutely everything I need into my budget, so you bet I'm going to try and knock out as many steps in my skin-care routine as possible with $100. The first thing I'm adding to my cart is Vichy Minéral 89 ($29.50). If all else fails, at least I'll have a majorly hydrating serum in my cart. One of the best makeup removers I've ever used is the Lancôme Bi-Facil Double Action Eye Makeup Remover, and at $24.50, it's a must. If I'm feeling extra dry, I'm going to pack in as much hyaluronic acid as possible, and The Ordinary Hyaluronic Acid 2% + B5 is my top budget-friendly pick. At just $12.48, it's actually a steal. As a little treat, I'd definitely snag the Aztec Secret Indian Healing Clay ($9.99). I swear it's actually magic and clears my pores like no other. And who doesn't love a good mask? And finally, it's not a full routine without some SPF, so I'd scooping up the La Roche-Posay Anthelios Gentle Lotion Mineral Sunscreen SPF 50 for $22.49.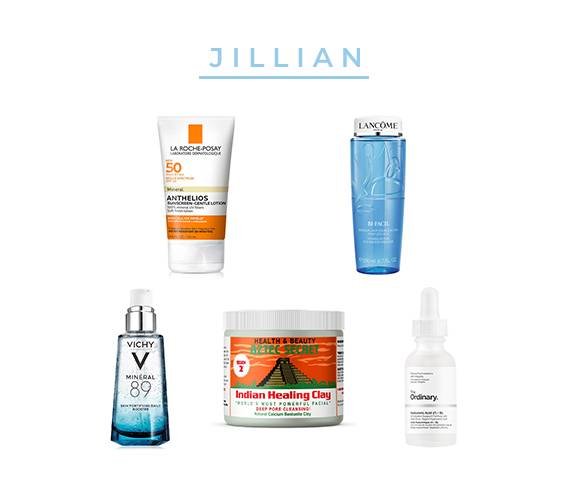 Read More: 
These 7 Toners from Amazon Are All Under $25
5 of the Best Men's Grooming Products on Amazon
8 of Our Favorite Facial Serums on Amazon
Read more

Back to top