Do I Need to Exfoliate My Skin? A Derm Weighs In
May 31, 2021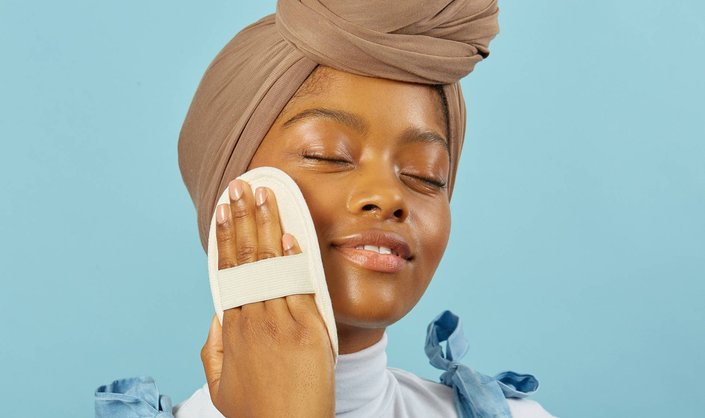 Exfoliation can help give skin a radiant, glowing appearance. Whether you choose to use a chemical exfoliator (with AHAs or BHAs) or a physical exfoliator (like scrubs), it's important to educate yourself on how much your skin can tolerate and how often you should do it. Truth be told, there's not one answer. All skin types are different and can tolerate exfoliation to varying degrees. Here, board-certified dermatologist Dr. Dendy Engelman gives us the 411 on exfoliation, including how to know if you've gone too far. 
What Is Exfoliation?
According to Dr. Engelman, exfoliation is the process of removing old, dead skin cells on the skin's outermost layer. "There are two types of exfoliation," she says, "mechanical — which involves scrubbing skin with an abrasive product like microfiber cloths, beads, a brush, sugar or salt — and chemical — which involves the use of salicylic acid, glycolic acid, citric acid, alpha-hydroxy-acids, beta-hydroxy-acids or enzymes." As we age, the rate of cellular turnover decreases, making our skin appear dull, which is why both of these methods help remove the dead skin buildup on the surface to reveal younger skin cells. "It's the single easiest way to achieve radiant and glowing skin!"
How Often Should I Exfoliate?  
There's a different answer for how often to exfoliate based on your skin type. "Some people can only handle exfoliating once a week, while others need to every day," says Dr. Engelman. She suggests starting with once or twice a week and increasing in frequency, as tolerated. For a mechanical exfoliator, we recommend the La-Roche Posay Ultra-Fine Face Scrub. For a chemical exfoliator, try the SkinCeuticals Silymarin CF which combines vitamin C and salicylic acid to help improve skin tone and texture. For an option that combines both physical and chemical exfoliation, we love the L'Oréal Paris Revitalift Bright Reveal Glycolic Acid Cleanser with gentle micro-pearls and glycolic acid. 
 
What If I Over Exfoliate?
It's easy to spot excessive exfoliation; you can usually tell by looking at the skin and seeing if it's red, flaking or peeling. "Over-exfoliating can trigger inflammation on the skin and weaken the skin's barrier function. If the barrier function is damaged, skin can become vulnerable, more sensitive and irritated," explains Dr. Engelman. 
Think you've gone overboard with your exfoliating? It's possible, but don't panic. Take a break from exfoliating for a little while until your skin calms down. Avoid using any products that may cause irritation. If you've exfoliated to the point of bleeding or blistering, make an appointment with your dermatologist to discuss more treatment options. 
Photo: Chaunte Vaughn
Read More:
These 7 Retinol Products Will Up Your Anti-Aging Game
Minimize the Appearance of Pores With These Editor Picks
Our Favorite Exfoliators on Amazon to Shop ASAP
Read more

Back to top