Astringent vs. Toner — What's the Difference?
February 24, 2023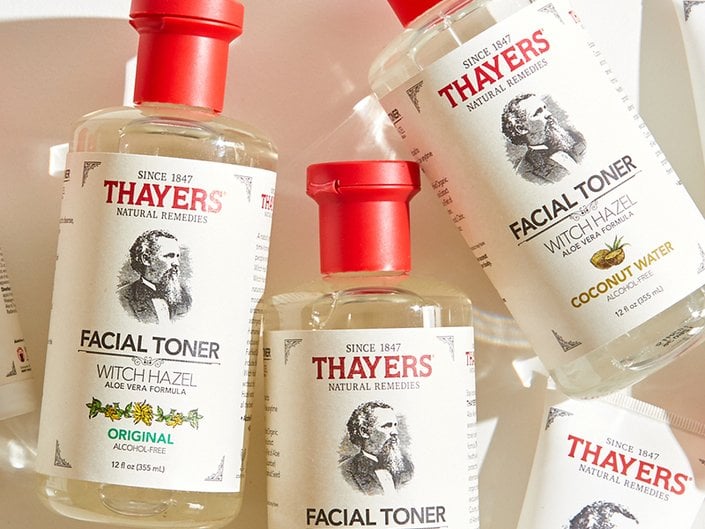 The skincare world is full of products that seem similar, yet differ in small but important ways. Prime examples include salt scrubs and sugar scrubs, balms and ointments and, our subject of the day, toners and astringents. While are both used to clear up excess grime and makeup that your cleanser may have missed, toners and astringents have different ingredient profiles that lend themselves to different skin concerns. A formula that balances oily skin and leaves it feeling clean and refreshed might zap the moisture from dry skin, while one that soothes dryness might trigger a flare of breakouts on acne-prone skin. Ahead, we're breaking down what a toner and astringent are and which skin types each is best for.
Astringent vs. Toner
Astringents and toners are both water-based solutions that help cleanse the surface of the skin of pore-clogging impurities, dirt, residue and excess oil and balance the skin's pH. Depending on the formula, toners can also help moisturize skin to address dryness or brighten dull skin. Astringents are usually more potent than toners. In addition to cleansing, they are typically used to help tighten the appearance of pores. Toners tend to be milder and less drying than astringents. Due to the varying formulas, it's important to take your skin type into consideration before choosing a toner or an astringent.
Toner
What Is Toner?
Toner is a step that follows cleansing, but precedes serum and moisturizer. "The main differentiator between an astringent and toner is the ingredients," Dr. Adam Friedman, associate professor of dermatology at George Washington University School of Medicine and Health Sciences in New York, previously told Makeup.com. "Toners often contain glycerin and some form of glycol, which both draw water into the skin to help soothe and buffer its pH levels."
Because toners usually contain moisturizing ingredients and are free of drying alcohols, they tend to work better for dry and sensitive skin types than astringents.
What Does Toner Do?
"Toner primes the skin for moisturizers and serums," Stacy Cox, a Los Angeles-based esthetician, previously told Makeup.com. "It allows for these solutions to penetrate deeper into your skin, helps hydrate the skin and removes any excess dirt or grime that wasn't cleaned off by your facial cleanser." There are different toner formulas that can tackle different skin concerns, from dryness to discoloration and dark spots.
There are plenty of toners that are designed for use on sensitive skin, like the Thayers Natural Remedies Milky Hydrating Face Toner with Snow Mushroom and Hyaluronic Acid. This gentle, fragrance-free, alcohol-free toner is formulated to tone, cleanse and moisturize the skin for up to 48 hours. Before settling on a toner for your sensitive skin, be sure to scan any product label for ingredients you know may cause you irritation.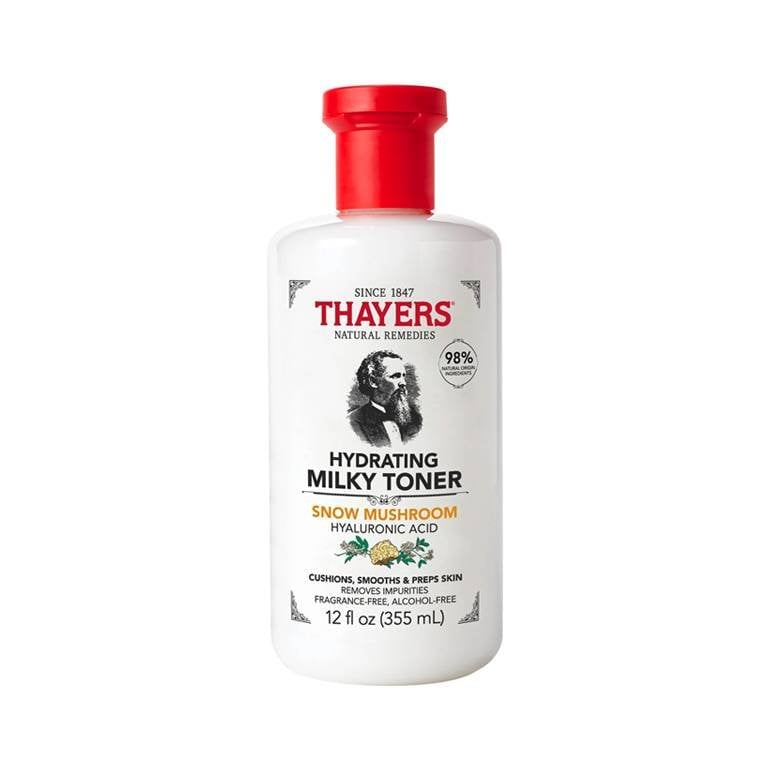 The Lancôme Absolue Rose 80 Toner is a brightening formula that's packed with 80% rosewater to soothe skin and make it appear more even and luminous. Salicylic acid exfoliates, sloughing off dead skin cells and revealing a fresh, glowing surface, while sodium hyaluronate helps retain skin's moisture.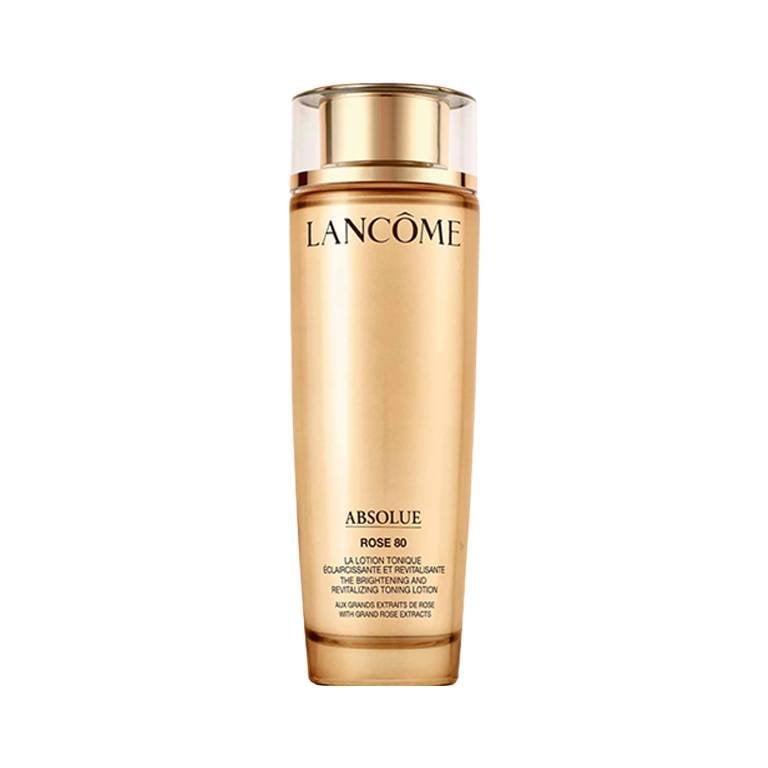 Another toner we love is the La Roche-Posay Effaclar Clarifying Solution Acne Toner, which is suitable for sensitive skin and acne-prone skin. A combination of salicylic acid and glycolic acid penetrate deep to unclog buildup inside pores and help fight breakouts. It clears excess oil and debris, smooths skin texture and tackles blackheads and whiteheads without disrupting the skin's moisture barrier.
How to Use a Toner
The suggested routine is to apply toner after cleansing skin in order to help prep it for the rest of your skincare routine and to remove any lingering residue. Soak a cotton pad with your toner of choice and gently sweep it across your face. If you see any signs of irritation, lessen your frequency of use or consider switching to a milder formula. Most toners are designed for twice-daily use, but those with sensitive or dry skin type may opt to use it once a day instead. Always check the instructions on the package of your toner, and consider doing a patch test on the skin of your wrist before applying the toner to your face. Consult with a dermatologist to find the best type of toner for your skin type, or if irritation occurs.
Astringent
What Is Astringent?
Astringents are typically stronger than toners. They're often alcohol-based, and are usually recommended for oily and acne-prone skin types. "Astringents reduce the acid mantle in your skin as well as the pH balance," Cox told Makeup.com. "You can't 'overdose' on toner, but you can definitely 'overdose' on an astringent."
What Does Astringent Do?
Like a toner, astringent removes the extra grime, oil and makeup that your face wash may have missed. However, astringents typically have fewer moisturizing ingredients than toners as well as alcohol at the base, which makes them more drying. That's why different toner formulas tend to work for every skin type, while astringents are best for skin types that produce excess oil and tend to break out often.
One astringent we're fond of is the Kiehl's Blue Astringent Herbal Lotion, which is ideal for oily, acne-prone and combination skin types. It can be used all over the face to soak up excess oil, as a targeted spot treatment to minimize the look of breakouts or as an aftershave lotion to soothe skin. Inside the formula, you'll find menthol and camphor, which instantly refresh your senses and have an icy, cooling effect on the skin. It also contains sodium PCA, a humectant derived from amino acids, to help rebalance skin's moisture levels.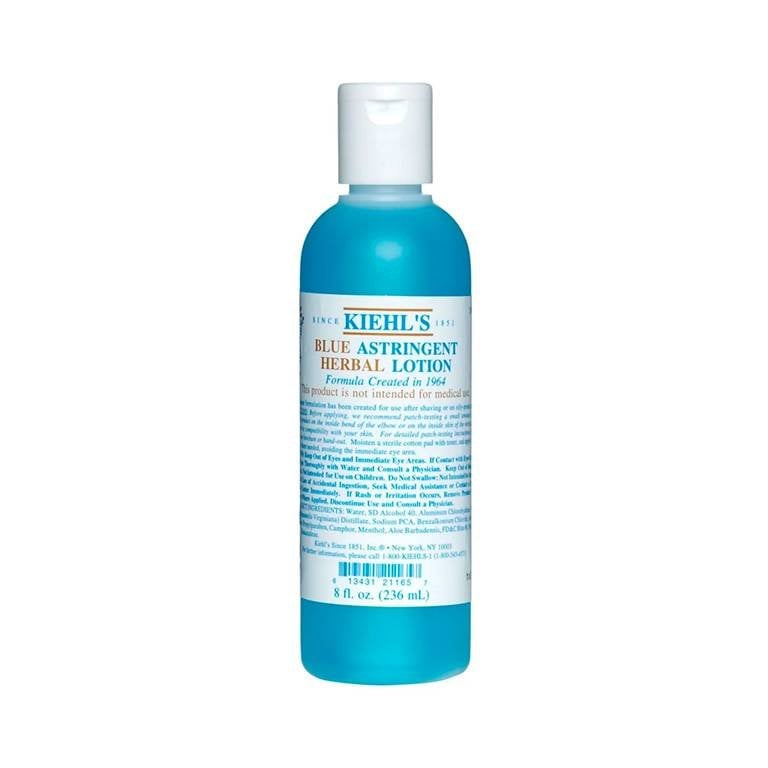 How to Use an Astringent
You can apply astringent all over your face using a clean cotton pad after you finish cleansing and before you apply serums and moisturizer. Some astringents can be used twice a day, while others are best reserved for once a day — check the package instructions if you're wondering when to apply. The bottom line? Pay attention to your skin. If you're new to astringents, test the product on a small patch of skin first to see how it reacts. For best results, always follow the instructions on your product of choice and consult with a dermatologist to find out whether a toner or an astringent is right for your skin type.
More Toners and Astringents to Try
At less than $10, this is a great drugstore toner to try if you're on a skincare budget. The gentle, pH-balanced formula hydrates and restores the skin's moisture barrier with ceramides, hyaluronic acid and niacinamide. Ceramides are key building blocks to a healthy skin barrier, and this toner helps replenish them with twice-daily use. Developed with dermatologists, the CeraVe Hydrating Toner is fragrance-free, oil-free, alcohol-free and allergy-tested.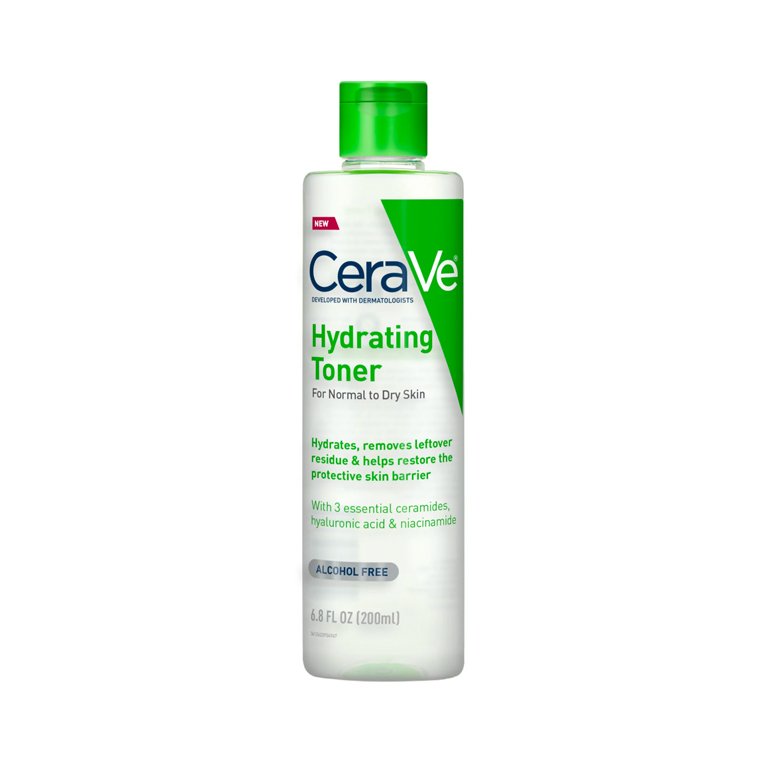 Buff away dry, dead skin, smooth uneven texture and refine large pores in as little as one week with this AHA toner. It's oil-free, non-comedogenic and ideal for all skin types, particularly those with texture at the top of their skincare concern list. Glycolic and lactic acids are gentle yet effective exfoliants.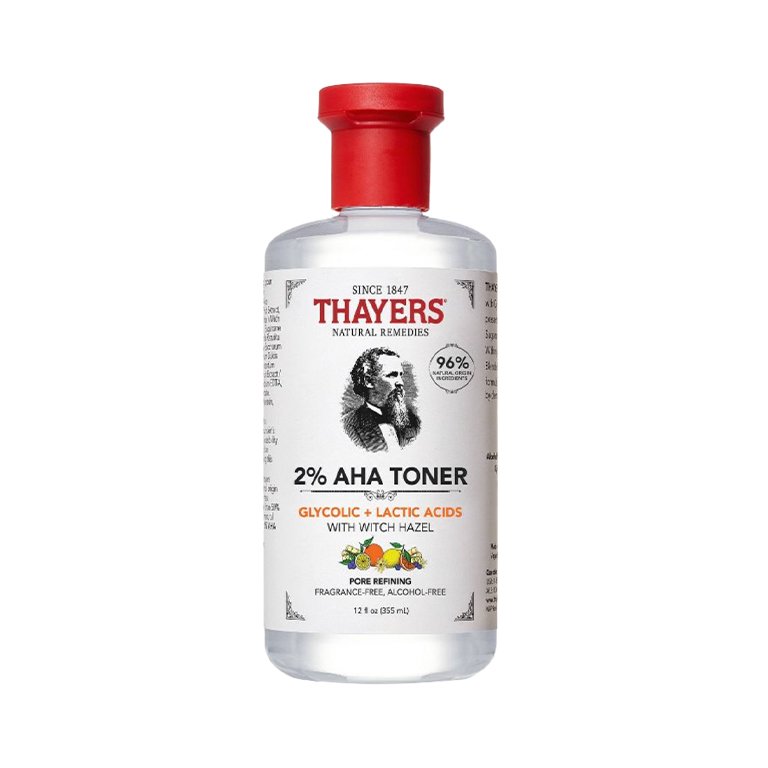 Soothe normal to oily and sensitive skin types with this gentle, alcohol-free toner. Calendula petals help fade visible redness, reduce oiliness and smooth skin's texture in as little as three days. Made without alcohol, it cleanses skin without overdrying and is non-comedogenic, meaning it won't clog your pores.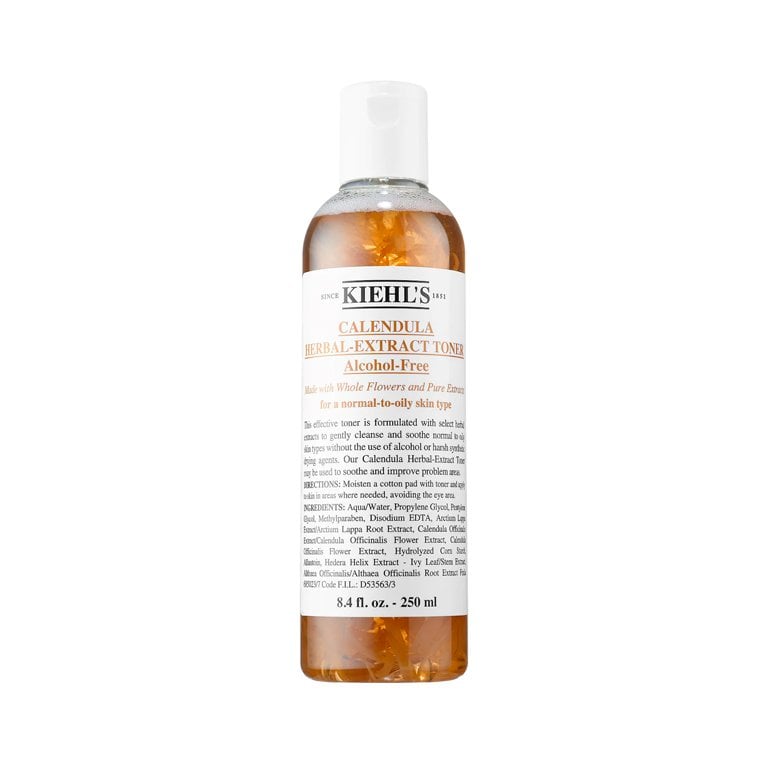 Another astringent to look into is the Thayers Natural Remedies Original Astringent. The dermatologist-tested and cruelty-free formula is made from locally grown, non-distilled witch hazel, grain alcohol and aloe vera. The 1:1 blend of witch hazel and aloe vera soothes skin while soaking up excess oil production. Added glycerin draws moisture to the skin to prevent this astringent from leaving your skin with a dry and tight feeling.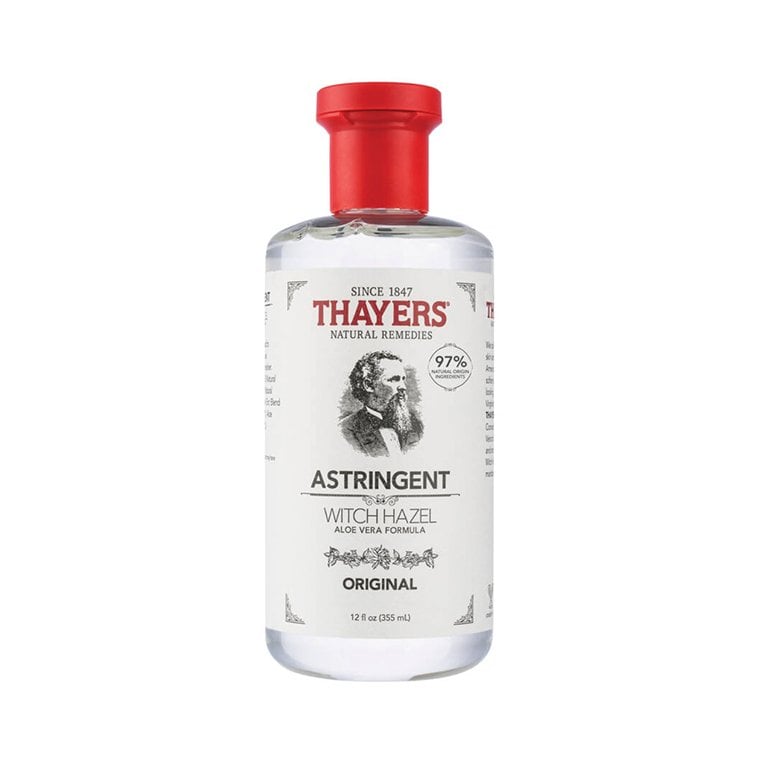 This toner dissolves dead skin cells and leaves skin feeling clean and looking luminous, thanks to ingredients like lactic acid, an exfoliant, plus anti-inflammatory kelp extract and cactus flower. Because it contains less than 1% lactic acid, it's a gentle exfoliant that works on normal, dry, combination and oily skin types alike.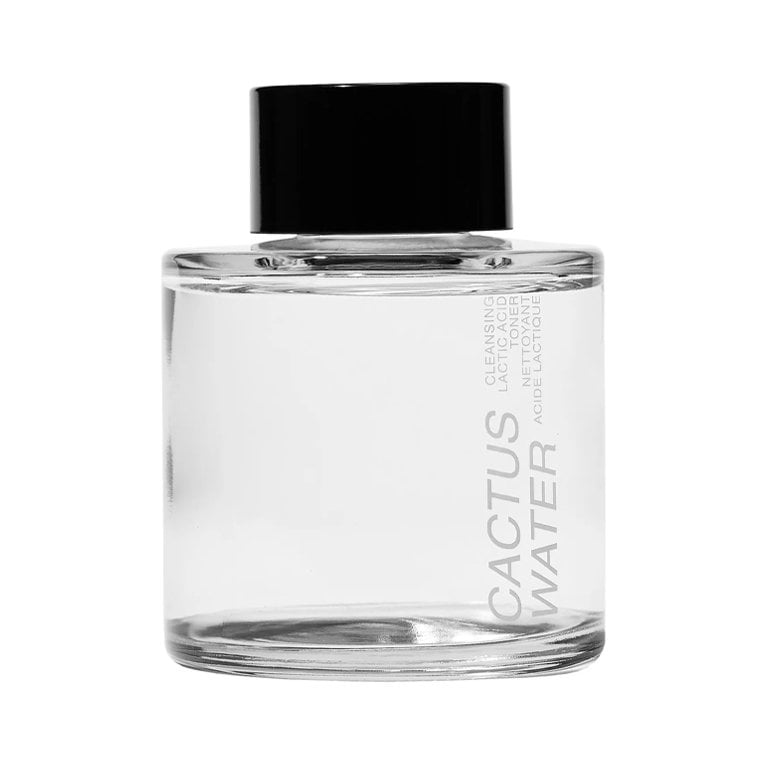 The ease of these astringent pads is unmatched. The tub contains 60 individual use pads that you can swipe on for a quick cleanse whether you're at home or on the go. The pad format makes them great for travel or tossing in your gym bag for a post-workout refresh. Witch hazel, citrus, aloe vera, peppermint and azelaic acid leave skin shine-free and squeaky clean.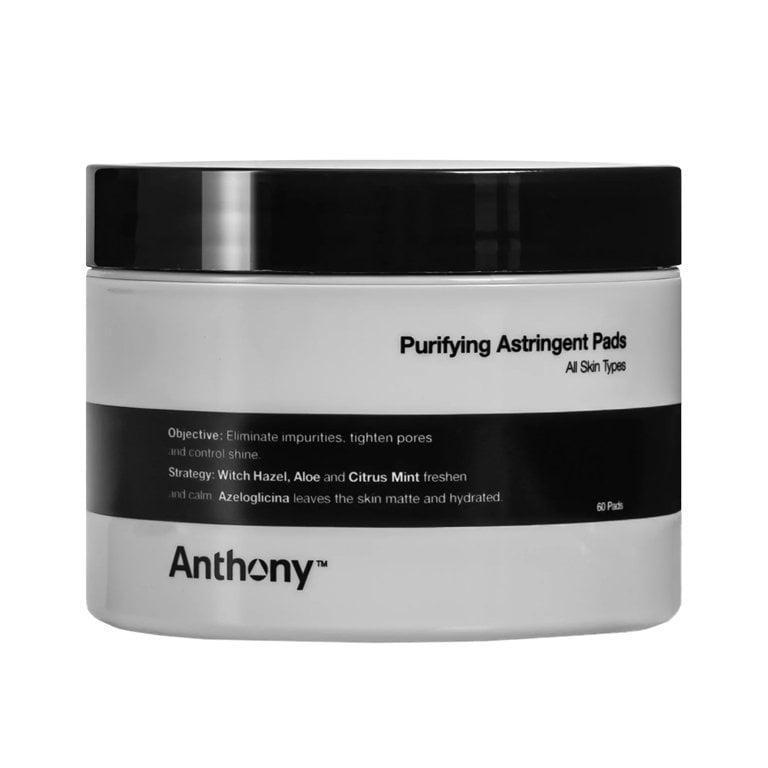 Read more

Back to top