Quick Question: Is Gold Good for Your Skin?
December 27, 2021
Confessions of a skincare enthusiast: sometimes we buy skincare products solely because they're made with luxury ingredients. Case in point: gold-infused skincare. But is gold added to our skincare products solely to make us feel like we're doing something better for ourselves and our skin or are there real noticeable benefits? Spoiler alert, the skincare benefits are real! 
Ahead, we're giving you the full lowdown with the help of Natalia Bednarek, founder of Herla Beauty, which has an entire collection of products infused with 24K gold and Dr. Hadley King, board-certified dermatologist and Skincare.com consultant based in New York City. 
What Are the Different Types of Gold Used in Skincare?
According to Dr. King, there are two main types of gold that are commonly used in skincare. One is colloidal gold, which is essentially small particles of gold that are suspended in a liquid formula. It is also sometimes referred to as "nano gold," which is just colloidal gold broken down into very small particles through nanotechnology. 
Then there is 24K gold. "24K gold is the purest type of gold available," says Dr. King. "Unlike 10K, 14K and 18K gold, which are all made from an alloy of gold and other metals, 24K gold is made of 100% pure gold." She further explains that there are not that many studies on the dermatologic use of gold yet, but the studies that have been performed support several claims regarding the benefits of gold on your skin. Learn more about them, here: 
What Is the Benefit of Gold in Skincare?
It Boosts Radiance 
According to Bednarek, gold has brightening properties that make the skin appear radiant. Dr. King says this is because gold particles can reflect light and therefore make the skin appear more luminous. 
It Can Help to Prevent Loss of Collagen and Elastin 
As we get older, our collagen and elastin production tends to slow down. For some, this can be concerning because it can lead to more visible signs of aging, like fine lines and wrinkles. Look for skincare products formulated with gold in them, which are known to help combat the visible signs of loss of collagen and elastin on the skin's surface. 
"Colloidal gold, in fact, is sometimes injected by doctors to treat rheumatoid arthritis," says Dr. King. "The thinking is that the same properties could also help with collagen and elastin loss; however, further research is needed to concretely assess the benefits of gold on collagen and elastin."
It Protects Skin From Free Radicals 
"Gold particles have been shown to have antioxidant properties and therefore could help protect the skin's surface from damage caused by free radicals," says Dr. King. Free radicals, remember, are highly unstable molecules that can be formed by environmental aggressors, such as UV rays, smoke and pollution and lead to premature signs of aging.
Gold-Infused Skincare to Try
Consider this moisturizer your luxurious pick-me-up for fine lines and wrinkles. Suitable for all skin types, including sensitive and acne-prone, its formula works to minimize visible signs of aging, reduce the appearance of hyperpigmentation and calm inflammation.
Bring back your skin's luminosity with this anti-aging 24K gold mask. It helps to target loss of firmness and elasticity, dullness, uneven texture and dryness, all while unveiling a healthy, youthful-looking and radiant glow.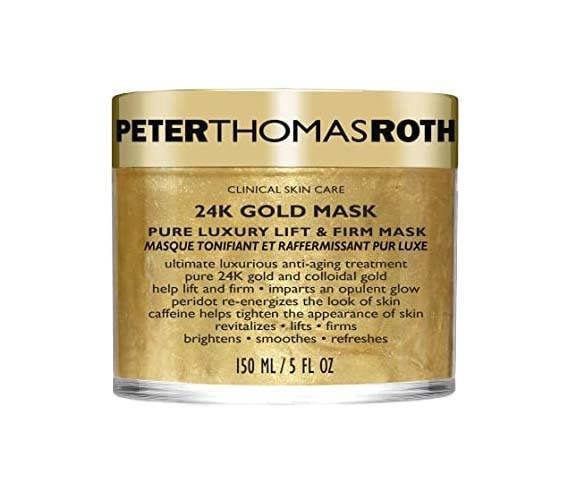 Indulge in the rich and buttery formula that is this Rodial Rose Gold Moisturizer. Infused with 24K gold, vitamin C and white rose fresh cells, the formula helps to promote skin that is instantly smoother, firmer, brighter and more luminous after every use. 
Who cares about dark circles when you have eye masks this glam to cover them? The top layer of gold feal helps trap heat and prevent the serum within from evaporating, allowing it to penetrate better in your under-eye area. Calendula and aloe leaf extract offer a soothing, depuffing effect.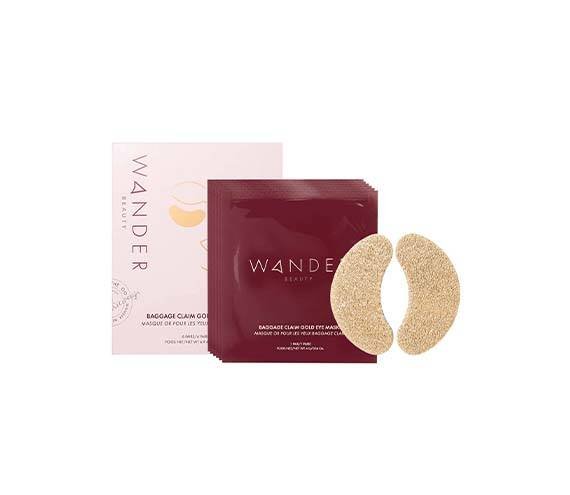 Achieve soft, lit-from-with skin, with this lightweight, hypoallergenic facial oil. Flecked with 24K gold, it works to nourish dry skin and balance sebum production on oily complexions. Pat it on after your moisturizer for a boost of instant radiance.  
Photo: Chaunte Vaughn
Read More: 
How to Achieve a Radiant Glow Year-Round
5 Lipo-Hydroxy Products for Smoother, More Even Skin
Quiz: What Serum Should You Use for Your Skin Concerns?
Read more

Back to top