Ingredient Explainer: Are Beta-Glucans in Skincare Worth the Hype?
August 27, 2021
Do the ingredients hyaluronic acid, glycolic acid or lactic acid sound familiar to you? If you're a skincare devotee, you'll probably say yes. But what about coq10, centella asiatica or niacinamide? It seems like every day there is a new, buzzy ingredient taking over the skincare world and promising beautiful, radiant and younger-looking skin. The latest on our radar? Beta-glucans, an ingredient that boasts anti-aging, hydrating and soothing benefits for your skin. To find out if beta-glucans in skincare are deserving of the increasing hype, we spoke with board-certified dermatologist Dr. William Kwan, SkinCeuticals ambassador and Skincare.com consultant. 
What Are Beta-Glucans?
Beta-glucans, according to Dr. Kwan, are a type of soluble fiber that's derived from oats. If you want to get more scientific, the National Center for Biotechnology Information (NCBI) shares that beta-glucans can also be classified as naturally occurring polysaccharides, which can be found in the bran of cereal grains, the cell wall of baker's yeast, certain types of fungi and many different kinds of mushrooms.
What Are the Benefits of Beta-Glucans in Skincare?
Beta-glucans have long been used for various health purposes. It's only more recently, though, that beta-glucans have been recognized for the benefits they can provide your skin, which according to Dr. Kwan includes helping to heal wounds, diminishing the appearance of wrinkles and reducing skin irritation. Some people have gone as far as saying that beta-glucan is the "new hyaluronic acid." But while Dr. Kwan names beta-glucan a reasonable, non-irritating addition to skincare products, he wouldn't call it a replacement for hyaluronic acid. "Hyaluronic acid is one of the building blocks of all organisms and is irreplaceable as a humectant that preserves moisture," he says. Additionally, according to the NCBI, beta-glucans have been successfully used to address burns by helping to reduce pain and improve healing. 
Who Should Use Beta-Glucans?
Often, certain ingredients won't work for specific skin types. Thankfully, that isn't the case with beta-glucans. No matter your skin type, you can get in on this trend, says  Dr. Kwan.
How to Add Beta-Glucans to Your Routine
If you're looking to add beta-glucans to your routine, you can rest easy knowing you won't have to do any major revamping to work them into your current regimen. Look for potent serums and face creams with the ingredient, like the SkinCeuticals Epidermal Repair. It's a therapeutic moisturizing face cream that protects and soothes compromised skin — think: super sensitive, dehydrated and blotchiness. It's specifically designed to support the skin's natural barrier function and works to diminish the appearance of redness. Gentle enough for dry and sensitive skin types, use it once daily or as needed, massaging a small amount onto the affected areas.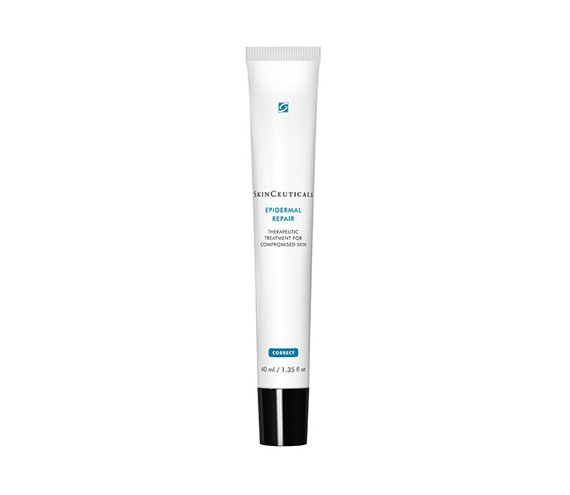 Read More: 
Why the SkinCeuticals Triple Lipid Restore Is Everything You Need for Youthful-Looking Skin
How to Apply Eye Cream — Because Yes, You Could Be Doing It Wrong
Derm DMs: Can Using Lipstick as Blush Cause Acne?
Photographer: Chaunte Vaughn, Art Director: Melissa San Vicente-Landestoy, Makeup Artist: Jonet Williamson, Makeup Assistant: Crisdanil, Wardrobe Stylist: Monet Luhrsen, Hair Stylist: Kiri Yoshiki, Visual Designer: Hannah Packer, Producer: Jessica Thiel, Production Assistant: Kaela Francesca, Digital Tech: Paul Yem, Model: Jess Epps 
Read more

Back to top