Is This the Best Micellar Water for Dry Skin?
July 17, 2018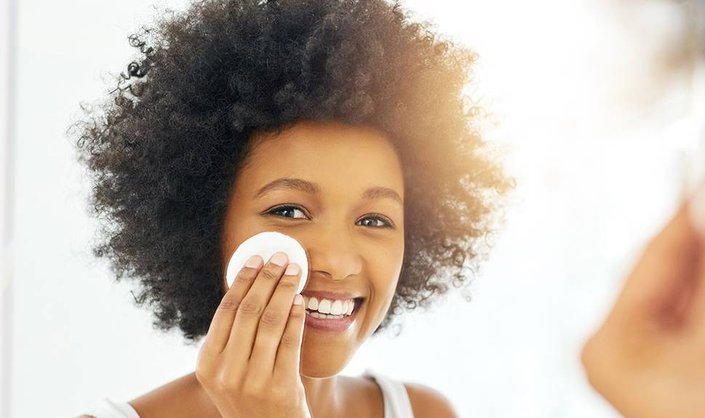 By now, you've like heard of micellar water, the no-rinse cleanser and makeup remover that first gained popularity in France and has since taken over beauty counters and skin care arsenals Stateside. With all the buzz around micellar water—and, not surprisingly, all the various formulas to choose from—we wanted to share the benefits of one particular micellar water formulated with dry skin types in mind. Our friends at CeraVe shared a complimentary sample of their Hydrating Micellar Water with the Skincare.com team, and we took it for a test-drive. If you're a fan of cleansers that won't strip your skin dry—you should be!—you'll want to keep reading for our full product review of CeraVe Hydrating Micellar Water.
The Benefits of Micellar Water
What makes micellar water so unique is the fact that it's formulated with micelles, small cleansing molecules that bind together to remove dirt, oil, and makeup off skin's surface in one fell swoop. Thanks to micelles tag-teaming to remove impurities with ease, most micellar waters are gentle on the skin and don't require harsh rubbing, tugging or even rinsing. This simple yet effective cleanser is a true blessing in a bottle for women on the go as it can provide a quick and painless cleanse, which as we all know is a non-negotiable step in all skin care routines.
There's also a specific benefit of micellar water for dry skin types. While many traditional cleansers can strip the skin of vital moisture, gentle micellar waters are not known to do such a thing. In fact, some are even formulated with skin-hydrating ingredients to ensure your skin is not stripped dry and raw post-use, but rather hydrated and comfortable.
Why You Should Try CeraVe's Hydrating Micellar Water
While this cleanser includes all of the expected benefits of micellar water, its formula stands out for a few reasons. For starters, Hydrating Micellar Water is formulated with three essential ceramides (like all CeraVe products), hyaluronic acid, and niacinamide. Vitamin B3—also known as niacinamide—helps calm the skin, while hyaluronic acid helps retain the skin's natural moisture. As for what the formula can do, expect it to cleanse, hydrate, remove makeup and help restore the skin barrier. As an added bonus, the ultra-gentle cleanser, which has been developed with dermatologists, is non-drying, paraben- and fragrance-free, as well as non-comedogenic meaning it won't clog your pores.
CeraVe Hydrating Micellar Water Review
Got normal to dry skin? If you've been on the hunt for an all-in-one cleanser that's gentle yet effective, you'll want to get your hands on CeraVe's Hydrating Micellar Water.
Recommended For: Normal to dry skin types.
Why We Love It: When using the formula for the first time, I immediately noticed how gentle it felt on my skin. I have dry, sensitive skin, so my options for cleansing my skin can sometimes feel a bit limited. What's more, I need to err on the side of caution when it comes to trying out new formulas. But after seeing the words "ultra-gentle cleanser" plastered on the packaging of CeraVe Hydrating Micellar Water, I felt comfortable giving it a try. And I am so happy I did! Shortly after cleansing my skin, I could feel an instant hydration boost. While harsh cleansers can quickly irritate my skin, this gentle formula helped cleanse my skin without leaving it feeling tight or dry.
Final Verdict: A product that contains the multi-tasking benefits of micellar water that can also hydrate your skin at the same time? It's safe to say I'm a fan. I've already stocked the bottle in my gym bag alongside a pair of cotton pads so I can remove makeup and impurities easily before breaking a sweat.
 
How to Use CeraVe Hydrating Micellar Water
Step one: Shake up the bottle well.
Step two: Grab a cotton pad and saturate it with the micellar water.
Step three: For eye makeup removal: Close your eye and gently hold the pad to your eye for a few seconds. Then, wipe away your eye makeup without any harsh rubbing.
Step four: To cleanse skin & remove face makeup: Wipe your skin with the saturated pad until your skin is free of makeup and impurities. No rinsing needed!
CeraVe Hydrating Micellar Water, $9.99 MSRP
Read more

Back to top