The Clay Product Routine Your Skin Has Been Craving
July 13, 2017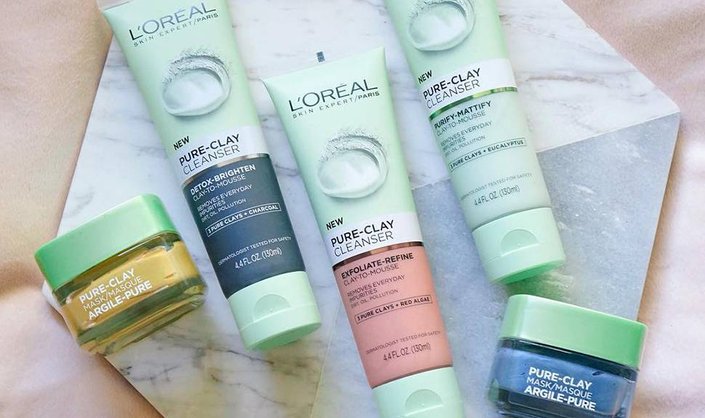 When it comes to popular skin care ingredients, clay ranks high on the list! Instead of only enjoying the skin care benefits of face masks formulated with clay, why not incorporate products formulated with clay into your entire skincare routine? Interested? Keep reading!
In a recent report on beauty trends published by Google, it was revealed that the most searched skin care ingredient was none other than clay. Most-often associated with face masks, clay has been used in skin care formulas for years thanks to its ability to help reduce the appearance of excess oil and impurities from the surface of the skin. But why limit the use of products formulated with the ingredient to just one to three times each week?  Thanks to new clay cleansers from L'Oréal Paris, your skin care routine can incorporate clay products every day! Discover more about these clay cleansers and our clay skin care routine below.
L'Oréal Paris Pure-Clay Cleansers
Of the three non-negotiable steps in every skin care routine, cleansing is always number one. (Two and three? Moisturizer and broad-spectrum SPF). This is why we're thrilled to announce L'Oréal Paris' new Pure-Clay Cleansers. Taking an ingredient that's most commonly found in the formulas of face masks, the new cleansers allow you to reap the benefits of clay products in your skin care routine daily. Just like the Pure-Clay Face Masks, the cleansers are available in different formulas that can be mixed and matched depending on your current concerns.
Each of the clay-to-mousse daily cleansers is formulated with three pure clays—hence the name. Kaolin Clay is a fine, soft white clay, Montmorillonite Clay is a green clay, and Moroccan Lava Clay is a red clay derived from volcanoes. Together they can help to absorb excess oils, purify the appearance of skin's surface, and slough away built-up dead skin cells from skin's surface. From there you can choose to customize your cleanse by selecting one of the three formulas:
Exfoliate and Refine – Formulated with red algae, this daily cleanser helps to remove everyday impurities like dirt, oil, and pollution by exfoliating the skin's surface. The cleanser helps to refine the appearance of pores.
Purify and Mattify – Formulated with eucalyptus, this cleanser also helps to wash away impurities without drying the skin. However, this formula helps to deeply clean by removing excess oil, leaving the skin looking matte and feeling fresh.
Detox and Brighten – Formulated with charcoal, this clay cleanser helps to remove impurities on the skin's surface while also helping to brighten and even the appearance of skin's tone, leaving you with a fresh-looking glow.
You can opt to use just one daily or alternate which cleanser you use depending on your current needs! After cleansing be sure to moisturize your skin to replenish your skin with hydration and after your morning cleanse don't forget to apply (and then reapply!) broad-spectrum SPF.
Pure Clay Cleansers (each $6.99 MSRP) available now on Ulta.com
L'Oréal Paris Pure-Clay Masks
After using your daily cleansers, incorporate a clay face mask into your routine up to three times each week. The L'Oréal Paris Pure-Clay Masks are some of our favorites. Like the cleansers they are available in a variety of formulas, including a brand new blue-hued face mask that's bound to be your summer go-to. Like the cleansers, each mask is formulated with a combination of three mineral clays—Kaolin Clay , Montmorillonite Clay, and Moroccan Lava Clay—among other ingredients. Depending on your needs, you can use one at a time or mix and match the masks on different areas of your face to address different skin concerns for a no-brainer multi-masking session at home!
Pure-Clay Mask Purify & Mattify: For oily and congested skin reach for the Mattifying Treatment Mask with clay and eucalyptus to help purify the appearance of the skin and remove excess oil from the skin's surface creating a clean, mattified look.
Pure-Clay Mask Detox & Brighten: To help illuminate dull and tired skin, while removing dirt and other impurities from the skin's surface, reach for the Brightening Treatment Mask with clay and charcoal.
Pure-Clay Mask Exfoliate & Refine: For rough-feeling, clogged skin turn to the Refining Treatment Mask with clay and red algae to help exfoliate the surface of the skin for a more refined look.
The latest addition to the Pure-Clays line up is the new blue Clear & Comfort Face Mask formulated with a blend of the three pure clays and seaweed. The clay face mask was formulated to address the drying and sensitizing effects of excessive harsh cleansing over a long period of time which can leave the skin feeling uncomfortable. The blue face mask helps to address this concern, leaving the skin balanced, comforted, and perfected.
Pure-Clay Clear & Comfort, $12.99 MSRP available now on Ulta.com
Read more

Back to top