How to Use Coconut Oil to Remove Stubborn Makeup
June 01, 2020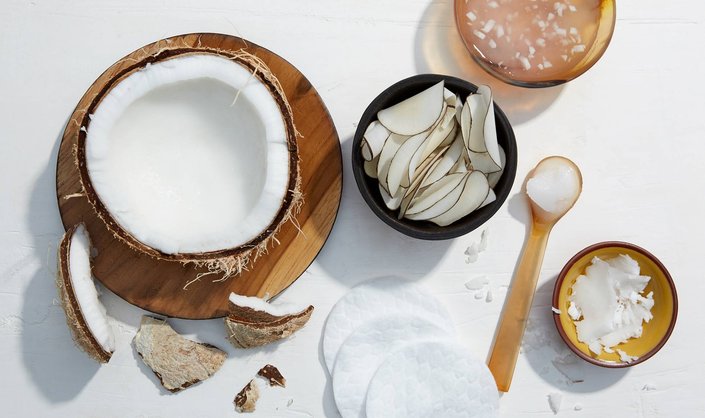 There is no shortage of ways you can use coconut oil for skin and hair in your beauty routine. From applying it to your hair as a mask to using it as a moisturizer, the ingredient is incredibly versatile. One of our favorite ways to use coconut oil is as a makeup remover. To try it for yourself, follow the four simple steps below.  
STEP #1: Start With the Right Consistency 
Observe coconut oil in summer and again in winter, and you're likely to notice a change in its consistency. That's because when kept at room temperature or colder, coconut oil remains a solid. When kept at warmer temperatures, however, coconut oil quickly becomes a liquid. To use coconut oil as a makeup remover, it should be in its liquid form. If yours is solid, pick up a small amount — about the size of a pea — and rub it between your fingers to melt it.
STEP #2: Massage Coconut Oil Onto Dry Skin
Once your fingers are coated in oil, close your eyes and spread the oil over your lids. Rub in the oil to remove eyeshadow and other eye makeup, then gently work the natural makeup remover into your eyelashes to break down mascara (yes, even waterproof). Continue massaging the oil into your skin wherever you're wearing makeup, going over the rest of your face and lips.
STEP #3: Wipe Everything Away With a Wet Cloth
After thoroughly massaging your skin in coconut oil, remove the mixture of oil and makeup with a wet washcloth or microfiber towel. 
STEP #4: Rinse Off or Follow With Face Wash
For your final step, you have two options: Rinse off any remaining residue with lukewarm water and move on to your next skin-care step or follow with a water-based face wash as part of a double cleanse method. This will ensure your skin is thoroughly cleansed of more than just makeup and can be especially beneficial for oily and/or acne-prone skin types.
Read More:
4 DIY Skin Hacks You Should Never Try
7 Products to Detoxify and Minimize Pores
Why Your Oily Skin Is Getting Even Oilier
Read more

Back to top