Meet Emily Parr, the Beauty Publicist Behind the Buzzy Brand HoliFrog
January 22, 2020
After spending years representing some of the leading beauty brands — Briogeo, Summer Fridays, Farmacy, Drunk Elephant and so on — as a publicist at her own public relations firm, Poke PR, Emily Parr decided to make a major career move with the launch of her very own skin-care brand, HoliFrog. As one of the few cleanser-focused skin-care brands on the market, HoliFrog did something we didn't think was possible — made washing your face fun.

Between juggling her portfolio of high-profile clients at Poke PR and growing her own brand, Parr took the time to tell us all about her career journey thus far and what's in store for HoliFrog. 
Can you tell us a little bit about your career path?
I started my career in the fashion industry, working in the PR department at Vera Wang. After a little over two years, I realized I was not particularly passionate about the apparel industry and immediately started sending my resume to wellness companies. Within a few months, Equinox fitness clubs created a position for me in the PR Department.

During my time at Equinox, I became very close to the founder of Juice Generation [Equinox's juice bar partner], Eric Helms, and started pitching him as a health expert to major publications. I worked full-time for Equinox and became the "PR contact" for Juice Generation as my side hustle. 

After about six months, Salma Hayek asked me to do the PR for her [then] CVS Pharmacy beauty line, and poof, I had a PR agency that represented Juice Generation and Nuance Salma Hayek. I gave myself a month to come up with a company name (Poke PR), file an LLC, set up a proper business email address (I landed CVS with a Gmail email address!) and negotiate a contract with a major corporation. I hired my younger sister (she still works alongside me), who had just graduated from college. For the first year, I worked until about 11PM every night ensuring nothing slipped between the cracks and studying the industry. 

From that point on, my goal was to continue taking on clients only when I craved a new challenge and loved the founder's ethos. Over the next five years, I added brands like Drunk Elephant, Briogeo, Summer Fridays, Beautycounter, Farmacy, Something Navy and RMS to my portfolio. 

Then along came the idea for my own brand and a new PR client, HoliFrog.
What made you want to make the jump from public relations to brand founder? 
After several years of building the public images for the leading beauty brands, I grew sad — all of my "children" were on the path to college. AKA, they would all sell one day. I have a career of finding these gems, helping them scale for sale and then doing it all over again with another group. This led me to pining for a brand of my own one day. I never once sat down to come up with a business idea. I actually didn't anticipate segueing to brand founder for another five years. The concept of launching a wash-first brand struck at one of the busiest times in my life. But instead of making an excuse, I just ran with it. I reduced my portfolio size from 12 clients to seven and built HoliFrog, while running Poke PR. It was the wildest 15 months one could ever imagine.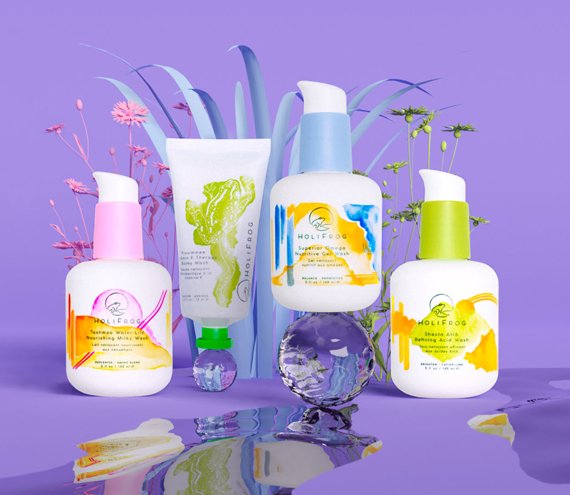 How do you think your work as a publicist helped you with this career move?
Going from product publicist to product manufacturer gave me a great insider's eye. As a publicist, you are given a narrative, aesthetic, tone of voice and product pipeline that become the tools by which you work with when representing the brand. Certainly, there is still storytelling I have been able to do on behalf of a brand, but only within the confines of the story that are already inherent in the brand's DNA. But because of this very privileged background, I had my own analysis on why certain brands are able to scale faster than others. I had created my own playbook before I even knew I wanted to create a brand of my own. Therefore my approach when building HoliFrog was very calculated by design. 


What inspired you to launch HoliFrog?
In May 2018, I started amping up my outdoor running mileage. I would go on these ten-mile runs in the beating sun, and when I returned home, my skin was in a state of confusion: My pores were clogged with SPF, but my skin felt super dehydrated from the salty sweat. I really wanted something that would flush my skin with hydration and nutrients but also deep-clean my pores. Keep in mind that after a morning long run would be my second wash of the day, so I really didn't want to strip my skin. 

This got me thinking about an idea my now business partner, Majeed Hemmat, threw out a few months prior [about becoming a go-to brand for face washes]. It all became so clear because for years, the one skin-care step I couldn't get right in my routine was the face wash category. Because I wash my face three times a day on weekdays and four times a day on weekends, I really needed a face wash wardrobe that I could switch up by wash scenario. This idea of "situational cleansing" has become the cornerstone of our brand — skin has different needs at different times. What your skin needs when you wake up is different than what it needs after a workout or before you go to bed at night. In September 2019, we launched four face washes of various benefits and textures, and we have two additional cleansers on the way before we move out of this skin-care step. 


Which cleanser is your favorite?
That's a toughie because I don't believe in a one-size-fits-all cleanser. I really rotate them and use all four within a given day. But the Shasta AHA Refining Acid Wash was my first wish when we started thinking about product development. I was desperate for an acid wash that could be as gentle as a nighttime AHA serum yet cleanse my face. To create it, we dialed back the surfactants (these are the cleansing agents) so that the 5% acid wouldn't strip your skin.
Biggest pinch-me moment in your career thus far?
There have been so many. 1) Tashmoo Water Lily Nourishing Milky Wash is our bestseller, was the first to sell out on Dermstore and is the most photographed on social media. It was named after my father's favorite lake on Martha's Vineyard. He was the driving force in my life and he passed away three weeks before HoliFrog launched. Seeing this cleanser take on a life of its own has been nothing shy of magical.

It never gets old — and always gives goosebumps — seeing my products in shelfies on Instagram next to my clients' products. 


Where do you hope to see the brand in ten years?
A decade from now, I hope that HoliFrog continues to create beautiful formulas that change and enhance skin's health and reparative process. I'd like to launch a mass market brand called Saint Lily, a kiddo line called HoliChild and a supplement line called HoliBody. Basically, I hope that my pace doesn't slow down even by a millisecond ten years from now.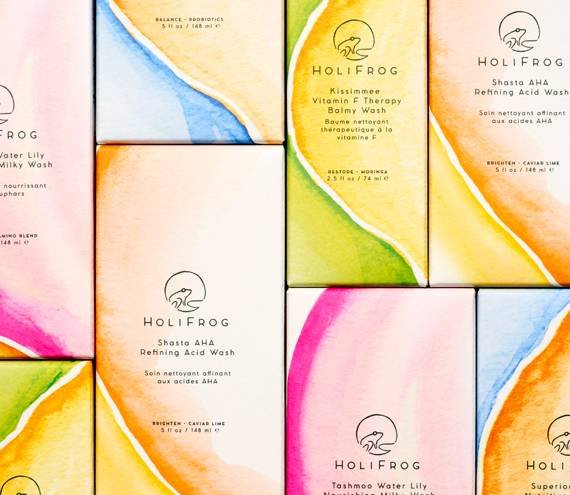 Do you have any advice for aspiring female entrepreneurs?
My dad told me on the eve of leaving for Bates College, "Enthusiasm is what sets you apart." He was right — it's as if he wrote my storybook. No matter what path you go down in life, make sure it's with enthusiasm.

Read More:
How to Care for Your Hands and Nails in the Winter
Starface Co-Founder Julie Schott Shares the Story Behind Her Acne-Positive Brand
These Hydrating Lip Balms Are the Only Things Getting Us Through Winter
Read more

Back to top