Face Shaving vs. Dermaplaning: What's the Difference?
March 14, 2022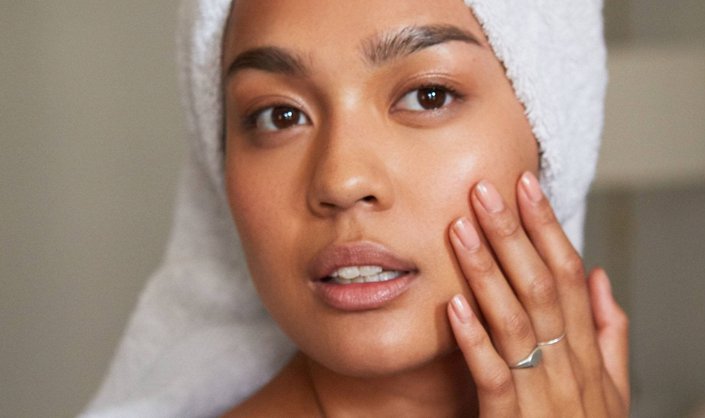 It's safe to say we all want buttery-smooth skin. There's something about hair-free, silky skin that makes us feel on top of the world. Thankfully, there are multiple methods to get it, but the most popular techniques on our social feeds are dermaplaning and face shaving. Both methods have similar results — although dermaplaning is performed in-office and face shaving is an  at-home procedure — so what's really the difference? 
We tapped Lauryn Bosstick of The Skinny Confidential, a brand dedicated to no-nonsense beauty tips and tools, and Dr. Azadeh Shirazi, a board-certified dermatologist at the La Jolla Dermatology & Laser Surgery Center in California to help us get answers.
The Difference Between Dermaplaning and Face Shaving  
The main purpose of face shaving is hair removal. "Hairless skin appears more even-toned and brighter," says Dr. Shirazi. "Dermaplaning uses a very sharp single blade to scrape off dead skin and debris in addition to vellus hairs so it's more than just a method for hair removal. It's an exfoliation treatment."
What You Should Know About Face Shaving
Bosstick, who's been shaving her face since high school and created The Skinny Confidential Hot Shave Razor, a refillable razor designed for women's faces, says there are so many benefits to face shaving. According to her, its "magical benefits" include helping your skincare products absorb deeper into the skin and improved skin texture that creates a smooth canvas for your makeup.
Bosstick advises before shaving to cleanse the skin thoroughly. We love the Garnier Green Labs Amino-Berry Soft Skin Soothing Cream Cleanser for its creamy texture that nourishes and hydrates without stripping the skin. 
To minimize accidental nicks or cuts, use a shave cream for a protective layer between your razor and your skin. As a companion to the Hot Shave Razor, Bosstick recently launched The Skinny Confidential Hot Shave Cream that's formulated with rich emollients like shea butter, vitamin E, aloe, and olive oil. She says, "So many men's shaving creams contain ingredients you don't want on your face." Both products work in tandem to soothe skin and ensure a perfect glide every time.
Just remember not to  shave with a dull or dirty blade as this can irritate skin and don't shave over broken skin, an inflamed area or raised moles.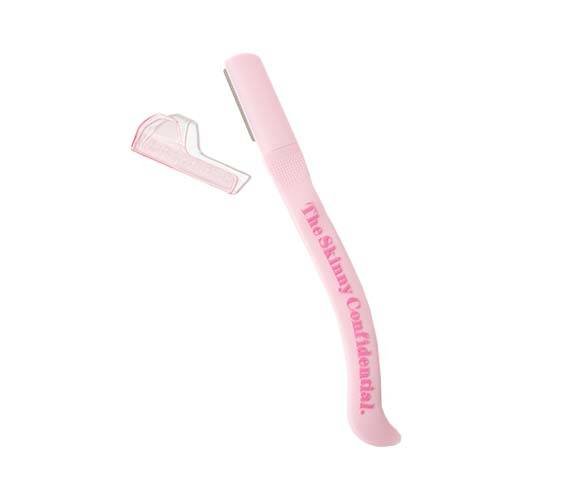 What You Should Know About Dermaplaning
Dr. Shirazi explains dermaplaning as "an exfoliating procedure using a surgical blade to scrape the surface of the skin to remove dead skin cells, dirt, debris, and peach fuzz hair." With dermaplaning you can expect the removal of dead skin cells that reveals a more radiant complexion free of peach fuzz. Like with face shaving, better penetration of your skincare products makes them more effective and makes for a smoother makeup application.
Dermaplaning is best performed professionally at a dermatologist office once a month or before an event in someone with combination skin that is not prone to breakouts. "You need a strong skin barrier so if you have dry skin, or flaking red skin it's not a great treatment," Dr. Shirazi notes. 
There are some things to consider before booking a dermaplaning appointment. "If you are on retinoids or exfoliants like glycolic or salicylic acid, you need to let your provider know and stop them a week before," Dr. Shirazi. "If you have active wounds or skin conditions such as eczema, your skin needs to heal fully before dermaplaning. Avoid direct sun exposure after and avoid makeup or exfoliants in your skincare regimen for 24 hours."
Photo: Chaunte Vaughn
Read More:
Hydrating vs. Moisturizing: What's the Difference?
The Difference Between Day and Night Moisturizers and Why You Need Both
Cleansing Balms vs. Makeup Wipes: Which Is Right for You?
Read more

Back to top