How Alcohol Affects Your Skin, According to a Dermatologist
July 26, 2016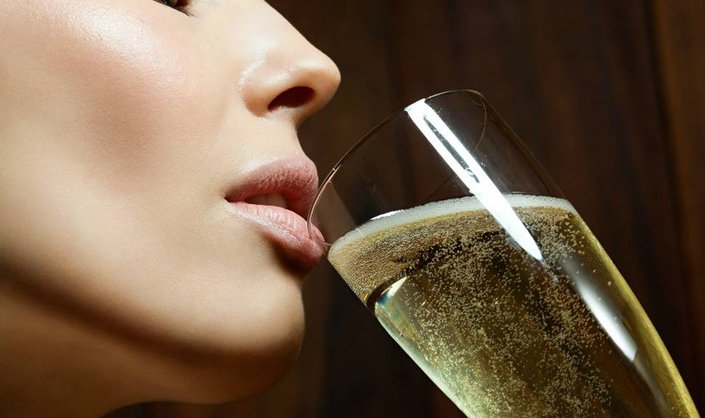 We've got some news to share, and we're just going to serve it to you straight up. Heavy alcohol consumption can be quite harsh on the skin. This may come as no surprise, especially if you've ever woken up to a dehydrated complexion following a night of heavy-handed champagne pours. We realize though that this unfortunate reality could be a hard pill to swallow for others. But let's step back and examine what's at stake when we imbibe too often. "Right off the bat, alcohol is a diuretic, which explains why you're constantly running to the toilet when you're drinking," says board-certified dermatologist, and Skincare.com expert, Dr. Dendy Engelman. "This means that alcohol can dehydrate the skin, making it appear less plump and fresh." Cruddy skin? Blame it on the alcohol—or choose to do something about it. It's your call.  
INDULGE IN MODERATION 
Assuming you took the latter route, rest assured that you don't have to swear off mimosas and martinis for the rest of eternity. "I believe that one should do everything in moderation," says Engelman. What constitutes moderation? According to the National Institute on Alcohol Abuse and Alcoholism, moderate alcohol consumption for Americans is up to one drink per day for women and up to two drinks per day for men. In addition to drinking moderately, be picky about what you drink. Margaritas, for instance, are notorious for their sugary taste and salted rim, and salt and sugar can lead to inflammation and bloating. "If you're going to indulge, reach for a glass of red wine," Engelman says. "It has resveratrol in it, a potent antioxidant." Green juice cocktails are also a good choice, she says.
Remember: Dehydrated skin lacks water, so make sure to stay hydrated when you're drinking, per Engelman's suggestion. "For every glass of wine, I always make sure to drink a glass of water." If you notice that your skin is dehydrated—it may feel parched and appear dull and dry—reach for products that help retain moisture. Skinceuticals Hydrating B5 Gel is an oil-free moisturizer formulated with hyaluronic acid—a natural humectant, aka a godsend for hydration—to help bind moisture to the skin. 
Waking up with a hangover you need to hide? Follow these tips to help revive your complexion after a bubbly-filled evening!
Read more

Back to top