How to Apply Eye Cream — Because Yes, You Could Be Doing It Wrong
April 19, 2023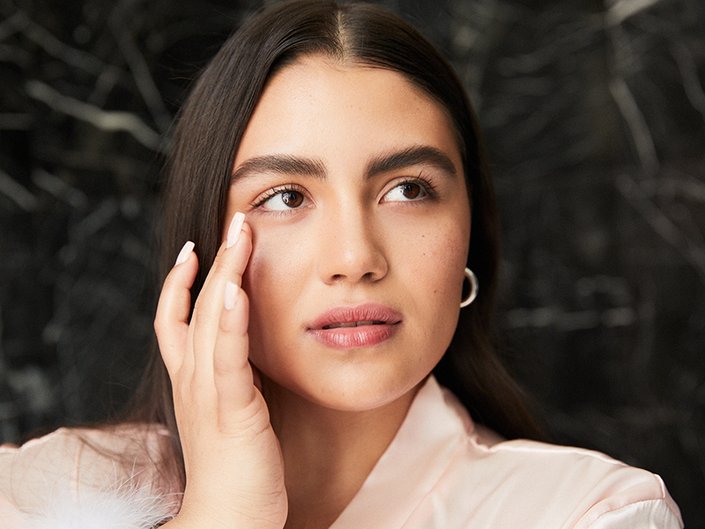 No matter your skincare concerns, eye cream is a beauty staple that everyone should have. Whether you have dry skin around your eyes, dark circles, discoloration or under-eye bags, there's a specially-formulated eye cream out there to treat and nourish the delicate skin in that area of your face.
While it may seem pretty self-explanatory, there are a few crucial skincare rules you should follow when it comes to eye cream application. And who better to teach us right from wrong than a dermatologist? Keep reading to learn the best way to apply eye cream and common mistakes to avoid from board-certified dermatologist Dr. Erin Gilbert and board-certified dermatologist and brand founder Dr. Loretta Ciraldo.
Every skincare product has a recommended application method, but eye creams require the utmost care due to the nature of the skin you're applying them to. "The skin around the eyes is some of the most delicate on your body, hence, you need to treat it with respect," says Dr. Gilbert. "When applying eye creams or removing eye makeup, you want to be very gentle."
What Is Eye Cream?
If you're totally new to eye creams, don't worry — we've got you covered. According to Dr. Loretta, "an eye cream is a formulation created to specifically address issues that are more commonly seen around the eyes, including but not limited to under-eye puffiness and bags, dark under-eye circles, hooding of the upper eyelid and crow's feet." Though we're using the phrase "eye cream" as a blanket term, skincare products designed to treat the skin around your eyes can come in the form of creams, gels or serums.
What Does Eye Cream Do?
As noted above, eye creams can target a variety of different skin issues, from crow's feet and wrinkles to dark circles. It helps to create a visible improvement in or reduction of these various concerns. "[Eye cream] will usually incorporate some peptides that have been created for eye skin, skin-friendly brightening agents for undereye dark circles and antioxidants to protect the thin eye skin from environmental damage," says Dr. Loretta.
Where to Apply Eye Cream
Where on your skin you should apply your eye cream depends on the specific product, so be sure to always thoroughly read the instructions when starting to use a new skincare product. However, many eye creams "can be applied 360-degrees around the eyes to produce tightening of eye contour, including to show more of the upper eyelid as well as less undereye puffiness," notes Dr. Loretta. "When applied to the area that includes crow's feet, there will be an improvement in the appearance of fine lines in this area."
How to Apply Eye Cream
For the best results, you'll want to apply your eye cream to cleansed skin both in the morning and the evening. Since the application process may vary from product to product, remember to read and follow the instructions on the packaging.
Step 1: Dispense Enough Product to Cover Your Under-Eye Area
Whether you're using an eye cream that comes in a jar or a tube, start your application by dispensing the formula onto your (clean!) fingertip. If the product has a pump dispenser, Dr. Loretta recommends using one pump to cover the skin around both eyes. When it comes to eye cream, a little goes a long way!
Step 2: Tap It In
With a light, gentle pressure, use your ring finger to tap the eye product onto your under-eye area, starting at the inner corner and working your way out. Then, Dr. Gilbert says you can work the product in using circular motions or continuing tapping until the formula melts into the skin seamlessly. This means no tugging, harsh rubbing or pulling at the under-eye skin. It's not necessary and doing so could lead to sagging skin and premature wrinkles over time.
According to Dr. Loretta, you should apply your cream "on the upper and lower lids, but avoiding eyelash line and including the skin inside the bony eye socket (the so-called 'orbit' of the eye)."
When Should You Use Eye Cream?
Generally, your eye cream should be the second step in your skincare routine — after cleansing and before you go in with your serums and moisturizer. As for when you should start incorporating it into your beauty regimen, Dr. Loretta advises "starting to use an eye cream by the early twenties since you want to prevent aging changes in the eye skin, as well as help to improve any that may already be visible."
How Much Eye Cream Should I Use?
Watch how much product you use! "A lot of people try to use too much product and it winds up getting in the eyes, causing initial blurry vision, then irritation," says Dr. Gilbert. You'll need enough to provide your eye area with moisturization but not too much that the product will have trouble absorbing into the skin.
Eye Cream Tips
Apply Your Eye Cream Before Serum and Moisturizer
The order in which you apply eye cream is up for debate (some people apply it after their serum and before their moisturizer) but Dr. Gilbert advises application immediately after cleansing. "This order allows it to penetrate your skin before you moisturize or use a serum on the rest of your face."
Find the Right Eye Cream for Your Skin Type
Finding the right eye cream formula for your skin type and needs can be tricky, but once you do, Dr. Gilbert recommends you stick with it. Editor's Tip: If you have sensitive skin, you may want to avoid formulas that are made with fragrance.
Our Favorite Eye Creams and Serums
If you're looking for a moisturizing formula with anti-aging benefits, try the L'Oréal Paris Revitalift Hyaluronic Acid + Caffeine Hydrating Eye Serum. This energizing serum wakes up and refreshes your eye area, making you look like you're getting the best sleep of your life. Not to mention the cooling, triple roller ball applicator is so soothing to use.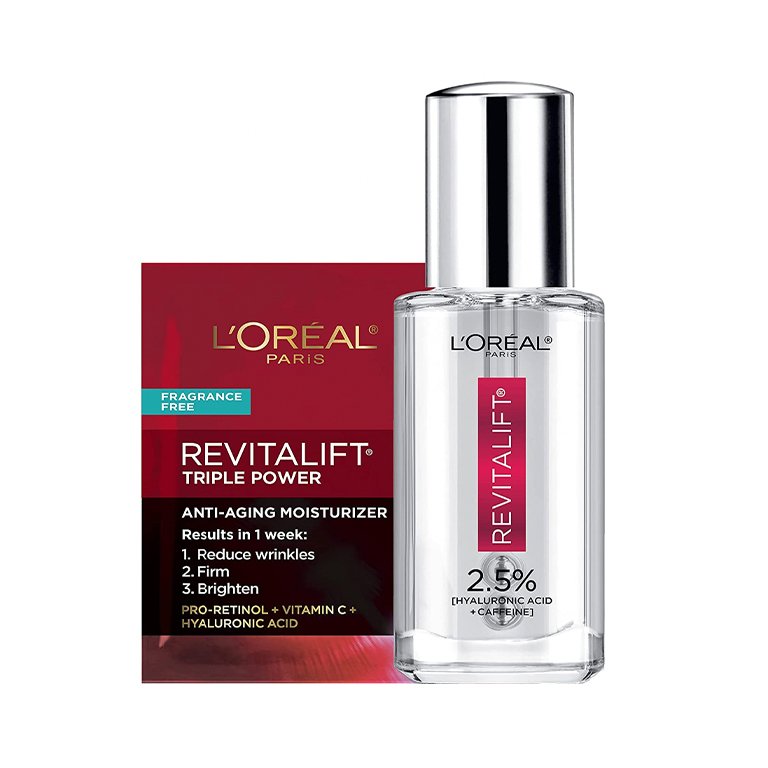 Use the CeraVe Skin Renewing Eye Cream to add firmness to the skin around your eyes, as well as reduce the appearance of fine lines, wrinkles, crow's feet, puffiness and dark circles. Formulated with a peptide complex, ceramides, hyaluronic acid and niacinamide, this eye cream is also intensely hydrating.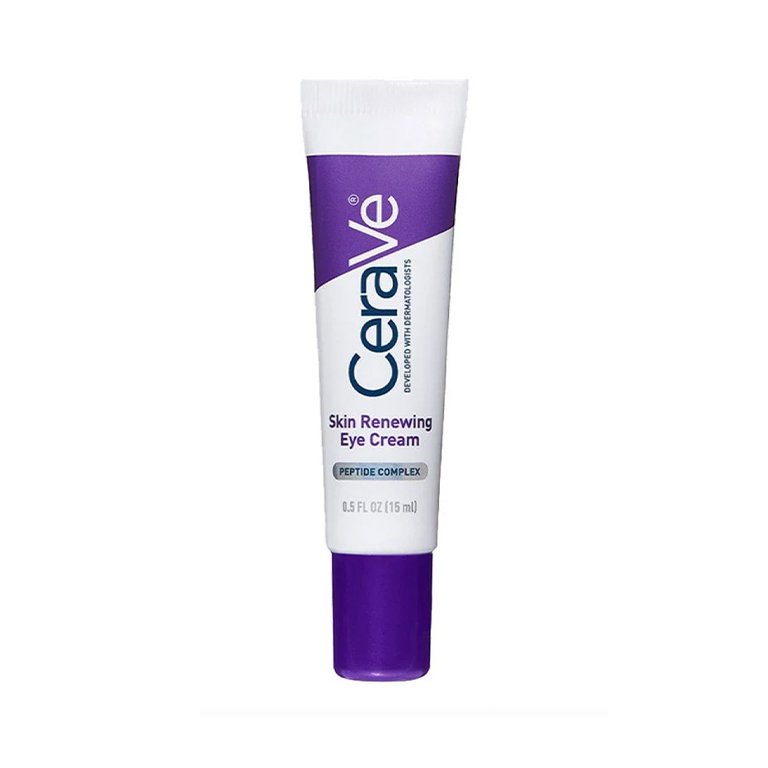 The Youth to the People Superberry Dream Eye Cream definitely takes the cake for the eye cream with the cutest packaging. But it also effectively smooths the appearance of fine lines and wrinkles while you sleep. Per instructions from the brand, this hydrating overnight eye cream should be used as the final step in your nighttime skincare routine.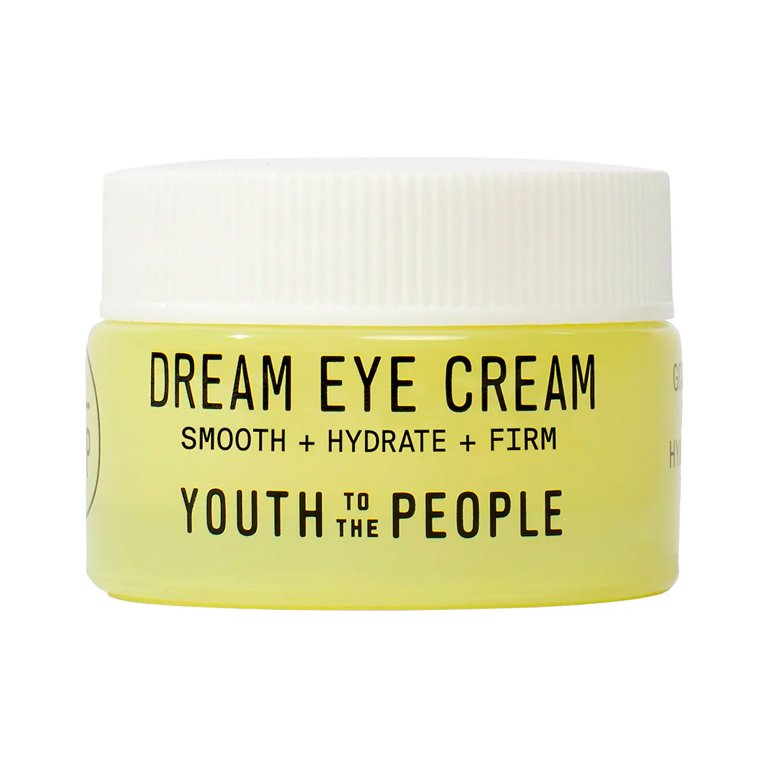 This high-end, advanced technology eye cream from Lancôme helps accelerate the recovery of your skin's natural moisture barrier, which in turn helps your skin lock in hydration and defend against environmental aggressors. Specially formulated to treat the delicate skin around your eyes, the Advanced Génefique Eye Cream is ideal for targeting such skincare concerns as wrinkles, dark circles, crow's feet and dryness.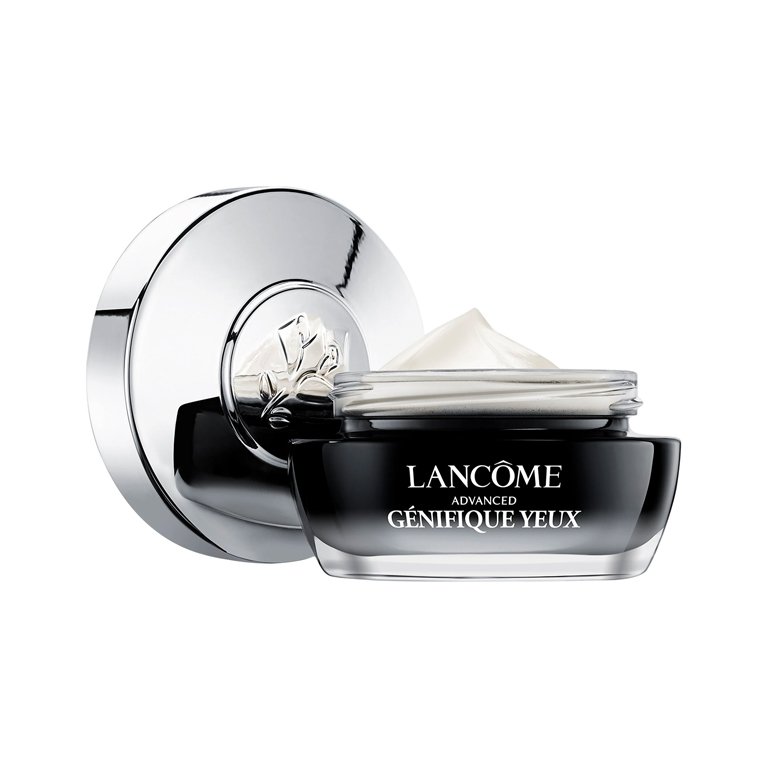 For a luxe eye product, check out the Giorgio Armani Beauty Crema Nera Light-Reviving Eye Cream. From the airy, lightweight texture to the subtly iridescent formula, this unique eye cream stands apart from the crowd. In addition to reducing dark circles and puffiness, it enhances the luminosity of the skin around your eyes.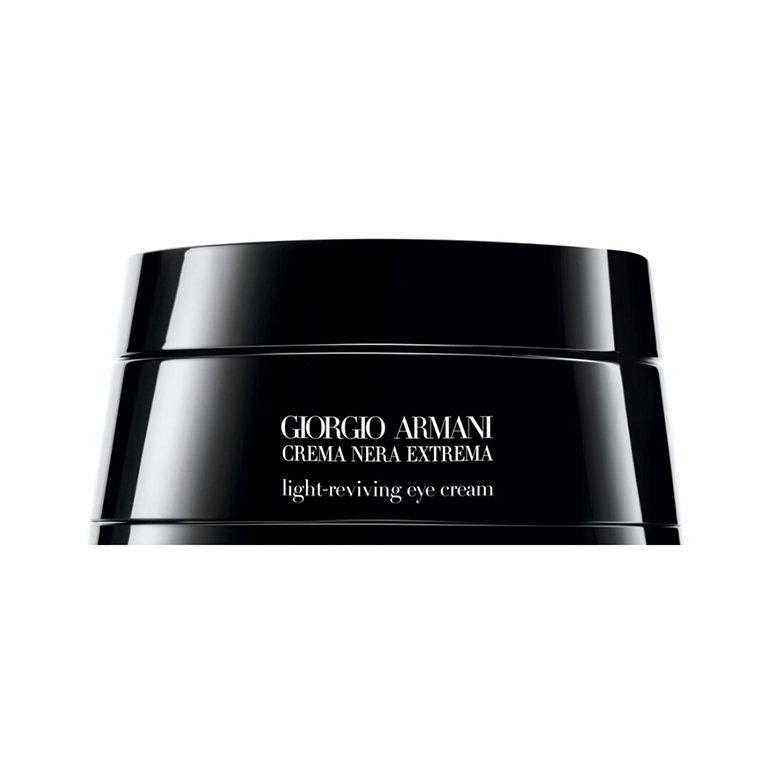 You'll fall in love with the silky texture of the SkinCeuticals A.G.E. Eye Complex for Dark Circles. As the name suggests, this eye cream improves the appearance of dark circles, but it's also an advanced anti-wrinkle formula. Plus, it's made with optical diffusers to diffuse light, eliminating dullness and amping up the radiance of your eye area.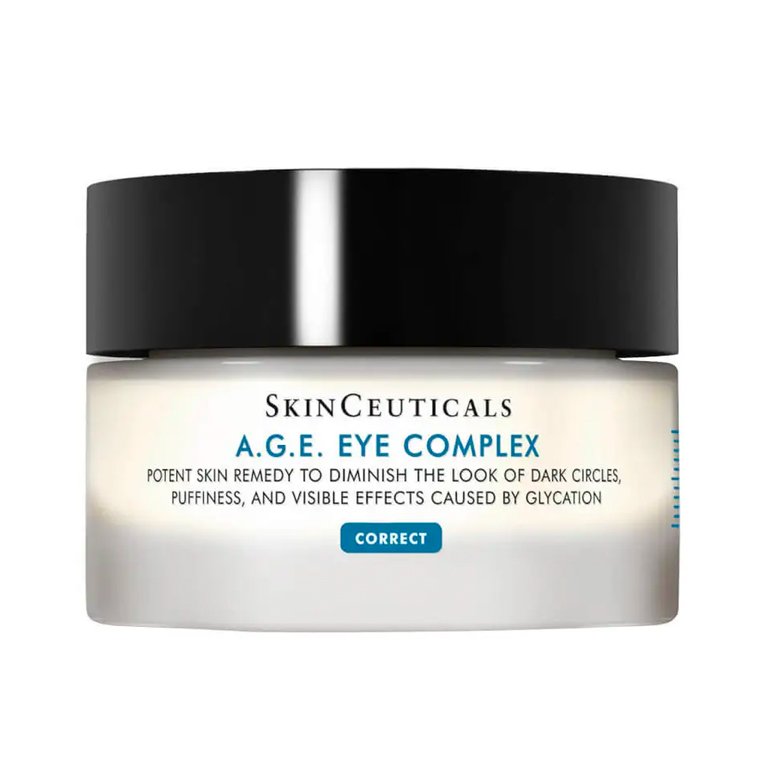 Get visibly plumper skin in your eye contour with the La Roche-Posay Pure Vitamin C Eye Cream. The sensitive skin around your eyes will love the velvety feel of this eye cream, which is also formulated with hyaluronic acid for maximum moisture.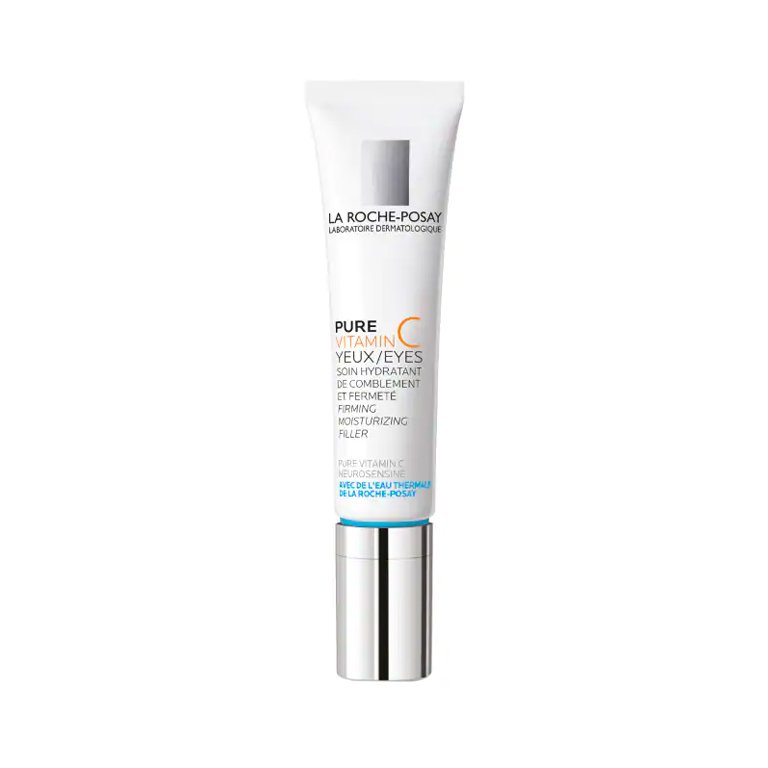 We like the Kiehl's Super Multi-Corrective Anti-Aging Eye Cream because it allows you to address signs of aging in your entire eye zone. Apply it to the skin around your brow bone, eyelids, crow's feet and under-eyes for a lifting, smoothing effect.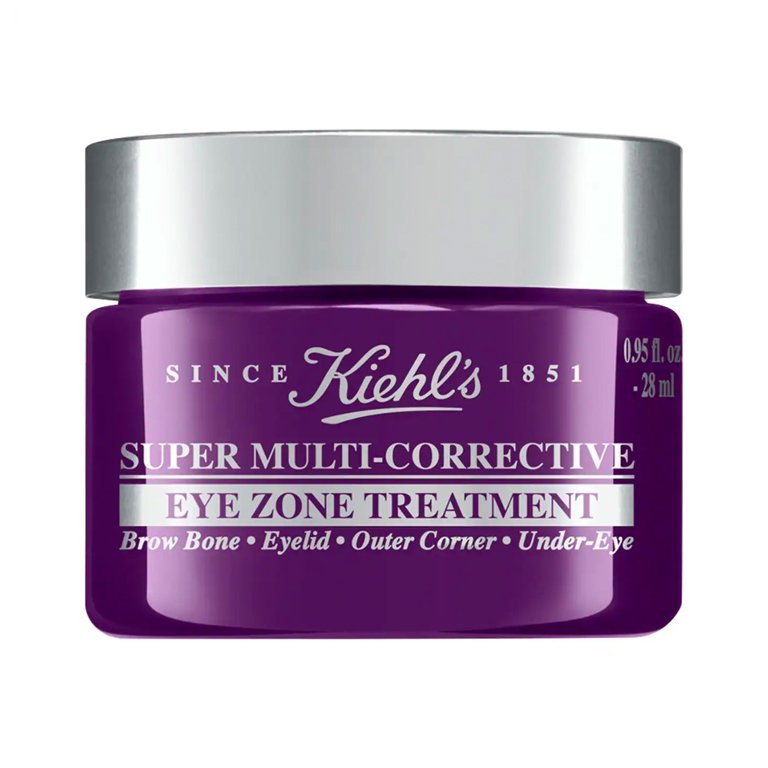 If moisturization is your main skincare priority, opt for the Vichy Minéral 89 Hyaluronic Acid Eye Gel. The non-greasy gel texture feels super refreshing on your skin — perfect for summer with the temperature heating up — and the caffeine-infused formula makes your eyes look more refreshed, too.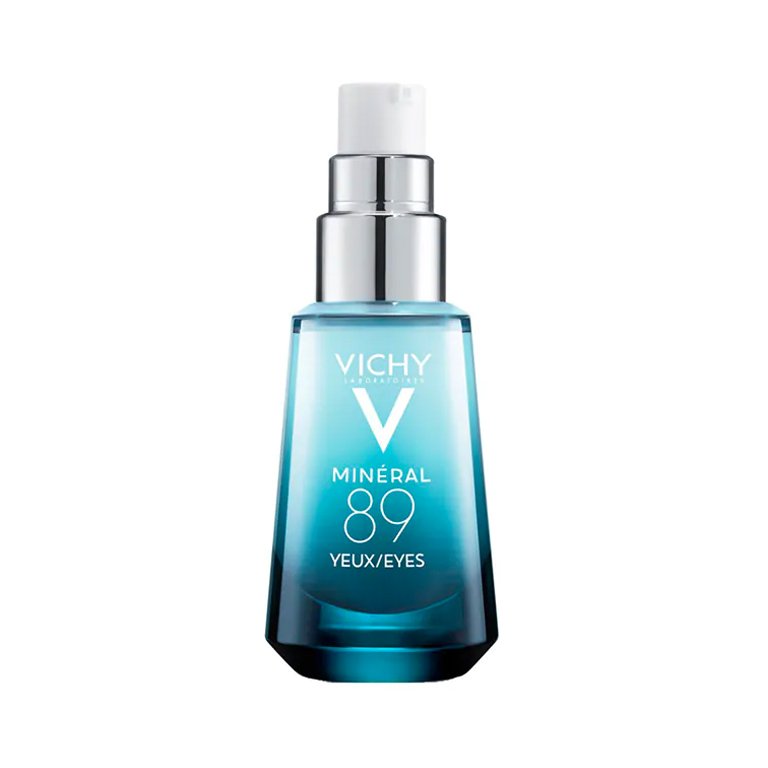 Tighten up the skin around your eyes and target under eye puffiness, dark circles and crow's feet with the Dr. Loretta Tightening Eye Gel. Featuring algae extract, this antioxidant-packed formula helps support your skin's collagen production and protect against free radical damage.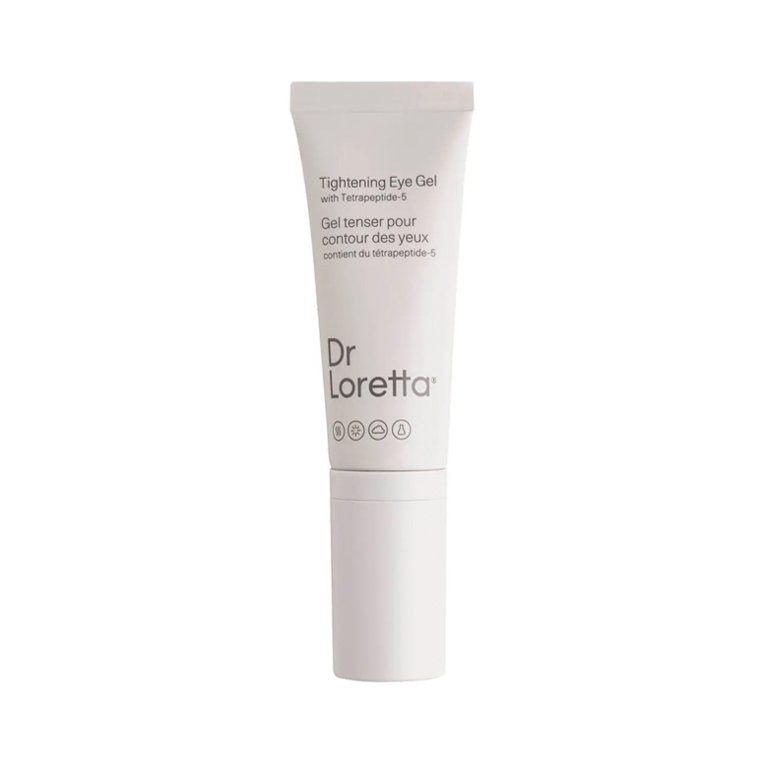 Read more

Back to top