How to Apply Eye Cream Correctly, A Celebrity Facialist Explains
May 06, 2016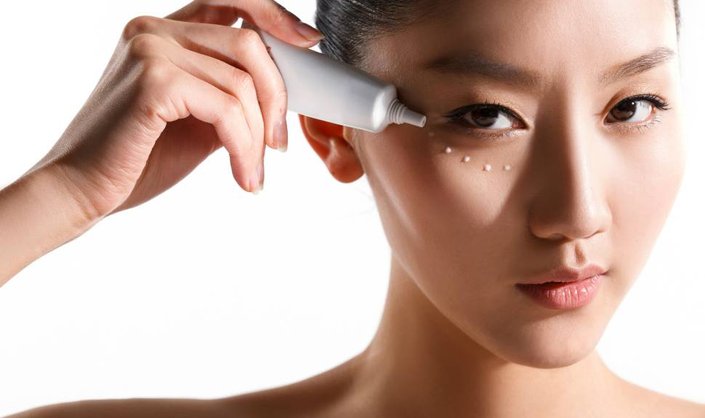 Our eye contour can come with a whole host of pesky issues—from crow's feet and fine lines to dark circles to puffiness and bags. But, thankfully, if you know how to apply eye cream correctly, it can help make those fine lines in the contour area look smoother and more refined and even reduce the appearance of dark circles and puffiness. And yes, we know what you're thinking, there is, in fact, a correct way to apply eye cream. For instance, are you placing eye cream directly beneath your eye or right on the eyelid? If so, hate to break it to you, but you're doing it wrong. That's right: On the list of where you apply eye cream, the eye itself doesn't make the cut. (Confusing, we know.) Want to know where and how to apply eye cream correctly? Keep reading, because in order to help you get the full benefits of your eye cream, we turned to Skincare.com consultant and Decléor celebrity facialist Mzia Shiman.
Step 1: PICK THE PERFECT PRODUCT
First things first, you need to find the right eye cream. Assess your top concerns. Do you have dark circles? Puffiness and eye bags in the morning? Fine lines and wrinkles? You'll want to choose one that caters to your specific needs. "Decléor eye creams incorporate ingredients to help reduce puffiness and dark circles, as well as to firm and smooth the skin," Shiman says. 
If you have sensitive skin, try 

Decléor Harmonie Calm Relaxing Milky Gel-Cream for Eyes

. This lightweight gel-cream is formulated with Essential Oil of Damask Rose, Extract of Green Macatia, Essential Milks of Cotton and Lilly, Concentrated Rose Water, Cotton Lipids, Essential Milk of Rose, Extracts of White Birch Bark, and Cornflower Floral Water.

If wrinkles are your issue, reach for an eye cream with retinol. Retinol is considered the holy grail of anti-aging ingredients by many dermatologists. Derived from vitamin A, retinol can help to smooth the appearance of fine lines and wrinkles—

check out our beginner's guide to retinol to get started

.

If dark circles and visible signs of fatigue are a concern, look for eye care products formulated to wake up the appearance of your eye contour. Bonus points if the product has a brightening formula which can help to improve the appearance of shadows and discoloration.

For puffiness, look for cooling formulas with metal rollerball applicators.

Storing this type of eye cream in the fridge

is a great way to temporarily reduce swelling of puffy eyes. The chilled sensation of the cold helps to vasoconstrict the blood vessels and de-puff in a pinch.
Step 2: CLEANSE
You wouldn't slather moisturizer over dirty skin would you? So why would you ever apply eye cream without first cleansing your canvas? Remove all traces of eye makeup while you are cleansing your skin at night—micellar water works wonders—and again in the morning to ensure the eye area is clean and free of debris before you apply the eye cream, serum, or gel or your choice.
Step 3: FOCUS ON THE EYE CONTOUR AREA
The next step in knowing how to apply eye cream correctly is knowing where to apply it… and frankly, it's not as black and white as it may seem. But, where should you apply eye cream if not on the eye, you ask? "Apply product on the bone area, around the upper part of your cheekbones and right beneath your brows," Shiman says. "Eye creams can sometimes irritate the eye area if applied too close to the eye," she explains. "This is because the product is so rich that it can travel, even after being applied." To help ensure your eye cream doesn't migrate into your eye after using it, apply a few dots around each orbital bone from the inner to the outer corners of the eye area—and don't forget your brow bone. A little goes a long way with eye cream, so make sure the dots are small—most eye creams are pricey after all!
Step 4: USE YOUR FINGERTIPS IN LIGHT STROKES
When applying eye cream it's best to use the tip of your ring finger or pinky for a gentler touch around the delicate eye area. "In the morning and evening after cleansing, apply your eye cream to the contour area using light strokes," Shiman advises. Your pointer finger, which many people use to apply products such as eye creams, can be too strong on your eye contour—let's not forget the skin around our eyes is much thinner than that on the rest of our face. This is a huge reason our eye contour is one of the first to show visible signs of skin aging. Be sure not to tug on the skin, as this can cause wrinkling over time. If you're worried your strokes are too heavy, opt instead to use the tip of your ring finger to gently tap the product around the orbital bone until it is completely absorbed. Apply your eye cream as the final step in your skin care routine morning and night!
Editor's Note: Since your eyes are one of the first places you may notice the signs of skin aging—wrinkles, fine lines, sagginess, etc.—consider reaching for eye creams formulated with broad-spectrum SPF each morning. The sun's UV rays are the leading culprit behind these skin concerns, so protecting your eye area with SPF is key in helping to slow them down. 
Read more

Back to top