All of Your Sunscreen and Makeup Questions, Answered!
June 24, 2019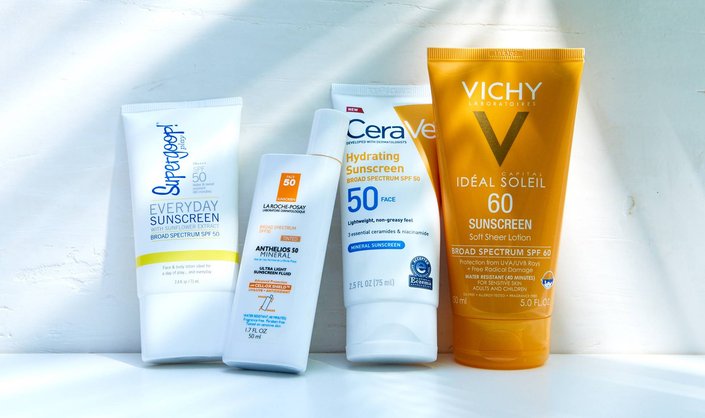 With sun protection top of mind this season — as it should be year-round, but we digress — you may find yourself asking the all-too-common question: Do I still need to wear sunscreen if my makeup has SPF in it? To find out the answer to this pressing skin-care query, we spoke with Skincare.com consultant Melissa Kanchanapoomi Levin, MD, a New York City-based dermatologist and founder of Entiere Dermatology. Ahead, find out if your foundation with SPF has enough sun protection or if you should be slathering on extra sunscreen to help keep your skin protected from the sun's harmful UV rays.
Do you still need sunscreen if your makeup has SPF in it?
"I get this question from patients all the time," says Dr. Levin. "You absolutely need sunscreen even if your makeup has it. The reason for this is that most of the time, the way we apply makeup, the appropriate amount for sun protection is not used. You need a full tablespoon for the face and neck to get the correct protection. Keep in mind, too, that sunscreen only lasts for about 40 to 80 minutes, so re-application is also necessary."
How much SPF do you recommend wearing on a regular day?
"I recommend any sunscreen with SPF 30 or higher for daily use."
What causes sunscreen to pill under makeup and how can this be avoided?
"Sunscreen pilling tends to happen when you are using a skin-care product and it doesn't fully soak into the skin, which is why rubbing can cause pilling or collecting on top of the skin," explains Dr. Levin. "This can happen when there is an occlusive barrier to the skin to prevent absorption, if too many products are used, or if the order you are applying your products is wrong. Typically, it is from polymers which are ingredients that end in -xane, -conol or -icone."
What sunscreen formula do you find works best under makeup?
"In general, I recommend light consistency lotions or fluids for sunscreen, which is why I love ISDIN Eryfotona and Alastin HydraTint Promineral."
More Sunscreens We Recommend to Wear Under Makeup
Vichy Capital Soleil SPF 60 Sunscreen       
This soft, sheer sunscreen lotion provides multi-layer protection against the sun's harmful UV rays and free-radical damage. You can use it on face and body, as the formula is non-greasy and leaves behind no white residue.
La Roche-Posay Anthelios Tinted Mineral Sunscreen for Face SPF 50   
This tinted mineral face sunscreen provides SPF 50 protection with 100% mineral UV filters using La Roche-Posay's Cell-Ox Shield. The matte finish gives your face a healthy glow with a universal, light tint.
CeraVe Hydrating Sunscreen Face Lotion     
The CeraVe Hydrating Sunscreen Face Lotion provides broad-spectrum SPF 50 sun protection. It's formulated with zinc oxide, three essential ceramides to help restore skin's barrier and niacinamide to help calm and soothe skin. Because it's oil-free, non-comedogenic and allergy tested, even those with sensitive skin can use it.
Supergoop! Everyday Sunscreen Broad Spectrum SPF 50     
This everyday sunscreen is fast-absorbing, non-greasy and sweat-resistant. It's powered by potent antioxidant-rich Cellular Response Technology to protect and delivers long-lasting moisture with hyaluronic acid. The formula also contains natural extracts of lemon, orange, basil and bois de rose to provide a natural, subtle scent.
CoTZ Face Moisture is a lightly tinted SPF 30 mineral sunscreen formulated with 16% zinc oxide that is water resistant and preservative-free. The silky texture wears well under makeup and provides a smooth, even finish.
Read More:
Derm DMs: What's the Difference Between Retinoids and Retinol?
The Best BB Creams for Oily Skin
How to Combine Vitamin C, Retinol and Hyaluronic Acid in Your Skin-Care Routine
Read more

Back to top