How to Open Ampoules — Because Even Our Beauty Editors Weren't Sure
February 11, 2020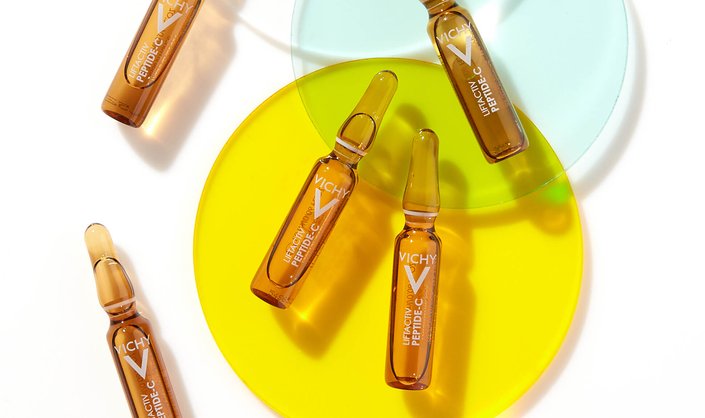 Even if you've never used an ampoule before, chances are you've seen them — or at least heard of them — around the beauty world. These small, individually packaged, single-use skin-care products hold a powerful dose of skin-care actives, like vitamin C, hyaluronic acid and so on. They originated in Korean beauty but quickly spread stateside. Now, even some of our favorite brands are jumping on the trend and launching their own. But the question still stands: How do you open ampoules? 
This seemingly simple task gives even veteran beauty editors pause (true story, it happened in our office). Some ampoules are made of plastic while others are glass, but either way, they're trick to crack open, literally. Luckily, we had Erin Gilbert M.D., a board-certified dermatologist, neuroscientist and Vichy consulting dermatologist, to help us out. 
How to Open Ampoules
"Because ampoules are typically made of glass, it's important to familiarize yourself with the ampoule 'anatomy' and instructions on how to open them," explains Dr. Gilbert. "The neck of the ampoule has a perforated line on it where it will break open when pressure is applied." But not so fast — there's a key step that you should take before applying pressure and attempting to crack the ampoule open. "We recommend that you first hold the ampoule upright and flick it to get all of the product into the bottom half."
Once the product is settled at the bottom of the ampoule (you don't want to waste even a single drop!), it's time to open it.  
"Then, you wrap a tissue around the neck of the ampoule with your thumbs facing out at the location of the perforated line," details Dr. Gilbert. "When you apply light pressure outwards, the vial will open, making a popping noise. It's very satisfying and addicting!" The sound you'll hear when it finally pops open is due to the vacuum seal — the same seal that's responsible for keeping the ingredients in the ampoule at their most potent. 
Can You Cut Yourself Opening an Ampoule?
While the process for opening ampoules is a simple one, it does take some practice. "Although they are very safe to use, it's important to use a tissue at least in the beginning when you are learning to open an ampoule," says Dr. Gilbert. "The glass edges are sharp and it can hypothetically result in a small cut." 
How to Store an Ampoule for Later Use
Some ampoules, like the Vichy LiftActiv Peptide-C Ampoule Serum, contain a morning and evening amount of the formula, meaning you'll want to save it after opening for later. "The applicator of the Vichy ampoules has its own tip cap which can be placed on top of the vial and stored for use until the evening," explains Dr. Gilbert. "The ingredients within each vial are stable and at their maximal potency for 48 hours, so if you want to use a separate treatment at night and use the rest of the vial in the morning, that's fine as well." We recommend pairing the vitamin C ampoules in the morning with a retinol at night for the ultimate anti-aging duo.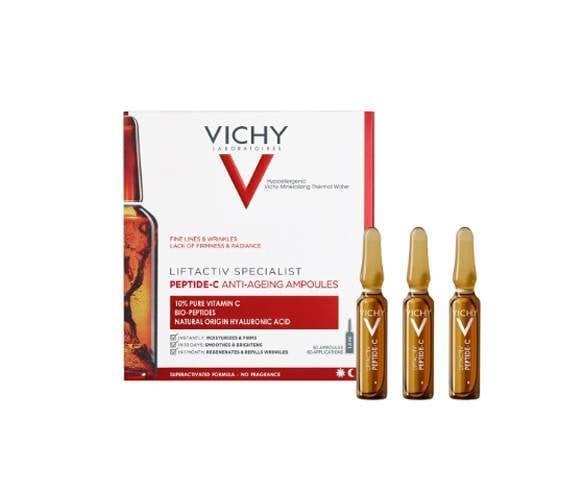 How to Dispose of Ampoules
The recommended disposal method for ampoules varies from product to product. For example, all components of the Vichy ampoules are recyclable, "from the ampoules themselves to the plastic applicator and the box they come in," says Dr. Gilbert. If you're using a different brand, check the label for specific disposal instructions. 
How Do Ampoules Differ From Regular Facial Serums?
If you're still not sold on why you should incorporate an ampoule into your skin-care routine, Dr. Gilbert encourages you to give the product a chance. "The format of ampoules — airtight and protected from UV degradation thanks to the amber glass — allows the formula to be simple and clean, free of a boatload of preservatives and unwanted chemicals," she says. Furthermore, ampoules are highly concentrated and, as opposed to many serums that come in a dropper format or a pump, vacuum-sealed, which protects against degradation by air and light. "You get a fresh dose each time you open one," says Dr. Gilbert.
Read More:
How to Combine Vitamin C, Retinol and Hyaluronic Acid in Your Skin-Care Routine
Quick Question, What Are Skin-Care Capsules and How Do You Use Them?
The Affordable Vitamin C Serum That Brightened Our Complexion
Read more

Back to top